These herb-crusted mustard pork chops pack mouthwatering savory flavor. Plus, they're ready in just 20 minutes – perfect for busy weeknights.
Pork chops are one of the most underrated and delicious sources of protein. With a mild flavor, they beg to be coated in marinades, herbs and rich sauces. When pan-seared, pork chops lock in flavor and create a delectable browning that intensifies both the meat and herb coating.
Instead of using a traditional crust of chopped nuts, a light dusting of nutritional yeast adds a cheese-like umami taste. Nutritional yeast is best sprinkled in savory recipes to enhance flavor, thicken sauces and add texture.
Love slow cooker recipes?
Click here to get your FREE copy of our delicious Slow-Cooker Recipes!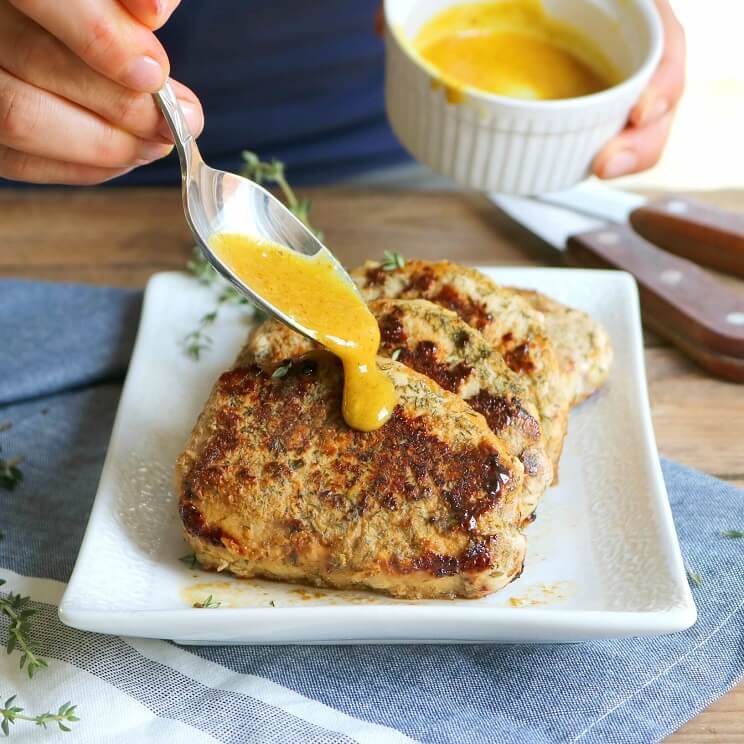 No need for egg wash; Dijon mustard is brushed on each side of the chops to help the herbs stick and brings a mouthwatering spicy, tangy flavor. Next, dried dill and thyme are rubbed on top of the mustard pork chops to add depth of flavor.
Start by combining dry seasonings in a small bowl. Place pork chops onto a plate and brush on all sides with Dijon mustard. Sprinkle liberally with seasonings and use hands to gently press into chops. Melt a couple teaspoons of ghee on a pan over medium heat, allowing the pan to get glistening hot. Carefully place chops onto pan and sear 8 minutes. Flip chops and cook an additional 8 minutes. Tip: To really drive home the Dijon flavor with a touch of sweetness, finish these mustard pork chops with a few spoonfuls of Dijon mustard mixed with a little raw honey.
Round out the meal with one of these Paleo sides…
Jennafer Ashley
Easy 20-Minute Mustard Pork Chops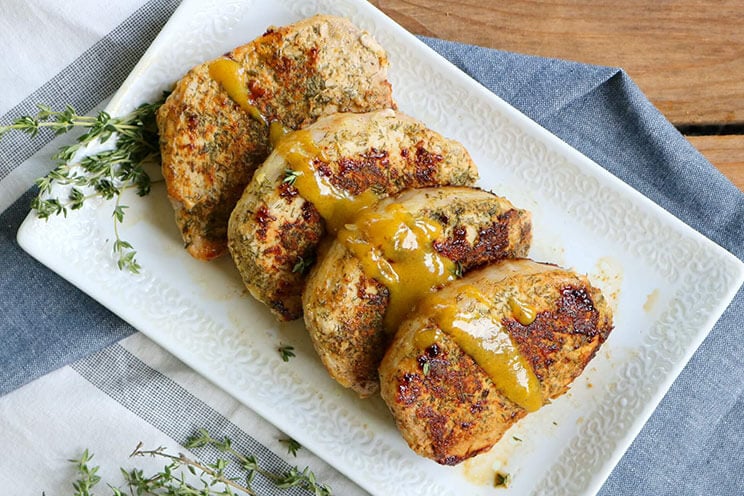 Cook Time:
16 mins
16 minutes
Prep Time:
4 mins
4 minutes
Easy 20-Minute Mustard Pork Chops
These mustard and herb-crusted pork chops pack mouthwatering savory flavor.
Tools
Small bowl

Plate

Large skillet
Ingredients
4 boneless pork chops

1/3 cup Dijon mustard

1 T fresh chopped thyme

1 T nutritional yeast

1 t dried dill

1/4 t sea salt

Ghee, for cooking
Instructions
In a small bowl, stir together nutritional yeast, thyme, dill and sea salt. Set pork chops onto a plate and brush with Dijon mustard on all sides.

Sprinkle each chop with herbs, using hands to press into pork chops.

Melt ghee in a large skillet over medium heat until very hot. Place chops into pan and cook 8 minutes. Flip and cook an additional 8 minutes. Serve hot.

(You'll Also Love: Tangy Sweet Pork Chops with Beet Purée)