It's officially autumn, and for many of us that means apple picking and enjoying hearty, comfort food. These Paleo Apple Cider Pork Chops are the perfect way to enjoy the classic tastes of fall.
This tasty recipe requires just a few simple ingredients, letting the flavors of the apple and the pork shine through! Pan-searing these bone-in pork chops creates a crispy outer-layer, while the fresh apples and apple cider create a delicious sauce to drizzle over perfectly cooked meat.
Deanna Dorman
Apple Cider Pork Chops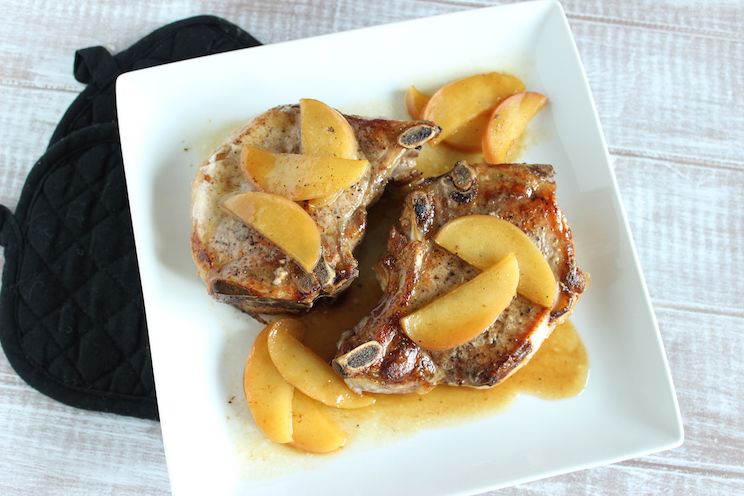 Cook Time:
40 mins
40 minutes
Prep Time:
5 mins
5 minutes
Apple Cider Pork Chops
Ingredients
4 bone-in thick-cut pork chops

4 T grass-fed butter

1 cup all-natural apple cider

1-2 medium red apples, sliced thin

salt and pepper
How To Make It:
1. Preheat oven to 400 degrees and melt 1 tablespoon of butter in a large oven-proof skillet over medium-high heat.
Love slow cooker recipes?
Click here to get your FREE copy of our delicious Slow-Cooker Recipes!
2. Season both sides of the pork chops with salt and pepper to taste, and carefully lay each chop in the skillet. Cook for 3-4 minutes per side or until the meat has browned.
3. Transfer the skillet to the oven and cook for 20-30 minutes or until internal temperature reaches 160 degrees.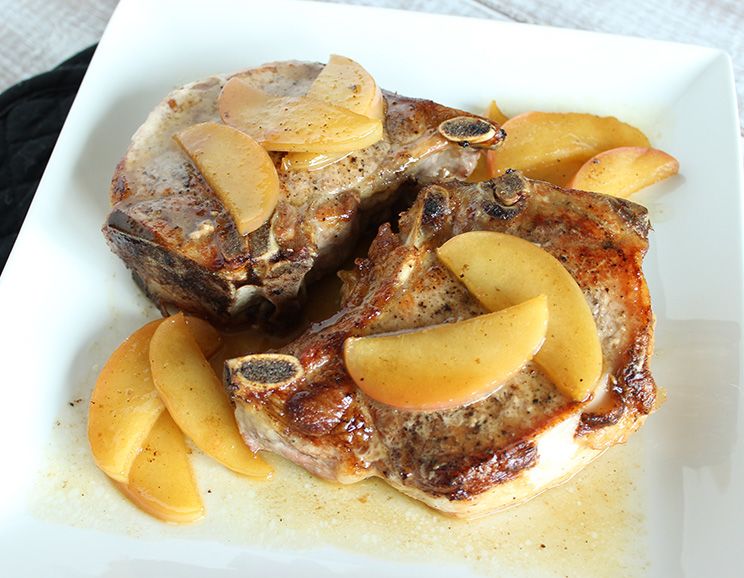 4. Transfer the cooked pork chops to a serving platter while you prepare the apple cider glaze. In the same skillet, add apple cider and sliced apples and cook over a medium-high heat to reduce by about half, about 10-15 minutes.
5. Drizzle apple cider glaze over the pork chops and top with the sliced apples. Enjoy!
You'll Also Love:
Delicious Crockpot Pulled Pork
Paleo Pork Poutine
Stewed Honey Apples