Forget frying, bake your pork chops in crispy almond meal for a crunchy coating that's better than breadcrumbs!
Skip the frying oils and bake these crispy pork chops right in the oven! Quick and easy to prep, this recipe deserves a spot in your weekly dinner rotation. Have it ready in less than an hour and serve with roasted Brussels sprouts or Paleo risotto for a complete meal!
Almond meal is a great replacement to breadcrumbs and adds the same crispy texture, without inflammatory grains or processed flours. To save time and money, you can make homemade Paleo bread crumbs with Italian herbs and almonds right in your food processor. Keep them in your cupboard and have them ready for all your breading needs in a jiffy!
Love Almond Flour Recipes? Then you'll love our FREE Almond Flour Recipes.
Click here to get your FREE copy of our delicious Almond Flour Recipes!
When choosing your pork chops, look for pasture-raised and organic varieties to ensure the highest quality of meat. Not only will you be getting optimal nutrition, but you'll also have peace of mind knowing your meat is less likely to contain antibiotics or harmful additives. You can also use pork cutlets for a thinner chop, but just be sure to reduce the baking time by ten minutes.
To get started, blot the excess moisture from the pork chops with a paper towel. This will allow the coating to stick easily onto the surface. Next, dunk each chop into the egg wash and shake off any excess liquid. Dredge the egg-washed chops into the almond meal and herb mixture before placing onto a prepared baking sheet.
When ready, place the coated chops into the oven and bake for thirty minutes. Remove the pan from the oven and use a pair of tongs to flip the chops over. Return them to the oven and continue baking for an additional ten minutes, blotting excess fat with a paper towel as necessary. Serve warm and enjoy!
Jennafer Ashley
Crispy Oven-Fried Paleo Pork Chops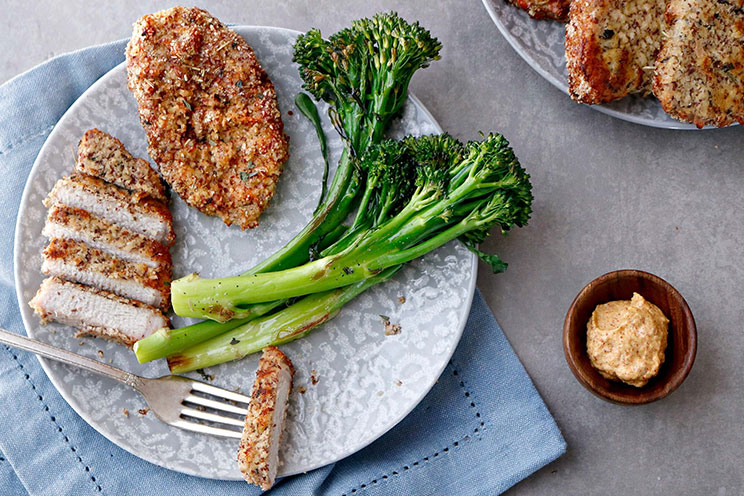 Cook Time:
40 mins
40 minutes
Prep Time:
10 mins
10 minutes
Crispy Oven-Fried Paleo Pork Chops
Forget frying, bake your pork chops in crispy almond meal for a crunchy coating that's better than breadcrumbs.
Tools
Baking sheet

Parchment paper

Small mixing bowl
Ingredients
6 4-oz.boneless skinless pork chops

2 pasture-raised eggs

1 ½ cups almond meal

1 t dried rosemary

1/2 t sea salt

1/2 t dried basil

1/8 t garlic powder

1/8 t black pepper
Instructions
Preheat the oven to 375°F and line a baking sheet with parchment paper.

Whisk the eggs in a small bowl and combine the almond meal with seasonings on a shallow plate.

Blot the pork chops dry with a paper towel and dip the chops in the egg wash. Shake off any excess liquid and dredge in the almond meal mixture. Coat on all sides.

Place the pork chops onto the prepared baking sheet and bake for 30 minutes. Flip the chops and return to the oven. Cook for 10 more minutes, or until golden brown. Serve and enjoy!
Looking for Paleo ingredients? Here are a few we'd recommend:
Almond meal (Barney)
Coarse sea salt (AztecSeaSalt)
Garlic powder (Frontier)
Black pepper (Frontier)
(You'll Also Love: Easy 20-Minute Mustard Pork Chops)