These one-pan, blackened skillet pork chops mingle with five different sautéed veggies for a fuss-free meal.
These pork chops are marinated in a spice blend of cumin, black pepper, garlic, turmeric, and honey. The natural sweetness of the honey balances out the savory spices and helps the pork chops caramelize.
Meanwhile, a cast-iron skillet does the rest of the work, distributing heat evenly and creating a nice char on the meat.
Love slow cooker recipes?
Click here to get your FREE copy of our delicious Slow-Cooker Recipes!
Pair these blackened pork chops with a sautéed five-vegetable medley that includes cauliflower, green and red bell peppers, mushrooms, and kale.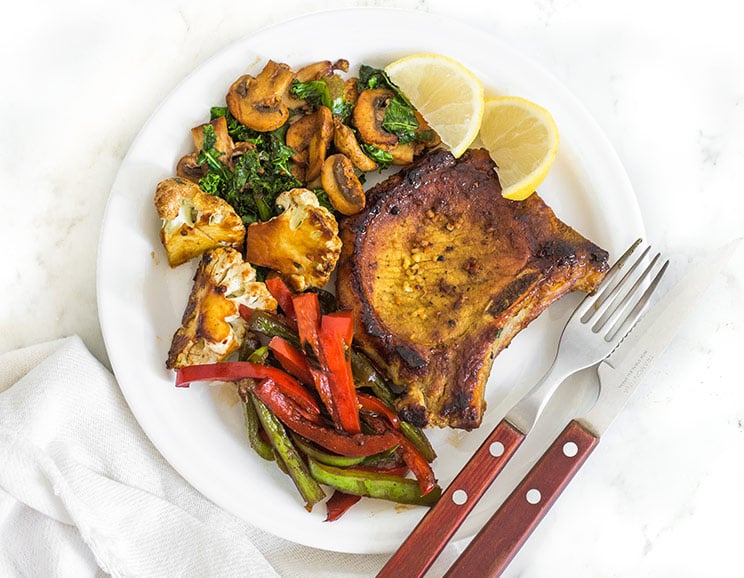 Why Do You Need A Cast-iron Skillet?
Cast-iron skillets are the ideal tool for blackening meat and sautéeing veggies, and with proper care, they'll last for ages.
The first step to caring for your cast-iron skillet? Season it well. You'll do this when it's new, or if it's built up a layer of rust. Seasoning involves baking in oil to your skillet to create a non-stick coating, and letting it cure to lock that coating in.
If your skillet becomes rusted, don't worry. Simply use a piece of steel wool to scrape off the rust, wash it clean with hot water, and dry it. Then, re-season it.
To avoid the issue of rust altogether, clean your cast iron skillet with hot water, but skip the soap and detergent, as it will destroy the skillet's natural protective coating. Always dry your skillet immediately after washing it.
Helpful Tips To Get You Started:
Love spice? If you want to add a little heat, add a teaspoon of red chili powder to the marinade mix.
No honey, no problem! If you don't have honey, maple syrup works just as well. Any natural sugar will help caramelize the pork chops.
Up the marinating time. We call for a quick, 10-minute marinade in this recipe, but you can marinate this dish up to four hours ahead of time.
Felicia Lim
Easy Caramelized Honey Pork Chops with Veggies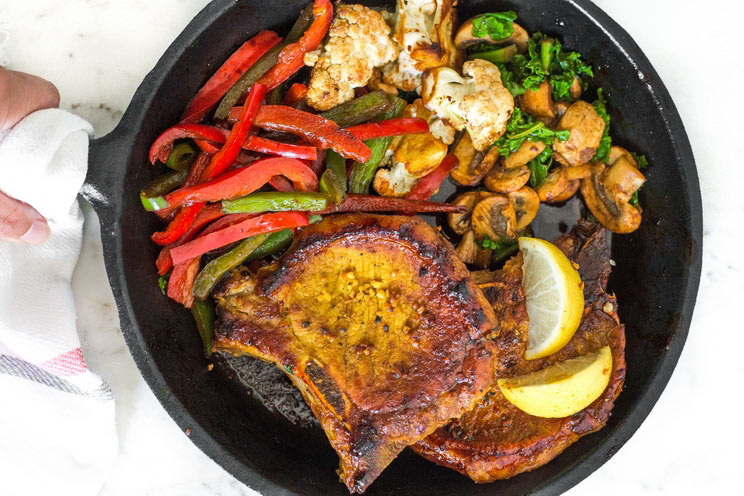 Inactive Time:
10 mins
10 minutes
Cook Time:
20 mins
20 minutes
Prep Time:
5 mins
5 minutes
Nutrition facts:
37 grams of protein
53 grams of carbohydrates
29 grams of fat
Easy Caramelized Honey Pork Chops with Veggies
These one-pan, blackened skillet pork chops mingle with five different sautéed veggies for a fuss-free meal.
Ingredients
1 t ground cumin

1 t freshly ground black pepper

1 t granulated garlic

4 T honey

2 bone-in pork chops

2 T coconut oil

2 cups cauliflower florets

1 cup sliced red bell peppers

1 cup sliced green bell peppers

2 cups sliced mushrooms

2 cups kale leaves

Lemon wedges, for garnish
Instructions
In a small bowl, combine the ground cumin, black pepper, granulated garlic, and honey. Mix until well combined.

Rub the pork chops all over with the marinade, and marinate them in the refrigerator for at least 10 minutes.

Heat the coconut oil in a cast-iron skillet over medium heat. Let the skillet heat up for at least 5 minutes.

Place the pork chops in a single layer on the hot skillet, and cook until blackened, about 5 minutes a side.

Set the pork chops aside, leaving the juices in the skillet.

Add 2 tablespoons of water to the skillet and use a spatula to scrape the bottom of the pan to release the flavors and juices. Cook the cauliflower florets and bell peppers in the juices, stirring occasionally, about 5 minutes. Set them aside.

Cook the sliced mushrooms and kale leaves in the remaining juices over medium heat for about 3 minutes, until the mushrooms are tender and the kale is just wilted.

Divide the pork chops and vegetables evenly between two plates. Garnish with fresh lemon wedges and serve.
Looking for Paleo ingredients? Here are a few we'd recommend:
Raw honey (Bee Farms)
Cold pressed coconut oil (Viva Naturals)