Top sweet potato fries with Paleo cheese and pulled pork for a healthy version of Poutine!
Poutine is a classic Canadian dish that's about as far from being Paleo as possible. Luckily, with a little creativity, almost any meal can be turned into a primal feast.
To get started, you'll need to cook the pork in a crock-pot for 6-8 hours. This allows the meat to slowly tenderize while marinating in a pool of juicy broth. You can use this as a Paleo gravy to pour on top of your sweet potato fries. Next, you'll need to swap out traditional cheese curds with dairy-free Paleo cheese instead. This gives your dish a nice nutty flavor while offering a creamy coating that rivals any old nacho cheese sauce. Finally, once all steps are complete, you can load them onto a plate and start feasting away.
The benefits of this dish are great since it's a low-carb meal option with plenty of fiber and minerals — often found in sweet potatoes and chicken broth. With so many herbs and spices, you can expect to munch down on some serious hearty flavor. Chili powder, thyme, and fresh lemon juice are just some of the ingredients used to make this dish a stand-out winner.
So the next time you're in the mood for something meaty and filling, give these Paleo pork poutine fries a try. We can bet you'll savor every bite.
Want to snack smarter and curb cravings? Click here to get your FREE 25 Healthy Paleo Snacks Cookbook
Deanna Dorman
Pork Poutine Recipe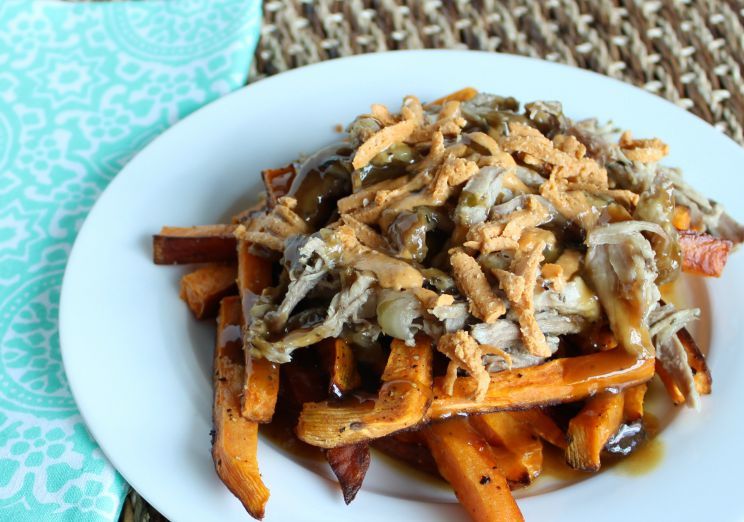 Prep Time:
10 mins
10 minutes
Pork Poutine Recipe
These poutine fries are a hearty snack piled high with juicy pork savory seasonings.
Tools
Slow Cooker

Medium Bowl

Blender

Small saucepan

Aluminum foil

Baking sheets
Ingredients
2 lbs pork shoulder

Salt and pepper to taste

6 cups beef bone broth

6 sprigs of oregano

1 T dried thyme

1 t chili powder

3/4 cups water

1 T grass-fed gelatin

1/4 cup raw cashews

1 1/2 t smoked paprika

2 T fresh lemon juice

1 T tahini

2 T nutritional yeast

1 1/2 t onion powder

1 t dijon mustard

1/2 t sea salt

1/4 t garlic powder

1/8 t cayenne

2 large sweet potatoes

1 T coconut oil, melted
Instructions
To Prepare the Pork: Salt and pepper the pork shoulder to taste and place in a slow cooker. Pour beef or chicken stock in the slow cooker and add oregano, thyme, and chili powder. Cook on high for 6-8 hours or until cooked through and the pork pulls apart easily between two forks.

To Prepare the Paleo Cheese: Grease a medium bowl with coconut oil and set aside.

In a small saucepan, bring gelatin and water to a boil for 1 minute and quickly move to a blender. Blend together gelatin mixture, cashews, nutritional yeast, lemon juice, tahini, paprika, mustard, onion powder, sea salt, garlic powder, and cayenne until smooth and pour into the grease bowl.

Refrigerate the sauce for 3 hours uncovered.

To Prepare the Sweet Potato Fries: Preheat oven to 400°F and line 2 baking sheets with aluminum foil and brush with half the melted coconut oil. Slice the sweet potatoes into long, thin fries about a 1/4 to 1/2 inch thick. Arrange the fries on the baking sheet and brush with the remaining coconut oil. Season with salt and pepper to taste and bake for 30-40 minutes, turning frequently.

To Prepare the Gravy: Once the pork is cooked through, remove it from the stock and transfer the stock to a saucepan. Bring the stock to a boil and reduce to a simmer for 20-30 minutes to reduce into a gravy, mixing frequently. While the gravy is preparing, shred the pork thin.

To assemble: Divide sweet potatoes into 4-6 servings and layer with pulled pork, top with the gravy, and shred on some Paleo cheese. Enjoy!
(You'll Also Love: Tangy Sweet Pork Chops with Beet Purée)