This cozy Cranberry Balsamic Rosemary Pork Chops and Sweet Potatoes is a 30-minute skillet meal packed with comforting winter flavors.
Made with just a few simple, healthy ingredients, this dinner could not be more wholesome or delicious! Sweet cranberries and a pungent balsamic vinegar combine with extra virgin olive oil to make a luscious, savory sauce. That sauce sits on the bottom of the skillet, keeping the potatoes and pork chops extra moist and tender as they cook to perfection.
This recipe comes together in less than 30 minutes, which is perfect for a weeknight dinner. The flavors are incredible. Guaranteed to please a crowd!
Trying to figure out exactly what to eat on Paleo? Look no further than our FREE 21 Day Paleo Meal Plan.
Grab Our FREE Paleo Meal Plan By Clicking Here!
For the protein, you can easily swap the pork chops for chicken, fish or lamb. For the veggie, I used Japanese sweet potatoes. They're purple and not as sweet as yams, so it doesn't overpower the sweet cranberry balsamic.
To make the dish a little sweeter, simply add one to two tablespoons of maple syrup when you blend the sauce (this is helpful if your cranberries are tart). Also, make sure you reserve some of that yummy sauce for dipping once it's cooked.
This easy dinner is one you simply can't go wrong with!
Megan Olson
Rosemary Pork Chops with Cranberry Sauce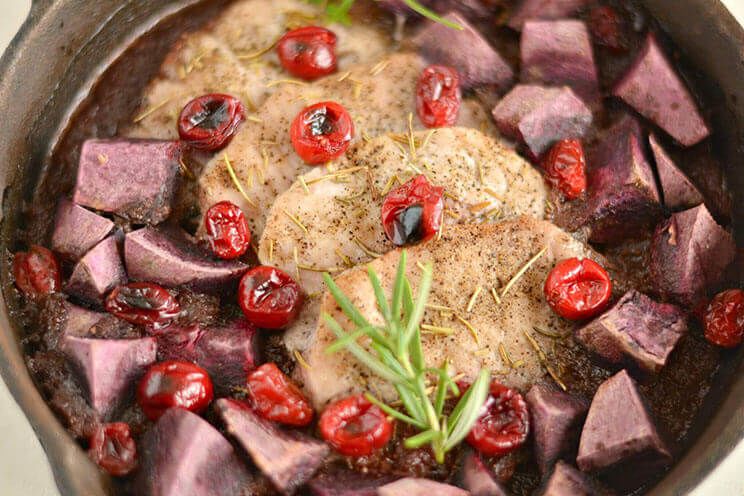 Cook Time:
30 mins
30 minutes
Prep Time:
10 mins
10 minutes
Rosemary Pork Chops with Cranberry Sauce
This cozy Cranberry Balsamic Rosemary Pork Chops and Sweet Potatoes skillet meal is packed with comforting winter flavors.
Ingredients
4 3-oz pork chops

2 small Japanese sweet potatoes, chopped

1 cup cranberries, 3 T reserved for topping

2 T extra virgin olive oil

1/8 cup balsamic vinegar

2 T dried rosemary

Salt and pepper, to taste
Instructions
Preheat oven to 350°F. Prepare a skillet by greasing it with 1-2 teaspoons coconut oil.

In a food processor or blender, add extra virgin olive oil, balsamic vinegar, and cranberries. Blend on high until fully combined. If the sauce is too chunky, add a little more oil to break it down. It should be thick.

Transfer the sauce to the skillet, spreading it into an even layer.

Place pork chops in an even layer in the middle of the skillet. Sprinkle the pork chops with salt and pepper to taste.

Next surround the pork chops with the chopped sweet potato. Sprinkle with rosemary and top with reserved cranberries.

Place in the oven to bake for 30 minutes until the potatoes are roasted.

Remove from the oven and transfer pork chops and potatoes to a plate. Drizzle with the cranberry balsamic sauce from the bottom of the skillet and top with extra rosemary as desired.

(You'll Also Love: One-Pan Honey Turmeric Chicken with Asparagus)
Lose weight, fight inflammation, and soothe your digestion with delicious meals like juicy skirt steak with cucumber & radish salad, succulent pulled pork, and more!
FREE Cookbook:
80 Gourmet Paleo Recipes from
a Professional Chef trained at Le
Cordon Bleu in Paris
FREE Cookbook:
80 Gourmet Paleo Recipes
from a Professional Chef
trained at Le Cordon Bleu
in Paris