Whip up these apple-bacon skillet pork chops in just one pan for a healthy, delicious weeknight meal!
This recipe features hearty bone-in pork chops with a classic combination of apples, bacon, and cabbage. You'll love the rich, sweet, and savory flavors layered throughout. Plus, it's a quick go-to recipe that'll make cleanup a cinch!
How To Build Layers Of Flavor
Our skillet pork chops start where any good meal does – with bacon. Cooking it first encourages the fat to render, leaving a bottom layer of flavor. When the bacon is done, set it aside, but leave the reserved fat in the pan.
How does bone broth fight inflammation AND promote weight loss? Download our Free Bone Broth Guide And Recipes To Find Out Now!
Click here to get your FREE Bone Broth Guide And Recipes Today!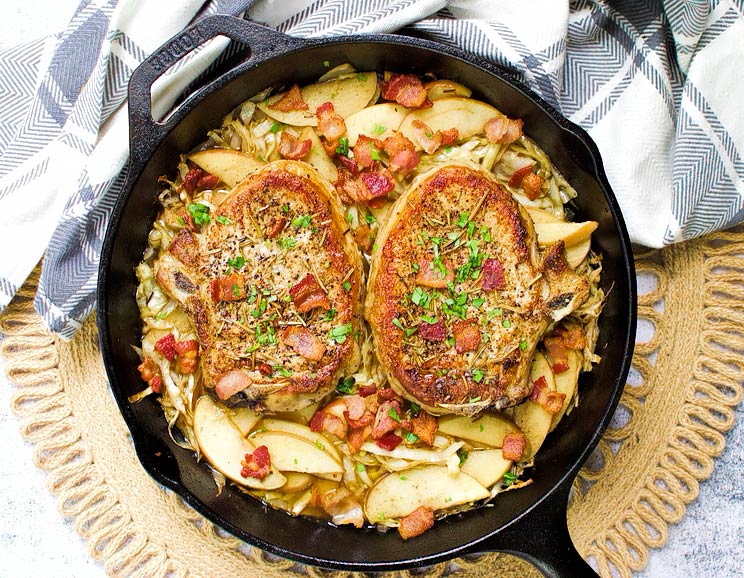 For our next layer, seasoned bone-in pork chops are seared to a golden crisp. You'll want to pat the pork chops dry before placing them into the skillet since this will give them a nice golden crust. Added rosemary will help brighten up the flavor as it combines with the rendered bacon fat.
The final layer consists of caramelized onions, apple, and cabbage that meld with the seared pork. Let the onions simmer alone to tenderize, then add the cabbage and apple. Give it all a good toss before layering the pork chops on top and transferring it to the oven.
Helpful Tips To Get You Started:
Opt for pastured pork. To get the most flavor and least additives, opt for pure, additive-free pastured meats.
Sub in any stock you'd like. Whatever broth or stock you have on-hand works with this recipe. Try using bone broth for a gut-healing boost.
Danielle Moore
Pork Chops with Apple, Braised Bacon, and Cabbage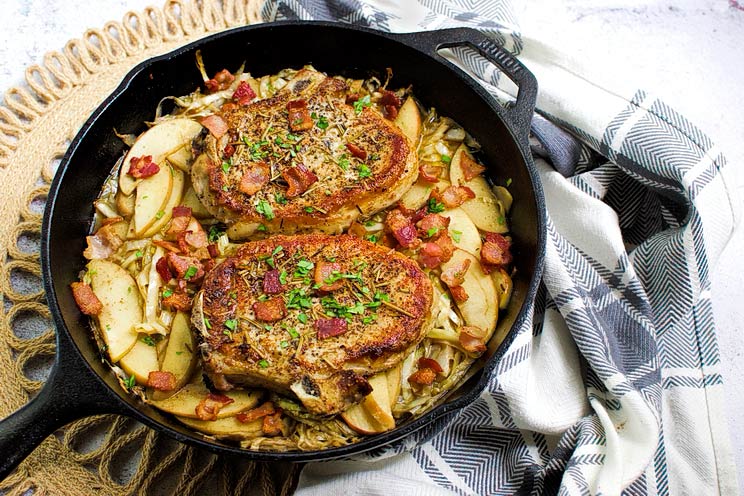 Cook Time:
40 mins
40 minutes
Prep Time:
5 mins
5 minutes
Nutrition facts:
56 grams of protein
31 grams of carbohydrates
18 grams of fat
Pork Chops with Apple, Braised Bacon, and Cabbage
Whip up these apple-bacon pork chops in just one pan for a healthy, delicious weeknight meal.
Ingredients
¼ cup chopped bacon

1 lb bone-in pork chops

2 t dried rosemary

¼ t salt

⅛ t pepper

½ cup sliced onion

¼ cup apple cider vinegar

1 t Dijon mustard

3 cups shredded cabbage

1 cup chicken stock

1 apple, cored and sliced

½ t smoked paprika

2 T chopped tarragon
Instructions
Preheat the oven to 350°F.

In a skillet, heat the chopped bacon over medium and cook for 8 minutes. Stir occasionally until crisp, then remove the bacon to a plate lined with paper towels. Reserve the rendered fat in the pan and set aside.

Pat the pork chops dry, then season with dried rosemary, salt, and pepper.

Set the skillet to medium heat and add the pork chops with the rendered fat. Sear them for 4 minutes per side, then remove and set aside.

In a small bowl, whisk together the apple cider vinegar and Dijon mustard. Set aside.

Add the onions into the skillet and cook for 4 minutes, then stir in the vinegar and mustard mixture. Scrape up any browned bits at the bottom.

Place the shredded cabbage, chicken stock, apples, and paprika into the skillet. Toss to coat.

Return the pork chops back to the skillet, cover, and transfer to the oven for 20 minutes, or until the pork is cooked through.

Serve the pork chops over braised apple and cabbage, then garnish with bacon and tarragon.
Looking for Paleo ingredients? Here are a few we'd recommend:
Apple cider vinegar (Bragg)
Black pepper (Frontier)
Paprika (Simply Organic)
For more pork chop recipe inspiration, check out these tangy sweet pork chops with beet purée, or these crispy oven-fried Paleo pork chops.

If you liked these super simple skillet pork chops, you'll love the variety of easy and gourmet meals in Paleo Eats. Enjoy healthy yet hearty Paleo meals like Mongolian Red Pepper Beef, Pulled Pork, Bacon Bars, and more. Get your copy HERE.