Missing bagels for breakfast? Try these gluten-free Keto Bagels made with wholesome ingredients and tons of healthy fats.
Unlike traditional bagels, these Keto Bagels are made without using any refined flours or added sugars. Since refined flours have less nutritional value than their keto counterparts, much of the fiber and nutrients have been stripped during the manufacturing process. Luckily, this Keto Bagel recipe keeps your nutrition in balance while boosting higher fiber and healthy fats.
To get started, whisk together all the wet ingredients into one bowl and sift the dry ingredients into another bowl. Next, fold the dry ingredients into the wet and add in the boiling water, making sure to mix until the moisture is fully absorbed. Note: The dough may seem fairly wet at first, but will absorb during the mixing process.
Love Coconut Flour Recipes? Then you'll love our FREE Coconut Flour Recipes.
Click here to get your FREE copy of our delicious Coconut Flour Recipes!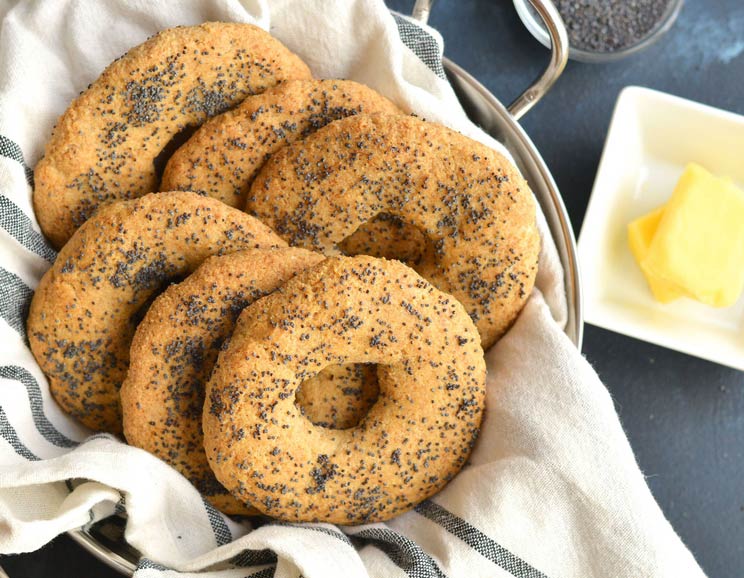 Next, divide the batter into eight even balls and gently roll each one into a long log, using your fingers. This part can get tricky and the dough may seem slightly loose, but using a little finesse and gentle finger-rolling will help get the job done. Tip: Keep your fingers wet while you roll the dough to help prevent it from breaking. If it does break, simply pinch it back together and try rolling again.
Finally, shape the dough into bagels on a baking sheet, brush them with an egg wash and sprinkle with poppy seeds on top. Then, pop them in the oven for 20-25 minutes or until golden brown.
Enjoy your bagel heated with a touch of almond butter or grass-fed butter if dairy works for you! You can even try adding garlic powder or onion flakes to recreate your own "everything" bagel.
Store the bagels in the refrigerator for up to 10 days, or in the freezer for 30 days.
Megan Olson
Keto Bagels

Cook Time:
20 mins
20 minutes
Prep Time:
15 mins
15 minutes
Nutrition facts:
9 grams of protein
6 grams of carbohydrates
18 grams of fat
Keto Bagels
Missing bagels for breakfast? Try these gluten-free Keto Bagels made with wholesome ingredients and tons of healthy fats.
Ingredients
1½ cups almond flour

¼ cup coconut flour

2 T psyllium husk or ground flax

4 large eggs, room temperature, divided

3 large egg whites, room temperature

¼ cup coconut oil, melted

3 T unsweetened full-fat coconut milk

1 T apple cider vinegar

1/4 cup boiling water

1 t baking powder

½ t baking soda

¼ t salt

1 T poppy seeds

1 t water
Instructions
Preheat the oven to 375°F. Prepare a large baking sheet with parchment paper.

Place the egg whites, three whole eggs, milk, apple cider vinegar, and coconut oil into a bowl and whisk together.

In a separate bowl, sift together the almond flour, coconut flour, psyllium husk, baking powder, baking soda, and salt. Fold the dry ingredients into the wet using a spatula.

Add ¼ cup of boiling water and mix together. Keep mixing the ingredients until the water is absorbed. At first it will be very wet, but it will get absorbed as you mix.

Next divide the batter into eight even balls. The batter will be slightly loose.

Roll each ball out into a log by rolling gently with your fingers. Keep your hands wet during this process to help keep the batter together.

Transfer the logs to the prepared baking sheet. Pinch the ends together and gently flatten the dough with your hands into a bagel shape.

In a small ramekin, whisk together one whole egg with water. Brush the egg wash over each bagel, then sprinkle them with poppy seeds.

Bake for 20-25 minutes or until golden brown.

Remove from the oven and let the bagels rest on the baking sheet for 10 minutes before serving and enjoying.
Looking for Paleo ingredients? Here are a few we'd recommend:
Almond flour (Bob's Red Mill)
Coconut flour (Nutiva)
Cold pressed coconut oil (Viva Naturals)
Coconut milk (Native Forest)
Apple Cider Vinegar (Bragg)

(You'll Also Love: Paleo Cauliflower Bagel Recipe)