Whip up thick, fluffy and low-sugar Keto Chocolate Pancakes in under 10 minutes!
You won't believe how easy it is to make these protein-packed chocolate pancakes. You'll just need six Paleo-friendly ingredients to keep you fit and satisfied all morning long!
Coconut flour serves as the fiber-filled base of these pancakes. Mixing it up with melted coconut oil and coconut yogurt helps create a thick and creamy texture full of beneficial probiotics. (Tip: Here's how to make your own homemade coconut yogurt). Finally, raw cacao powder delivers natural chocolatey sweetness without using refined sugars.
Looking for low carb keto recipes to burn fat and lose weight?
Click here to get your FREE Keto Breakfast Recipes Cookbook!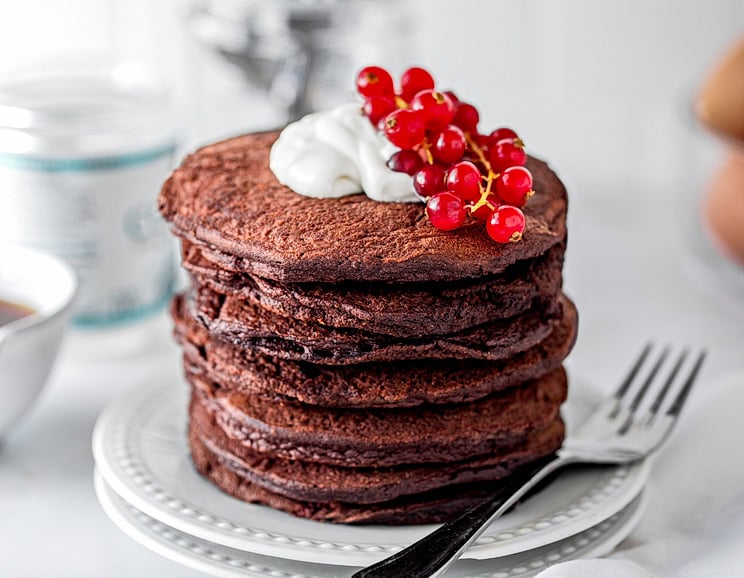 To get started, simply mix the wet ingredients in a large bowl, and fold in the dry ingredients. Use a ¼ measuring cup to measure the batter into eight pancakes and pour on a hot, greased skillet. Cook for 2-3 minutes, then flip and cook another 2-3 minutes, or until golden brown on both sides.
Enjoy your keto chocolate pancakes hot off the skillet topped with almond butter or coconut butter. You can also store them in the refrigerator for up to one week, or freeze them for up to one month to make weekday meal-prepping a cinch.
Megan Olson
Keto Coconut Flour Chocolate Pancakes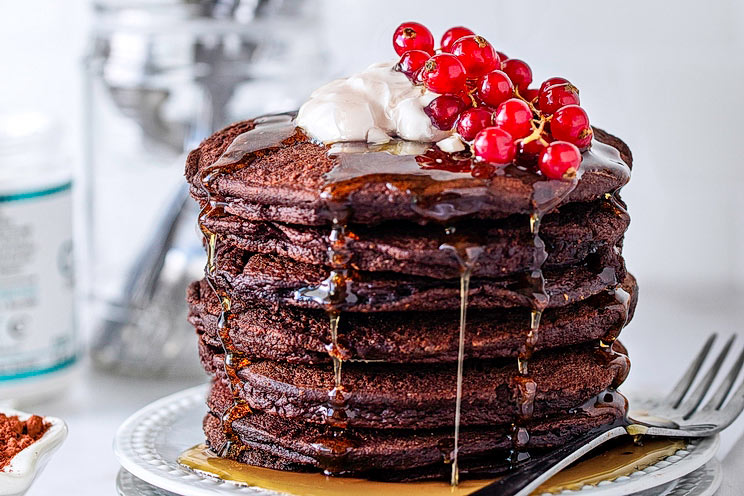 Cook Time:
10 mins
10 minutes
Prep Time:
5 mins
5 minutes
Nutrition facts:
20 grams of protein
10 grams of carbohydrates
45 grams of fat
Keto Coconut Flour Chocolate Pancakes
Whip up thick, fluffy and low-sugar Keto Chocolate Pancakes in under 10 minutes.
Ingredients
4 eggs

½ cup coconut yogurt

1 T coconut oil, melted

¼ cup coconut flour

½ cup raw cacao powder

½ t baking soda

Butter for greasing
Instructions
In a mixing bowl, whisk together the eggs, coconut yogurt, and coconut oil until smooth.

Fold in the coconut flour, raw cacao and baking soda.

Grease a skillet with butter and bring to medium heat.

Use a ¼ measuring cup to scoop out the batter and pour onto the hot skillet.

Cook 2-3 minutes, or until the batter begins to bubble. Flip the pancakes and cook another 2-3 minutes or until golden brown.
Looking for Paleo ingredients? Here are a few we'd recommend:
Cold pressed coconut oil (Viva Naturals)
Coconut flour (Anthony's)
Raw cacao powder (Healthworks)
Baking soda (Bob's Red Mill)
Get keto with breakfast, and stay there 'til dessert! With our Keto Sweets cookbook, you'll enjoy incredible fat-burning treats like mint chip ice cream, bacon-filled chocolate, and chocolate chip cookie cake. There's no sugar, gluten, processed grains, or soy to be found here, and each recipe contains 10g of net carbs or under. Get the book shipped to your door for FREE – just pay for shipping!