Dig into this decadent one-pan Keto Butter Chicken recipe served over low carb cauliflower rice.
There's no beating a one-pan recipe on busy nights. This hearty dish puts a keto spin on a classic Indian dish. Made with ghee, spices, and coconut cream, this saucy dish is completely dairy-free and easy to make. Serve over cauliflower rice for a guilt-free meal with added nutrition.
Butter chicken is full of vibrant flavors and includes a blend of spices such as: garam masala, cumin, coriander, clove, and cinnamon. This unique blend adds instant flavor and aroma while serving up a zesty flavor profile. You can find garam masala in the spice aisle of many ethnic grocery stores, or look for some online.
Heavy cream and yogurt are often used in traditional recipes. But to keep it dairy-free, we used coconut cream and ghee instead. Ghee adds a buttery flavor and texture to the sauce without including any lactose. This is great news for people sensitive to lactose, plus it includes plenty of essential vitamins and minerals.
Love slow cooker recipes?
Click here to get your FREE copy of our delicious Slow-Cooker Recipes!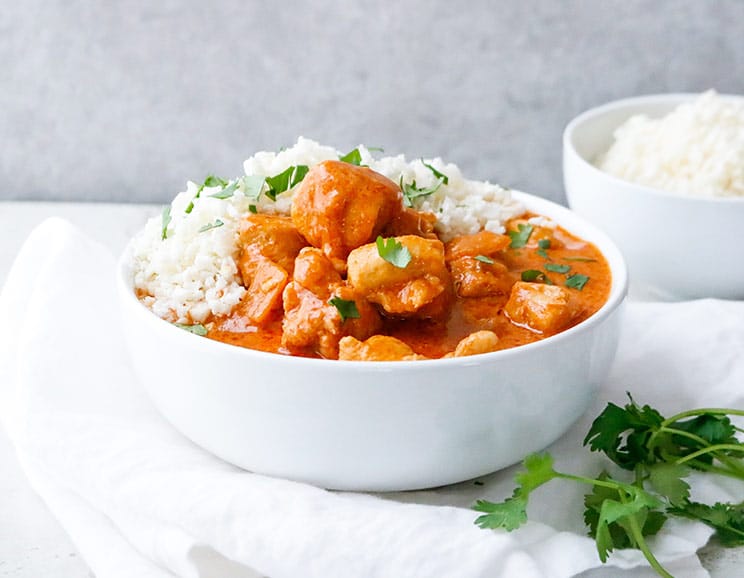 To get started, heat two tablespoons of ghee in a medium skillet for one minute. Blot excess moisture from the chicken with a paper towel and add to the skillet. Cook for 10 minutes, stirring occasionally.
Next, add the spices with chopped onions and cook for fives minutes. Let the onions soften and stir in the tomato sauce and coconut cream. Reduce the heat to low and allow the sauce to bubble and simmer for 20 minutes, or until thickened.
Then, serve warm over cauliflower rice and garnish with chopped cilantro and lime juice. The warmth from the sauce will lightly soften the cauliflower rice. If desired, you can lightly steam the cauliflower in a medium skillet over medium heat for five minutes, covered.
Tip: While this recipe is great for feeding a crowd, it' also perfect for meal prep. Easily refrigerate it and reheat in a pinch, without sacrificing flavor.
Jennafer Ashley
Keto Butter Chicken with Cauliflower Rice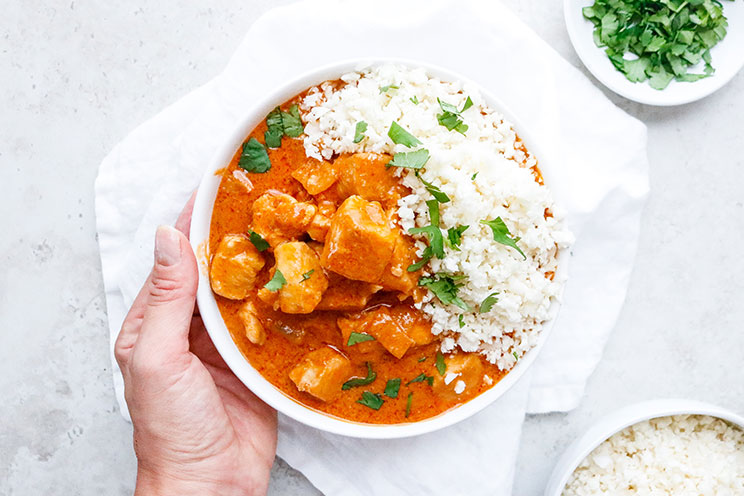 Cook Time:
35 mins
35 minutes
Prep Time:
10 mins
10 minutes
Nutrition facts:
58 grams of protein
17 grams of carbohydrates
49 grams of fat
Keto Butter Chicken with Cauliflower Rice
Bursting with antioxidants, this one-pan Keto Butter Chicken is high in protein and completely lactose-free.
Ingredients
1/4 cup ghee, divided

2 lbs. pasture-raised chicken breast, cubed

1/2 cup sweet onion, chopped

1 t garlic, minced

2 t garam masala

1/2 t ginger, grated

1/2 t sea salt

1 1/2 cups full-fat coconut cream

1 cup unsweetened tomato sauce

1/4 cup cilantro, chopped

2 cups cauliflower rice

1 lime, cut into wedges
Instructions
Heat two tablespoons of ghee in a medium skillet over medium-high heat for one minute. Add the chicken breast and cook for 10 minutes, stirring occasionally.

Add in onion, garlic, garam masala, ginger, salt, and the remaining ghee. Cook for five minutes, or until the onions soften.

Pour in the coconut cream and tomato sauce. Stir well to coat the chicken.

Lower the heat and simmer for 20 minutes to reduce and thicken the sauce.

Serve over cauliflower rice with lime wedges and chopped cilantro.
PS: Ketosis is most easily maintained on a very low carb, moderate protein, high fat diet. Be sure to eat this meal on days when you haven't had much protein in other meals.
Looking for Paleo ingredients? Here are a few we'd recommend:
Ghee (Pure Indian Foods)
Garlic powder (Frontier)
Ground ginger (Simply Organic)
Coarse sea salt (AztecSeaSalt)
Coconut cream (Native Forest)

(You'll Also Love: 61 Keto Recipes – Low Carb + Fat-Burning + Paleo)