This 3-ingredient skin-firming night cream will plump, moisturize, and help restore your skin's elasticity.
It happens far too often. Big-name beauty products with hefty price tags make claims promising smooth skin, yet deliver lackluster results. More so than not, these products also contain unnecessary perfumes and chemicals that contain potential health concerns (1). One of the best things you can do for your skin is to use cosmetics and creams from pure natural sources to feed your skin with antioxidants and moisture. This homemade cream contains both and is super easy to whip up for nightly use!
Camellia japonica (CJ) is the main active ingredient in this DIY face cream, giving it its unique skin-firming abilities. This oil may be relatively unfamiliar to you when thinking of anti-aging, but it exhibits potent collagen-stimulating properties. The oil, extracted from an exotic flowering tree native to Korea and Japan, can help reduce the appearance of fine lines and wrinkles caused by the aging process (2). If that's not enough, CJ oil can also be useful for treating inflammation – caused by eczema or oxidative stress – with rich fatty acids that help soothe your skin (3).
Want naturally radiant skin? We've created a FREE guide to give you the best tips & tricks for natural skincare.
Click here to get your FREE copy of our Skincare Guide!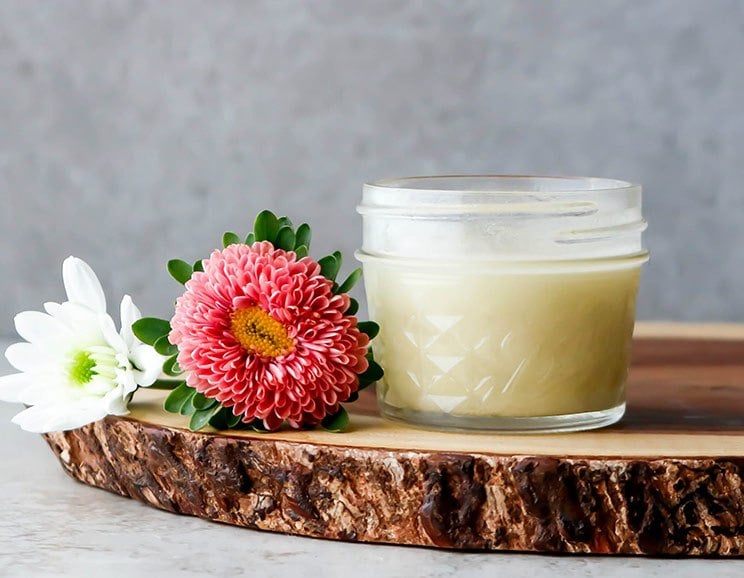 The base of this cream is unrefined shea butter. Shea butter is widely used in the beauty world for its emollient and skin-soothing properties. Clinical trials using shea butter, show that it is a promising moisturizer. Its antioxidant content can help soothe skin conditions associated with atopic dermatitis and even psoriasis (4).
The final ingredient is a widely known plant-based moisturizer called aloe vera. This clear gel is readily absorbed by the skin to give this night cream a lighter gel-like texture. Aloe vera is commonly found in products that treat potential damage caused by sunburn with its unique antioxidants. It also helps stimulate collagen and elastin, reducing the appearance of wrinkles (5).
To make this firming cream, melt the shea butter in a double boiler. Remove from heat and allow the shea butter to turn opaque. Tip: You can set it in the refrigerator for 20-30 minutes to speed up the cooling process. Next, vigorously whisk in the aloe vera and camellia japonica oil, just like you would whipped cream. Once well blended and creamy, pour into a small jar. Use nightly for best results.
Jennafer Ashley
DIY Skin-Firming Night Cream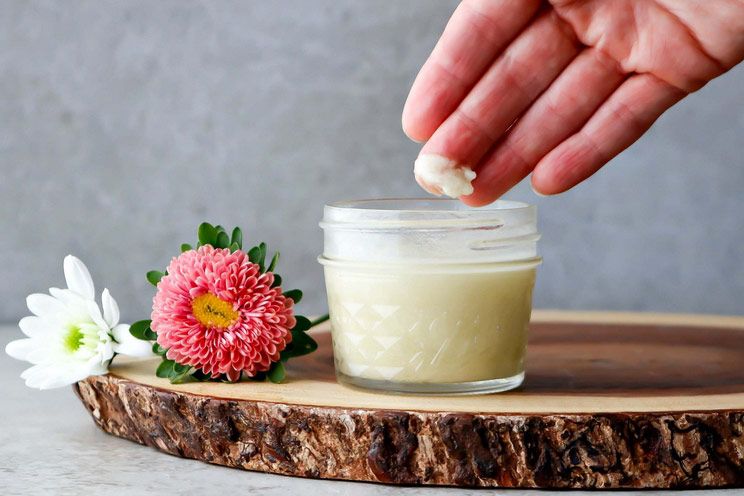 Cook Time:
10 mins
10 minutes
Prep Time:
5 mins
5 minutes
DIY Skin-Firming Night Cream
This 3-ingredient skin-firming night cream will plump, moisturize, and help restore your skin's elasticity.
Tools
Double boiler

Whisk

Small jar
Ingredients
1/3 cup shea butter

3 T aloe vera gel

2 T camellia japonica oil
Instructions
Melt the shea butter using a double boiler. Remove from the heat and let the shea butter cool to room temperature or until its color turns opaque.

Whisk in the aloe vera gel and camellia japonica oil until combined. When creamy, pour the mixture into a small jar with a lid.
You'll Also Love: DIY Detox Charcoal Face Mask with Coconut Oil