This Paleo french toast makes for a perfect brunch on a lazy Sunday morning! The recipe is egg-free, gluten-free and dairy-free, making it suitable for everyone to enjoy.
The directions are easy to follow and in the end, you get lip-smacking bites of breakfast heaven. If you're enjoying it solo, you'll have plenty of energy for an adventurous afternoon walk to switch off from the weekly grind. Sharing? Just add more fruity toppings or on the side to enjoy a filling weekend treat before heading out to explore!
Whichever way you decide to eat yours, rest assured you'll be enjoying the best low-calorie French toast the internet has to offer.
Love Coconut Flour Recipes? Then you'll love our FREE Coconut Flour Recipes.
Click here to get your FREE copy of our delicious Coconut Flour Recipes!
Rebecca Hughes
Almond Flour French Toast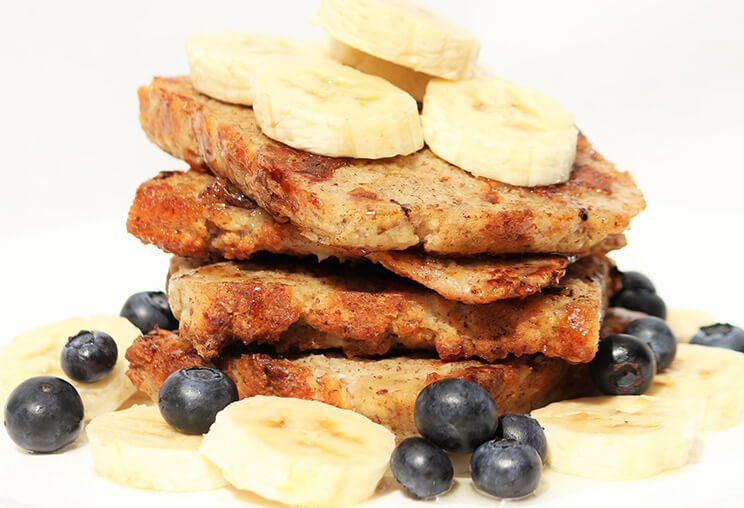 Cook Time:
35 mins
35 minutes
Prep Time:
15 mins
15 minutes
Almond Flour French Toast
This Paleo french toast makes for a perfect brunch on a lazy Sunday morning!
Tools
2 Large mixing bowls

Loaf pan

Parchment paper

Stovetop pan
Ingredients
For the Bread:
1 1/2 cups almond flour

3/4 cup arrowroot starch powder

1 t sea salt

2 to 3 T water

7 T almond milk

2 t apple cider vinegar

1 t honey

4 T ground flaxseeds

1 t baking powder
For the Batter:
1/2 ripe banana (1/4 cup mashed)

Banana, blueberries + Maple syrup for topping (optional)

1/2 t cinnamon

1 vanilla extract

1/4 T ground flaxseeds

Coconut oil for cooking

1/2 cup almond milk
Instructions
Preheat the oven to 350°F.

Measure all the wet ingredients for the bread, except the water, and mix in a bowl until there are no clumps left. Next, measure out all the dry ingredients for the bread and slowly mix into wet mix. (If the dough is stiff, add 2-3 T extra water).

Line a loaf pan with baking paper, add the bread mix to the tin, and place in the oven to bake for 25 to 30 minutes.

While Paleo bread is cooking, start making the batter by mashing banana in a large bowl.

Add almond milk, flaxseed, cinnamon, and vanilla from the batter ingredients and stir. Place the batter to the side.

Once cooked, remove the bread from the oven and remove loaf from tin. Place on a cooling rack for 5 minutes and slice into thick pieces.

Heat a pan to medium-high. Add a little coconut oil to the pan.

Dip a slice of bread in the batter mixture, covering slice, then add to the pan.

Cook for 3 to 4 minutes on each side or until evenly golden brown.

Stack French toast slices and add desired toppings.

Dig in!
Looking for Paleo ingredients? Here's what we recommend:
Almond Flour (Bob's Red Mill)
Raw Honey (Bee Farms)
Cold Pressed Coconut Oil (Viva Naturals)

(You'll Also Love: Coconut Flour Pancakes)