Looking for the flavor of a Chinese-inspired meal, but want something Paleo? These Honey "Soy" Chicken Skewers are the answer!
This recipe takes a classic favorite and turns it into a Paleo-friendly meal that everyone can love!
American Chinese food tends to be filled with soy and MSG — two things that we absolutely avoid when it comes to the Paleo lifestyle. Luckily, you can replace the usual soy sauce with coconut aminos to get that same savory taste.
Love slow cooker recipes?
Click here to get your FREE copy of our delicious Slow-Cooker Recipes!
Coconut aminos have all the flavor of soy sauce without the actual soy or MSG that comes with it. It comes from the "sap" of coconut palm trees, and it's nutrient-dense, with 17 amino acids, vitamins, and minerals. It is much lower in sodium than soy sauce, and has an almost completely neutral pH balance.
It makes a much Paleo-friendlier option, and will allow you to still enjoy many of your favorite foods!
This recipe is ALL about the marinade. It's a combination of raw honey, coconut aminos, hot sauce, and a splash of fresh-squeezed orange juice for a subtle sweetness.
My favorite way to prepare and serve this chicken is on skewers. However, you can always grill an entire chicken breast, as well. I love cutting the chicken into bite-sized pieces and allowing them to marinate for a few hours before placing them on either metal or bamboo skewers to grill.
Grilling gives you a decadent caramelization from the honey, and creates a smoky flavor you can't get when cooking chicken on the stove or in the oven. Plus, grilling chicken skewers takes only minutes, so this delicious meal can be in your mouth in no time!
Deanna Dorman
Spicy Honey 'Soy' Chicken Skewers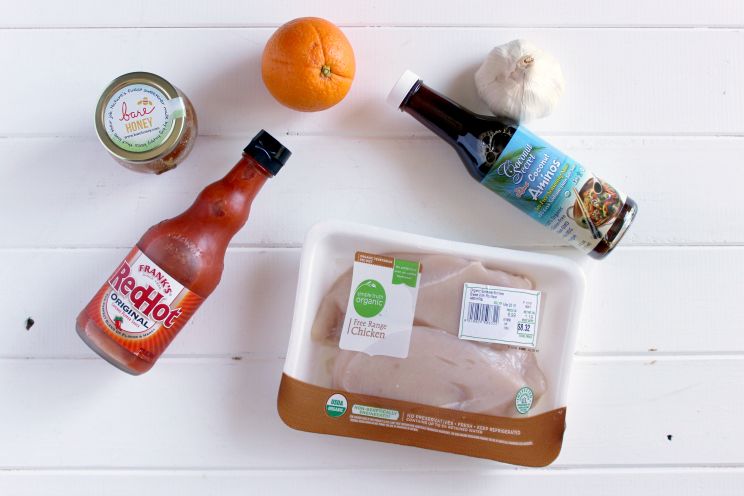 Cook Time:
15 mins
15 minutes
Prep Time:
10 mins
10 minutes
Spicy Honey 'Soy' Chicken Skewers
Ingredients
2 chicken breasts

2 T raw honey

2 T coconut aminos

1 T fresh-squeezed orange juice

1 clove garlic, minced

1 t hot sauce or sriracha sauce

salt & pepper to taste
How To Make It
1. In a medium bowl, mix together the honey, coconut aminos, hot sauce (or sriracha), and the orange juice.
2. Cut the chicken into one- to two-inch bite-sized pieces, and place the chicken pieces in the bowl with the marinade. Stir the chicken to fully coat with the marinade.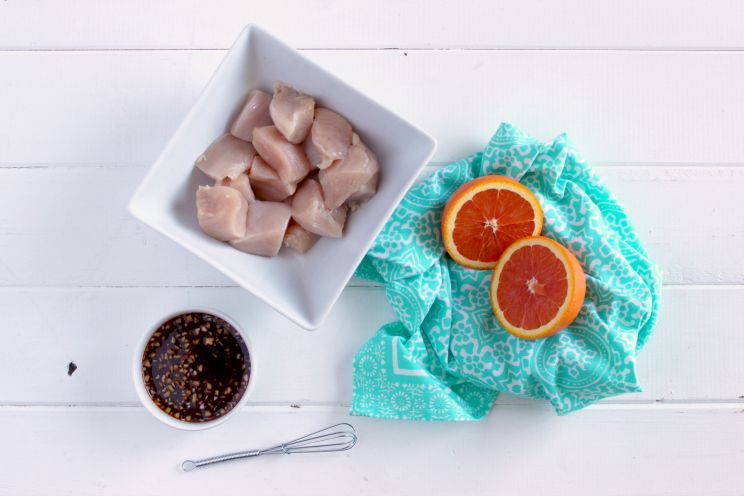 3. Allow the chicken to marinate in the refrigerator for 2-4 hours.
Once marinated, skewer the chicken onto metal or bamboo skewers.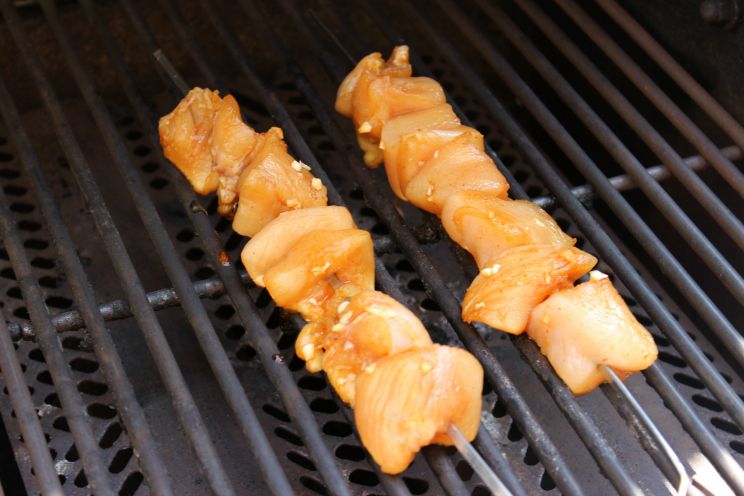 4. Preheat a grill to medium-high heat.
5. Grill the skewers for 3-6 minutes on each side or until the internal temperature reaches 165℉.

(You'll Also Love: Balsamic Steak and Mushrooms Kebobs)