Enjoy the flavor of tacos stuffed into hand-held chicken fritters, complete with a creamy guacamole dip!
Need a crowd-pleasing meal or snack? These high-protein chicken fritters will do the trick! Lean ground chicken gets seasoned with smoky Mexican spices, then paired with a homemade creamy guacamole dip.
The juicy chicken combines with almond flour and egg to bind the fritters – almond flour is an ideal substitute for breadcrumbs, adding texture without becoming gritty or gummy. All you need from here is a hot cast iron skillet and some avocado oil for frying.
Trying to figure out exactly what to eat on Paleo? Look no further than our FREE 21 Day Paleo Meal Plan.
Grab Our FREE Paleo Meal Plan By Clicking Here!
We pack several Mexican-inspired ingredients into these zesty, spicy fritters. Cilantro adds brightness and signature flavor along with cumin and chili powder.
Meanwhile, jalapeño adds heat but you can scrape out the jalapeño seeds to tone it down. Green peppers are another heat-free alternative.
If you're looking to pack in even more flavor, try adding smoked paprika, onion powder, and dried oregano to the mix.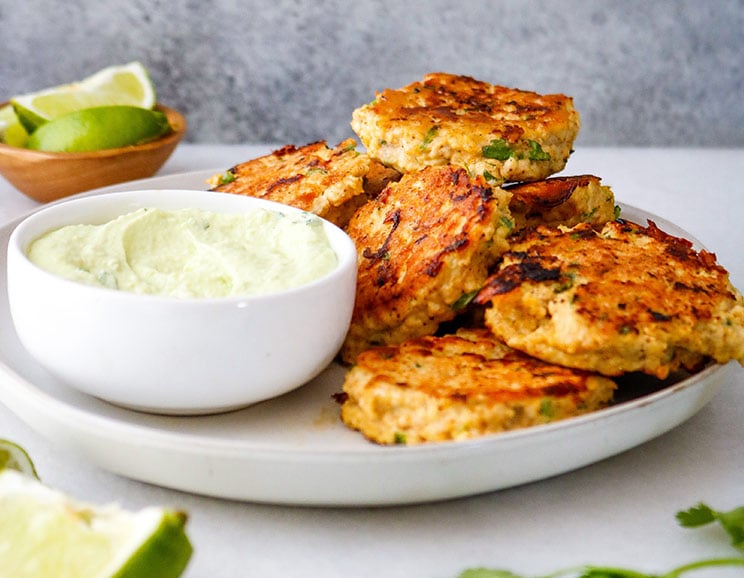 How To Make The Perfect Guacamole Dip
The accompanying ultra-creamy guacamole dip uses Paleo mayonnaise to achieve a smooth and perfectly dippable texture. Fresh lime juice, too, adds zip while chopped cilantro adds the herby flavor you'd expect from guacamole.
Since avocados tend to brown when mashed, this dip is best enjoyed within a couple of hours of making it. If using a store-bought mayonnaise, be sure to purchase one without any added sweeteners or hydrogenated oils.
Helpful Tips To Get You Started:
Keep them warm. The cooked fritters can be kept warm in a 200ºF oven while you finish up the remaining batches.
Try ground turkey. If you don't have ground chicken, ground turkey works well too.
Craving a burger? These fritters can be made into larger patties for a burger!
Made too many? Store leftovers in an airtight container in the refrigerator for up to 5 days.
Jennafer Ashley
Spicy Chicken Fritters with Creamy Guacamole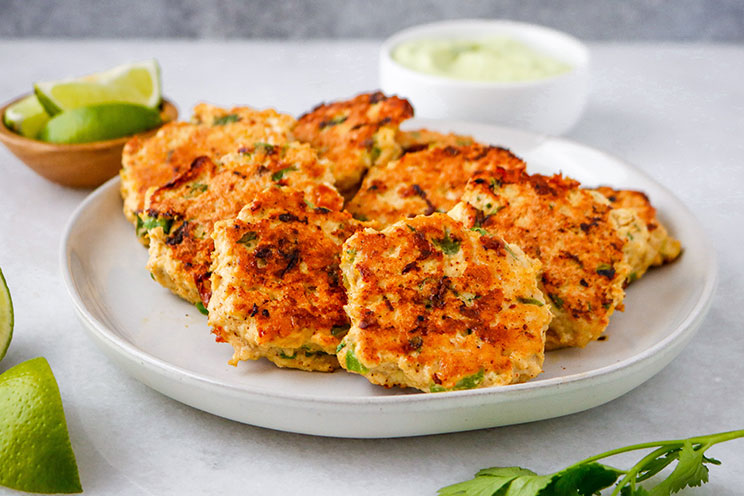 Cook Time:
30 mins
30 minutes
Prep Time:
10 mins
10 minutes
Nutrition facts:
29 grams of protein
7 grams of carbohydrates
22 grams of fat
Spicy Chicken Fritters with Creamy Guacamole
Enjoy the flavor of tacos stuffed into hand-held chicken fritters, complete with a creamy guacamole dip.
Tools
Medium cast iron skillet

Blender / Food processor

Medium mixing bowl
Ingredients
For the Guacamole Dip:
⅔ cup mashed avocado

¼ cup Paleo mayonnaise

2 T lime juice

¼ t salt

1 T finely chopped cilantro
For the Fritters:
1 lb. ground chicken breast

½ cup almond flour

1 large egg

¼ cup chopped cilantro

2 T minced jalapeño

1 t ground cumin

1 t chili powder

¼ t garlic powder

½ t sea salt

1 T avocado oil
Instructions
Combine the avocado, mayonnaise, lime juice, and sea salt in a blender or food processor and blend until smooth and creamy, about 15 seconds. Transfer to a small bowl and stir in the cilantro. Refrigerate until ready to serve.

Combine all the ingredients for the fritters except the oil in a medium mixing bowl. Mix thoroughly.

Heat the oil over medium heat in a medium cast iron skillet for 3 minutes. Scoop 2 tablespoon mounds of chicken mixture onto the skillet, then gently flatten and shape into a circle. You should be able to cook 3 fritters at a time.

Cook for 4 to 5 minutes a side. Repeat with the remaining mixture. Serve the fritters hot with guacamole dip.
Looking for Paleo ingredients? Here are a few we'd recommend:
Primal mayonnaise (Primal Kitchen)
Almond flour (Hodgson Mill)
Ancho chili powder (Simply Organic)
Garlic powder (Frontier)
Sea salt (REDMOND)
Avocado oil (Bella Vado)
You'll Also Love: Kale and Mushroom Sausage Patties