Get your barbecue tongs ready! These balsamic-marinated steak and baby bella mushroom shish kebobs are about to become your new grilling favorite.
Everyone knows that meat tastes better when it's served on a stick! To keep the steak nice and juicy when cut into cubes, we used sirloin steak for its thick cut with nice fatty marbling. If you don't have sirloin on hand, no worries.
The grill is very forgiving, and can hold up to just about any cut of beef. For a little contrast of texture and flavor, the steak is paired with meaty baby portobello mushrooms, which also hold up well to the high heat of the grill. Just make sure to use large mushrooms so they don't split on the skewer!
Want to go Paleo? Not sure where to start?
Start with this FREE Paleo For Beginners Guide Today!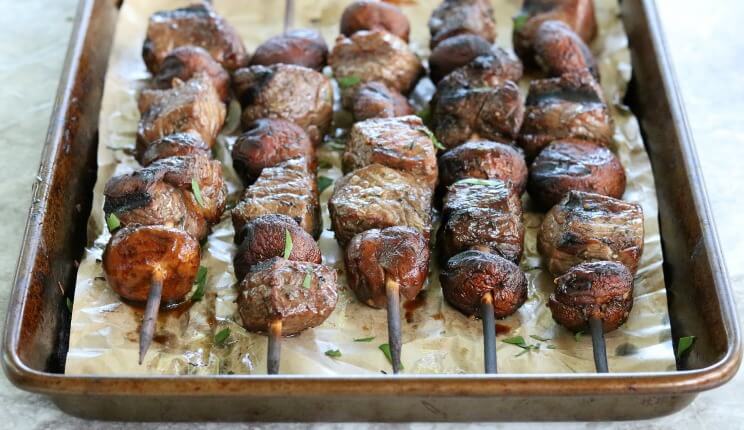 Whenever possible, opt for grass-fed steak. It's rich in CLA, a potent fatty acid that has been found to reduce tumor growth and help ward off certain cancers. It also boasts lots of omega-3's that help protect the cardiovascular system and boost brain health.
Begin by prepping the marinade and coating the steak and mushrooms, swishing around to coat well. Cover and refrigerate for a minimum of 2 hours – Note: you can save time by doing this step the night before. Next, preheat the grill to medium/high heat. I like to keep mine around 400°F when I want the meat to cook quickly with a good sear. Thread the mushrooms and steak onto skewers and grill for about 6 minutes, then turn the kabobs over and cook an additional 6 minutes. If you like your steak on the rare side, flip after 3 minutes instead of 6. Serve hot.
Don't forget about the sides! Try one or all of these Paleo dishes to serve alongside:
Jennafer Ashley
Balsamic Steak and Mushroom Kebobs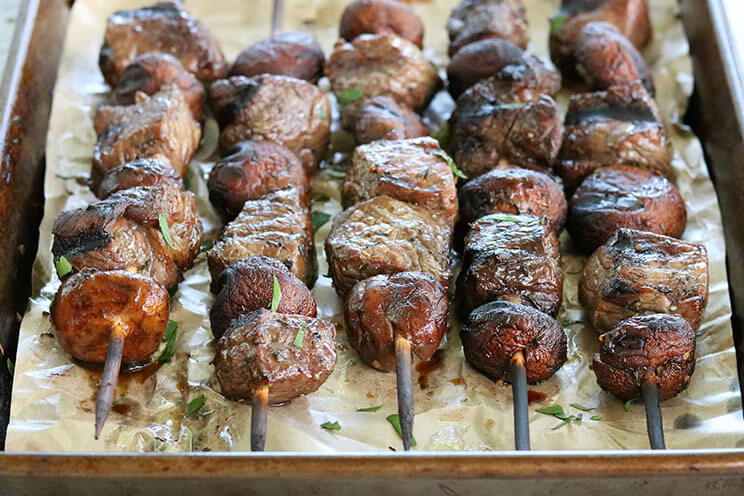 Cook Time:
12 mins
12 minutes
Prep Time:
10 mins
10 minutes
Balsamic Steak and Mushroom Kebobs
These balsamic-marinated steak and baby bella mushroom shish kebabs are about to become your new grilling favorite.
Ingredients
For the Kebobs:
1 lb. sirloin steak, cut into 1½ - 2-inch cubes

8 ounces baby portobello mushrooms, rinsed and dried
For the Marinade:
1/2 cup olive oil

1/3 cup balsamic vinegar

2 garlic cloves, minced

1/2 t dried thyme

1/4 t pink Himalayan sea salt

1/4 t black pepper
Instructions
In a large mixing bowl, whisk together ingredients for marinade. Place cubed steak and mushrooms into bowl and toss with hands to coat. Cover and refrigerate 2 hours (not included in total time).

Heat grill to medium heat. While grill heats, alternate mushrooms and steak onto skewers.

Place kabobs on grill and cook 12 minutes, turning halfway through to evenly brown each side. Allow to rest 5 minutes before serving.

(You'll Also Love: Spicy Honey 'Soy' Chicken Skewers)