This simple curried chicken recipe is as nourishing as it is comforting.
This sweet curried chicken recipe is as nourishing as it is comforting. Made with plenty of protein and mouth-watering aromas, this recipe is a must-make for busy nights. Serve over veggie noodles or cauliflower rice for a complete dinner that will satisfy the whole family.
Curry paste brings together the warm and complex flavors of this recipe. It's packed with a blend of herbs like ginger, cumin, turmeric, and chili peppers.
Want to learn more about Paleo and how it can help you?
Grab our FREE "What Is Paleo?" Guide by Clicking Here!
Raw honey adds a touch of sweetness while caramelizing as the chicken simmers. When combined with full-fat coconut cream, it creates a rich and creamy texture. Tip: If you want to make this recipe keto-friendly, you can also omit the honey and enjoy as is!
To get started, blot any excess moisture from the chicken breasts and season with salt and pepper. Slice into large pieces or keep the chicken breasts whole, if you prefer. You can even substitute with slices of chicken thighs, depending on what you have readily available.
Next, brown the chicken in the hot coconut oil for about five minutes per side. Meanwhile, stir the raw honey, coconut cream, and curry paste together in a saucepan over low heat. Combine until smooth, then pour this sauce over the chicken in the skillet. Reduce the heat to low and simmer for about fifteen minutes to fully cook – this will allow the flavors to marry. Serve hot and garnish with fresh cilantro or Thai basil.
Jennafer Ashley
Easy Curried Honey Chicken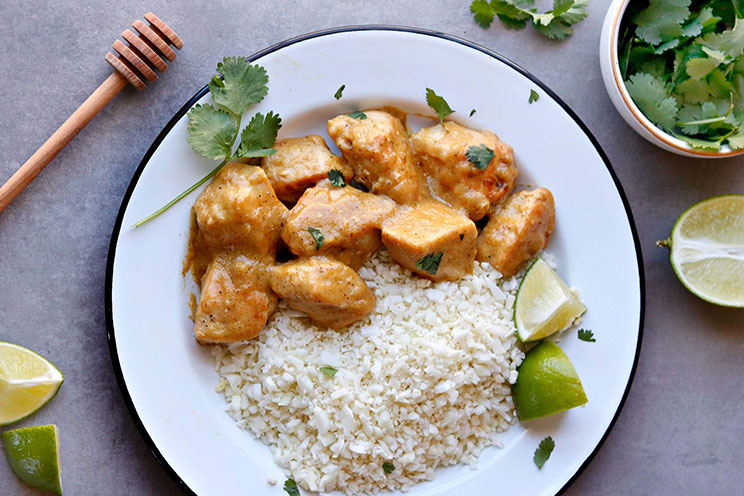 Cook Time:
25 mins
25 minutes
Prep Time:
5 mins
5 minutes
Easy Curried Honey Chicken
This simple curried chicken recipe is as nourishing as it is comforting.
Tools
Medium skillet

Medium saucepan
Ingredients
1 t coconut oil

1 lb chicken breast, sliced into large pieces

1/4 t salt

1/8 t ground black pepper

1 cup full-fat unsweetened coconut cream

2 T honey

1/4 cup yellow curry paste

Cilantro or Thai basil for serving (optional)
Instructions
Blot excess moisture from the chicken pieces and season all sides with salt and pepper.

In a medium skillet, melt the coconut oil over medium-high heat. When the pan is simmering, add the chicken and brown on all sides for 10 minutes.

In a saucepan, heat the coconut cream, honey, and curry paste over low heat. Whisk into a smooth sauce and pour over the chicken. Reduce the skillet to low heat and let it simmer for 15 minutes, or until chicken is cooked through.

Serve hot with cauliflower rice and garnish with fresh herbs.
Looking for Paleo ingredients? Here are a few we'd recommend:
Cold pressed coconut oil (Viva Naturals)
Sea salt (REDMOND)
Black pepper (Frontier)
Coconut cream (Native Forest)
Raw honey (Bee Farms)
You'll Also Love: 31 Chicken Breast Recipes to Shake Up Your Dinner Table