Get inspired by Cuban cuisine with this zesty mojo chicken, broiled to crispy perfection!
Spicy marinated chicken is baked and then broiled (or grilled!) for a Cuban-inspired meal perfect for entertaining. Serve it alongside grilled avocado, a fresh salad, or plantains.
What's In The Mojo Marinade?
Citrus juice is the backbone of this traditional recipe. We infuse fresh orange and lime juices with smoky spices, chili flakes, and a bit of raw honey for a tangy, juicy marinade.
It's not just a sweetener -- it's medicine, too! Discover The Benefits of Nature's Superfood: Honey
Click here to get your FREE copy of our Honey Guide!
To give this chicken plenty of time to get nice and spicy, marinate it for at least eight hours or overnight.
The Benefits Of Broiling
A good broil allows you to crisp up the skin after baking. The high-heat temperature directly toasts your chicken from the top, giving it a nice caramelized crust. The skin also holds the marinade tight so that everything remains juicy on the inside.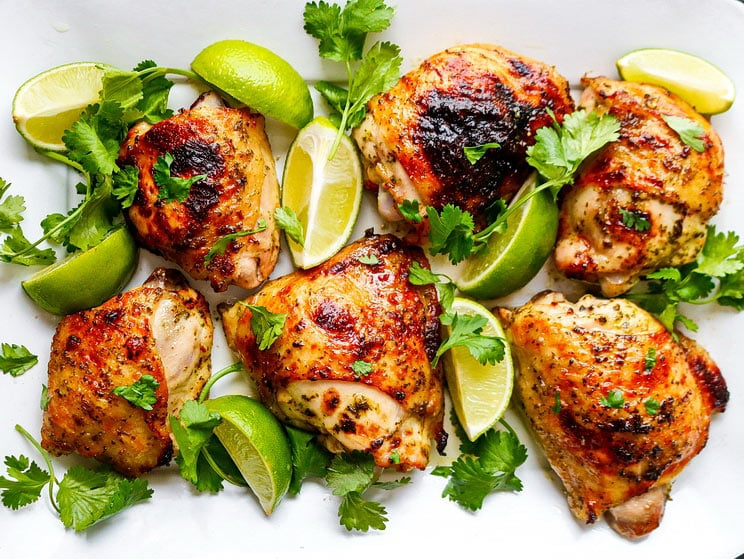 Cook It Faster On The Grill
You can skip the oven entirely and toss the chicken on a grill instead. Simply preheat the grill to 400ºF and place the thighs over direct heat. Cook them for 20 minutes, flipping halfway through, then remove them once the internal temperature reaches 165°F.
Helpful Tips To Get Started:
Switch up the recipe. Swap chicken thighs for chicken breast or legs, or even try bone-in pork chops.
Adjust the cooking time. Depending on the thickness of your meat, you'll want to adjust the cooking time as needed. Thicker cuts may need more time in the oven.
Cut down on prep time. Make the marinade up to two days in advance and store it in the fridge.
Make use of leftovers. Shred leftover chicken to add to salads, soups, or tacos.
Jennafer Ashley
Mojo Chicken in a Spicy Citrus Marinade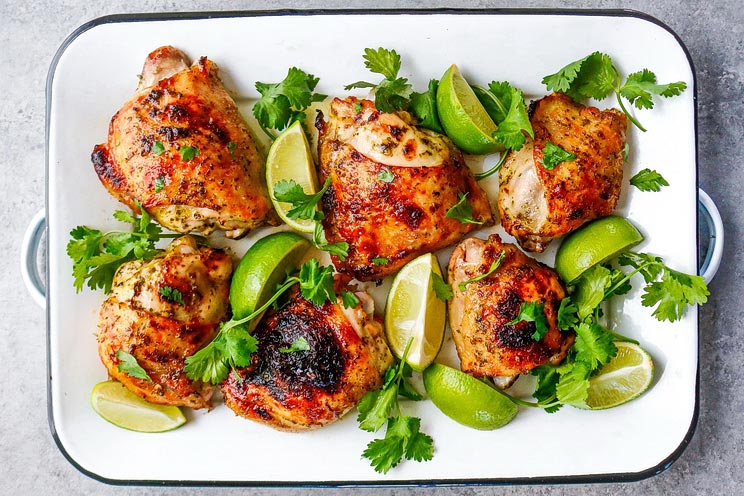 Inactive Time:
8 hrs
8 hours
Cook Time:
40 mins
40 minutes
Prep Time:
10 mins
10 minutes
Nutrition facts:
28 grams of protein
13 grams of carbohydrates
38 grams of fat
Mojo Chicken in a Spicy Citrus Marinade
Get inspired by Cuban cuisine with this zesty mojo chicken, broiled to crispy perfection.
Tools
Shallow baking dish

Food processor

16-by-11-inch baking sheet

Parchment paper
Ingredients
2 lbs bone-in, pasture-raised chicken thighs

¼ cup lime juice

¼ cup orange juice

¼ cup raw honey

⅓ cup avocado oil

½ cup cilantro

2 t minced garlic

1 t oregano

1 t ground cumin

½ t chili flakes

½ t sea salt
Instructions
Place the chicken thighs in a shallow baking dish and set aside.

Combine the remaining ingredients in a food processor and blend until thoroughly combined, about 15 seconds.

Pour the processed marinade over the chicken thighs and cover, then transfer to a refrigerator. Let it chill for at least 8 hours or overnight.

When ready, heat the oven to 350ºF and line a baking sheet with parchment paper.

Remove the chicken from the refrigerator and shake off any excess marinade.

Place the chicken thighs onto the prepared baking sheet and bake for 35 minutes.

Turn the oven to broil and continue cooking for 5 more minutes. Serve hot and enjoy!
Looking for Paleo ingredients? Here are a few we'd recommend:
Raw honey (Bee Farms)
Avocado oil (Bella Vado)
Coarse sea salt (AztecSeaSalt)
Find even more easy-yet-gourmet Paleo recipes in our hard copy Paleo Eats cookbook. Whip up tasty meals like Tomatillo Cilantro Roasted Chicken, Braised Short Ribs and Pan-Roasted Pork Chops. Get the book shipped to your door for FREE – just pay for shipping!