Stuff chicken breasts with a savory mushroom filling and crispy bacon for a hearty dinner.
Tired of boring, dry chicken breasts? Luckily, it takes just a few healthy ingredients and couple extra minutes in the kitchen (which are well worth it) to transform this versatile ingredient into something delicious.
Hearty mushrooms, rosemary, and bacon are key to making this decadent dinner.
Trying to figure out exactly what to eat on Paleo? Look no further than our FREE 21 Day Paleo Meal Plan.
Grab Our FREE Paleo Meal Plan By Clicking Here!
The bacon's fatty crispiness balances the lean protein of the chicken and slowly bakes, basting the bird with its juices. At the end of cooking, the bacon gets broiled to yield the perfect, crispy result. Note, it's best to find pastured bacon for the best flavor and nutrient profile.
The stuffing for this dish is a nutritional powerhouse; no breadcrumbs here! Delicious sautéed mushrooms and onions cooked in healthy coconut oil are rolled up inside the chicken with dried rosemary.
This recipe is proof that you can cook healthy fare that tastes delicious and doesn't take hours toiling in the kitchen to make. These stuffed chicken breasts reheat well the next day, too, so I recommend doubling the recipe for protein-packed lunches all week.
They are also wonderful for a weeknight supper paired with roasted green veggies for a spread fit for a king!
Heather Resler
Bacon-Wrapped Stuffed Chicken Breast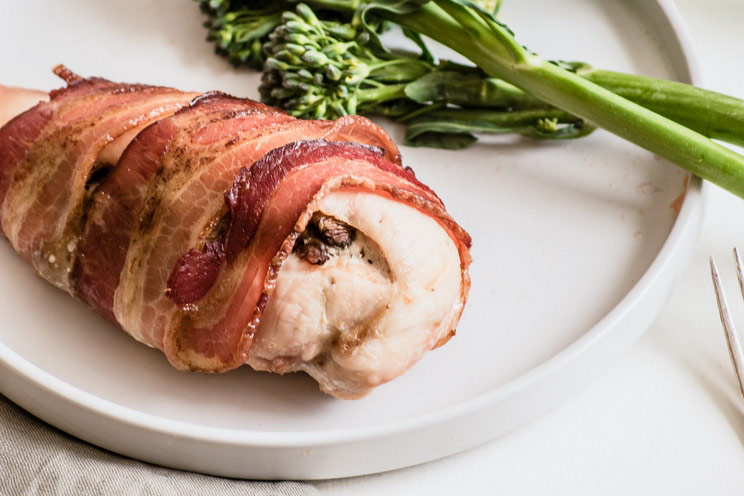 Cook Time:
45 mins
45 minutes
Prep Time:
30 mins
30 minutes
Nutrition facts:
44 grams of protein
6 grams of carbohydrates
12 grams of fat
Bacon-Wrapped Stuffed Chicken Breast
Transform chicken breasts into something scrumptious with a savory mushroom filling and crispy bacon.
Ingredients
3 large skinless chicken breasts

3-6 bacon slices

12 oz mushrooms, sliced

1 T coconut oil

1/2 onion, chopped

2 garlic cloves, minced

1/2 t dried rosemary

Salt and pepper, to taste
Instructions
Preheat oven to 375℉.

In a large skillet, melt the coconut oil over medium heat. Add the mushrooms, onion, garlic, rosemary, salt, and pepper. Cook, stirring often, until mushrooms and onions are tender and liquid has evaporated.

Meanwhile, butterfly the chicken breasts and pound to ⅓-inch thickness. Divide the mushroom filling between the chicken breasts. Roll up and wrap in bacon.

Transfer to glass baking dish. Bake for 35-45 minutes, or until cooked through. Turn the oven to broil and cook just until bacon starts to crisp.
Looking for Paleo ingredients? Here are a few we'd recommend:
Cold pressed coconut oil (Viva Naturals)
Black pepper (Frontier)
(You'll Also Love: The 9 Best Unfried Chicken Recipes)