Pinwheels make a terrific party appetizer or movie-watching munchie. Filled with smoky ham and gooey Paleo cheese, these two-bite roll-ups are a comforting snack that will curb any craving.
These savory pinwheels call for homemade Paleo-friendly tortillas (that are also a great vessel for tacos or pizza crust. I like that it's convenient and can be made on the stovetop in under 5 minutes. Because the dough is so simple, I like to jazz things up with a little herb flavor. Basil, oregano and garlic create a delicious taste and aroma. The ultimate test in a recipe that requires rolling is that it does not break or crumble. Using egg and tapioca starch creates a soft, yet stable, tortilla, perfect for pinwheels.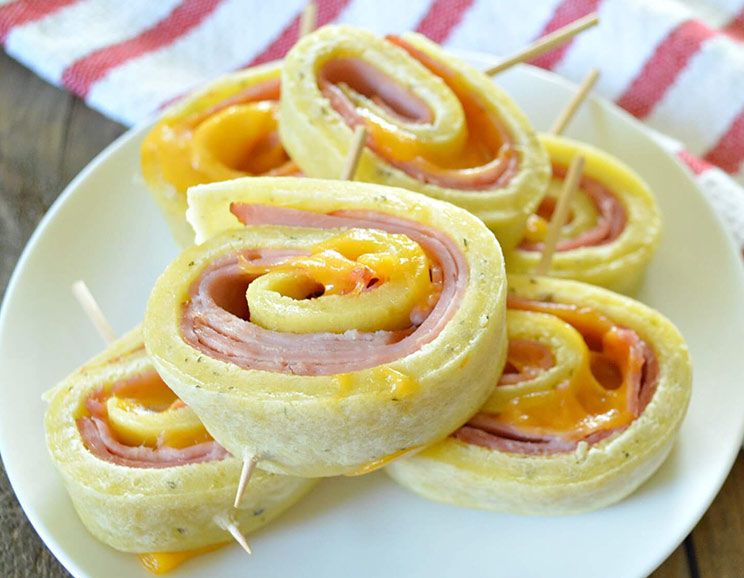 Want to go Paleo? Not sure where to start?
Start with this FREE Paleo For Beginners Guide Today!
Whenever I plan on making a Paleo recipe that calls for cheese, I turn to this tried and true recipe. This cashew-based cheese mimics the gooey goodness of real cheese and produces a delicious flavor and texture. I've used this cheese in Creamy Jalapeño Popper Dip and to top Pesto Pizza, so I knew it would be ideal in these pinwheels. I added a little extra paprika for the pinwheels to give the appearance of cheddar cheese.
Be sure to make your cheese ahead of time so it has time to solidify in the fridge. Although you can add any thinly sliced meat to your pinwheels, the smokiness of the ham complements the dish well. As with all meat, avoid those containing additives and opt for pasture-raised pork when available. With the widespread popularity of the Paleo diet, there are many options for high quality deli meat at most grocery stores.
This comfort food appetizer will be a hit at any party with its compact size and savory flavor. It also makes a delicious snack or breakfast for kids with ingredients you can trust.
Jennafer Ashley
Ham and Cheese Pinwheels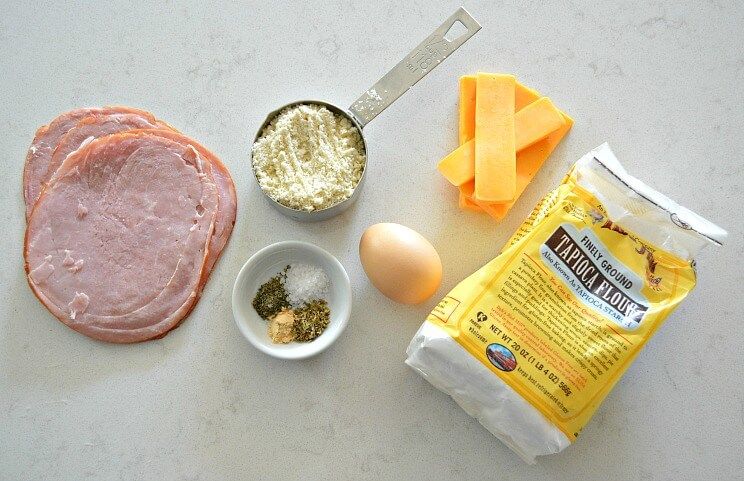 Cook Time:
13 mins
13 minutes
Prep Time:
10 mins
10 minutes
Ham and Cheese Pinwheels
Filled with smoky ham and gooey Paleo cheese, these two-bite roll-ups make a terrific party appetizer.
Ingredients
1 C tapioca starch

1/2 C almond meal

1/4 t dried oregano

1/4 t dried basil

1/4 t garlic powder

1/2 t sea salt

1 egg, lightly beaten

1/3 C + 1 T water

4 slices ham

4 slices Paleo cheese
Instructions
Preheat oven to 350ºF. In a large bowl, combine tapioca starch, almond meal, oregano, basil, garlic powder and sea salt. Add egg and water. Stir until smooth and the consistency of pancake batter.

Spray a large pan with nonstick spray over medium heat. Allow pan to get hot. Pour batter into skillet and roll pan around so batter reaches the sides. Cook until edges are crisp but center is still soft, about 3 minutes.

Gently slide tortilla onto a piece of parchment paper and cool for 5 minutes.

Arrange slices of ham and cheese on tortilla.

Roll tortilla gently - do not squeeze.

Cut into pinwheels and secure with toothpicks. Place on parchment-lined baking sheet. Bake 10 minutes. Serve hot.

(You'll Also Love: Buffalo Bacon Deviled Eggs)