When you think of quick, convenient meals that can be ready in a snap, the words "healthy" and "organic" don't normally come to mind.
Some meal delivery services involve a fair amount of prep and grunt work, but with Trifecta, all the meals come vacuum-sealed, fresh, and ready to eat. It's a healthy and convenient option, especially for those of us who have hectic jobs, families, kids or just need a break from the kitchen.
So is it worth it to hang up your apron and embrace a lifestyle of ready-to-go organic meals? Here's the skinny on Trifecta's meal plan delivery.
Want to learn more about Paleo and how it can help you?
Grab our FREE "What Is Paleo?" Guide by Clicking Here!
Delivery Service: Trifecta
Frequency: Weekly, bi-weekly, or every three weeks
Cost: From $6.50 – $14 per meal
Overall: Ready-made Paleo meals that are ideal for busy people who don't have time to cook or want to transition to a healthy diet without the work involved.
How They Package the Food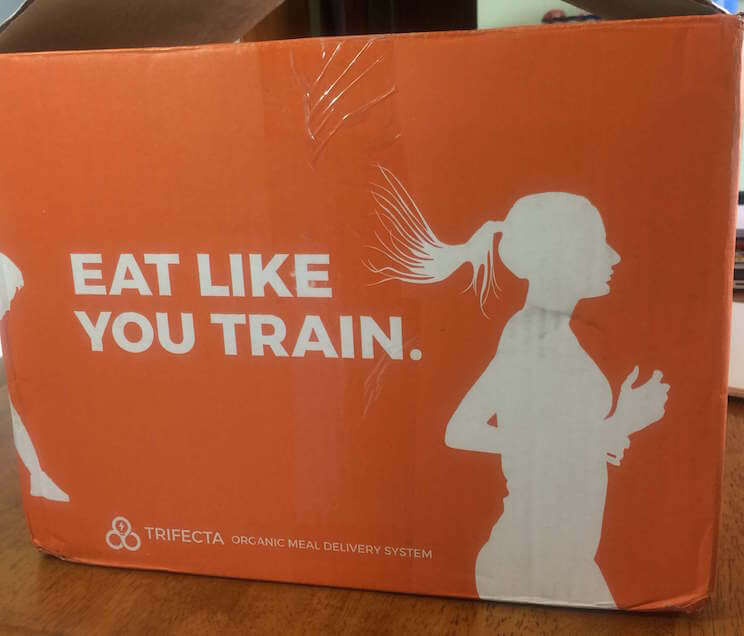 A whole week's worth of food arrives via FedEx on Fridays. Get ready to clear some room in your refrigerator, because there's quite a few vacuum-sealed meals packed in there. If you're opting for using Trifecta instead of grocery shopping that week, you should have plenty of room.
The big orange and white box is filled with ice packs and has their slogan Eat Like You Train written on the side. All meals are pre-cooked, fresh (not frozen!) and made from 100% USDA organic ingredients that are all grass-fed and wild-caught, which is pretty impressive for a meal delivery service. A list of the meats, veggies and seasonings is provided on the back of every meal package along with the calories and macronutrients. We read all the labels and recognized and understood everything in them – it was all whole foods as if we had cooked them at home.
---
What Arrived in the Mail
We didn't go with A La Carte food items and instead asked Trifecta to surprise us with some Paleo Meals. We got three breakfast items and seven entrees, with a good variety of fish, beef and chicken as the main protein. Here's a breakdown of what we got.
Breakfast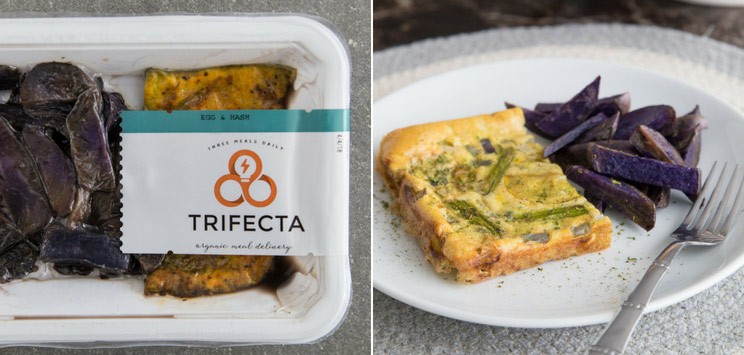 Mixed fruit chia pudding
Kalamata olive and cauliflower frittata
Egg and hash
Lunch and Dinner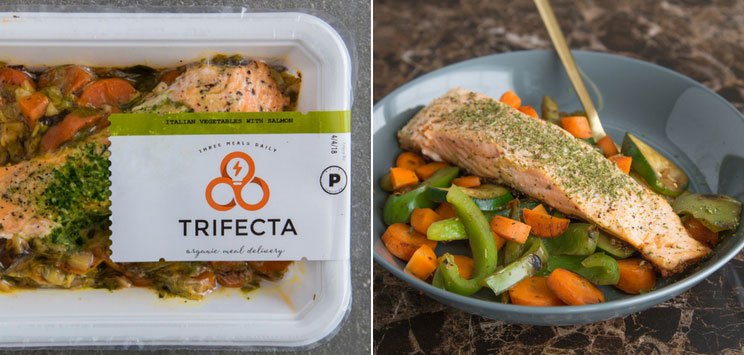 Beef patty with sweet potato and mixed veggies
Cilantro-chimichurri turkey patty with squash and green beans
Curried vegetable bowl with shrimp
Golden raisin curried squash with chicken tenders
Salmon with Italian vegetables
Steak with balsamic mushroom sauce
Sesame-glazed chicken wing with broccoli and cauliflower
What We Liked
Extremely convenient
Simple, organic ingredients that we recognized
No artificial ingredients
Not frozen like most other services
One of the best parts of using Trifecta is the convenience. All meals come pre-cooked, so it's simply a matter of reheating before devouring. In one stroke, it eliminated driving to the grocery store, waiting in line, cooking, and cleaning so we could focus on writing this blog post (hah!). The packages are microwave-friendly, but we recommend reheating them over the stovetop in a skillet (our favorite!), or throw the meal in an oven-safe tray or toaster oven and heat it up there. Crispy is always better.
The variety of meal plan choices is also a refreshing part of Trifecta. While many meal delivery services have a single menu they run each week, you can customize your food by category. Go for the Paleo, Clean or Vegan plans for meals that fit your lifestyle, or you can check out their unique A La Carte option where you can order meats, carbs and veggies by weight like at a grocery store deli. We haven't seen that with any other meal delivery service, and they even have options like Bison, Elk and Venison.
You can customize further by how many days of food you want and how many meals per day. If you've got food allergies or simply don't want certain types of food, you can note that and have them excluded. Want to add an extra meal for your partner? It's easy to add on an extra entree.
Regardless of the meal plan you choose, there's never any gluten, dairy or soy.
---
Our Favorite Dishes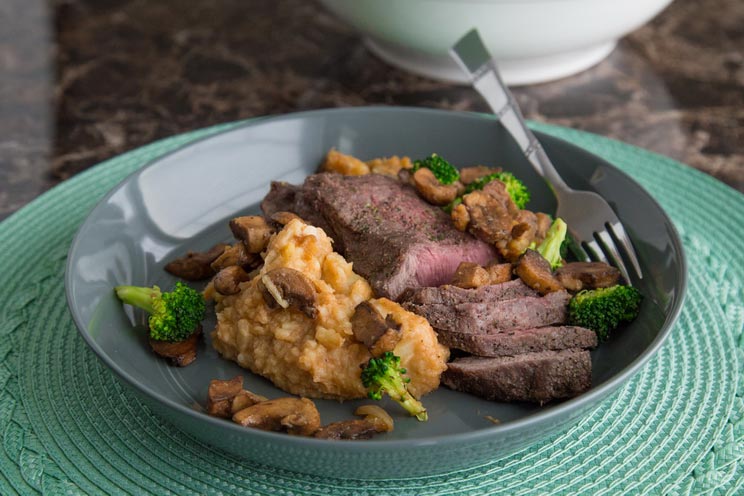 The balsamic steak was one of the best meals in the lineup. Even after reheating on the stovetop, it was still nice and red in the middle! Other favorites are the curried veggie bowl with shrimp, cabbage, almonds and a hint of maple syrup. For breakfast, the flavorful Kalamata olive and cauliflower frittata was the winner.
Our biggest complaints? The single chicken wing was more of a snack than a full meal. We saw in one of their emails they had discontinued chicken wings though, so hopefully nobody gets any more of those. Some of the meats and veggies are a little underseasoned because I think they are trying to keep the sodium levels down, so be sure to have your spice cabinet stocked and ready.
---
Who Should (and Shouldn't) Get Trifecta?
Any of Trifecta's meal options appeal to those who want to make healthy eating as easy as possible (although we're partial to the grain-free Paleo plan). If you're too busy to plan, cook and weigh your meals yourself (like so many of us are), Trifecta makes it easy to stay on track or lose weight without all the work.
As with anything else, Trifecta isn't for everyone. Since the meals are vacuum-packed together, picky people who don't like their food touching should probably steer clear. And if you like big, bold flavor, you'll need to be prepared to bring your own seasonings to the table with a few of the meals. Most of these dishes are very low-sodium and only lightly seasoned, which is great for healthy eating – but not ideal for spice lovers. (Tip: You can always look at the herbs and spices used on the back of the package and simply add more of those ingredients to season everything to your liking!).
---
Final Thoughts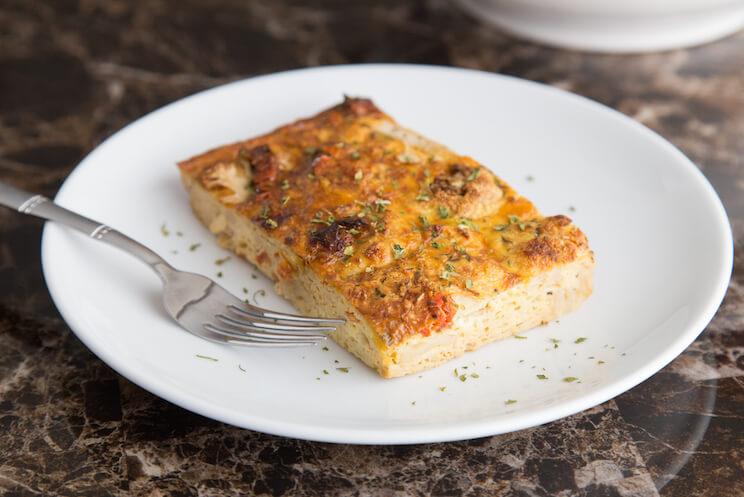 The bottom line? Trifecta is one of the only services we know to deliver fresh, customizable, already prepared and organic foods right to your doorstep. And as a bonus, they offer Paleo meal plans too!
It's a great option for people with busy schedules who want to eat healthy – especially since you can stockpile quick meals for those busy mornings or weeknights. They stay fresh in the fridge for up to two weeks and in the freezer for six months (if you have to freeze them), so there's no worries if you don't get a chance to eat them right away.
Want to try some?
→ Get It Now! Paleo meals for $108.43/week.

(Read This Next: The 13 Best Paleo Meal Delivery Services)