Up your snack game with these creamy buffalo bacon deviled eggs. Perfect for game day!
If you have a penchant for traditional deviled eggs, you're going to love this buffalo version. Paleo mayonnaise combines with buffalo sauce to make a spicy filling topped with crumbled bacon.
For these buffalo bacon deviled eggs, you'll start by hard-boiling at least eight eggs. Feel free to double, triple or quadruple the recipe, depending on how many people you want it to serve. While the eggs are boiling, you can prepare the Paleo Mayonnaise to save time.
Love Paleo Breakfasts? Then you'll love our FREE Paleo Breakfast Recipes.
Click here to get your FREE copy of our delicious Breakfast Recipes!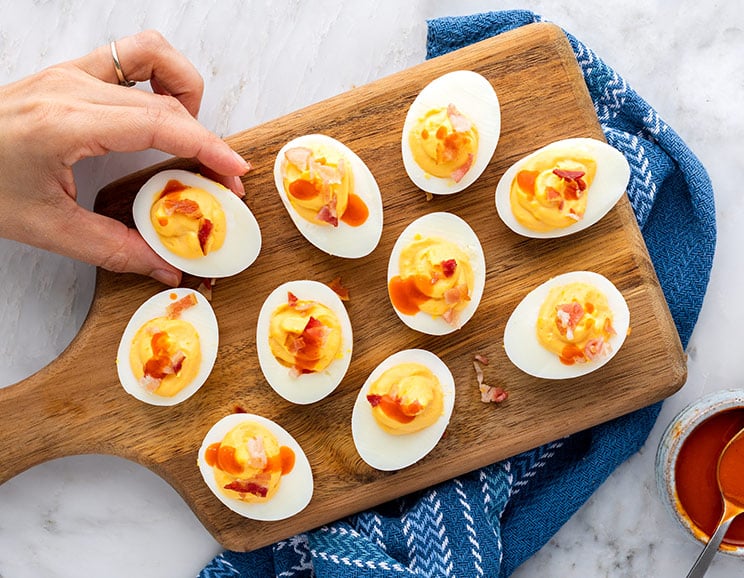 Once the eggs are done, remove them from the saucepan, immediately place them in a bowl, and run cold water over them – this makes peeling them easier. When all eggs are peeled, slice them in half with a knife and remove the yolks, placing the yolks in a bowl with the mayonnaise. Next, you'll place the mayonnaise mixture back inside the eggs and top them with the bacon "sprinkles" and buffalo sauce.
The best part about these buffalo bacon deviled eggs is that it only requires 20 minutes! So, whether you're attending a holiday party or want to spice up your normal egg routine, this recipe will always be a good idea.
Erin Druga
Buffalo Bacon Deviled Eggs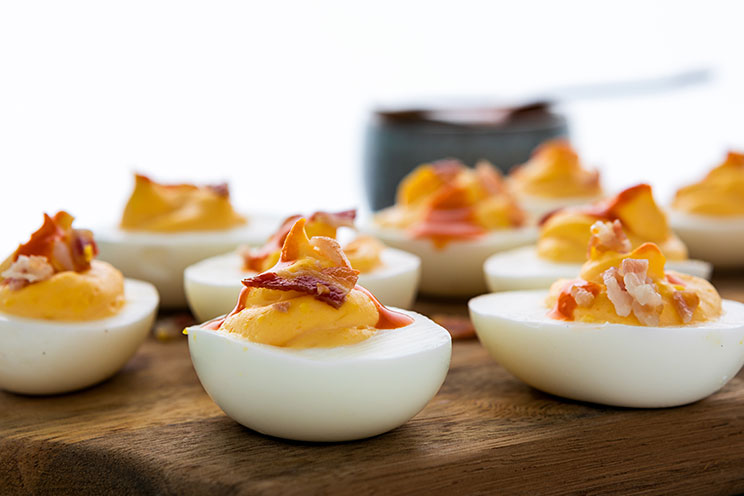 Cook Time:
20 mins
20 minutes
Prep Time:
10 mins
10 minutes
Nutrition facts:
8 grams of protein
1 grams of carbohydrates
14 grams of fat
Buffalo Bacon Deviled Eggs
These buffalo bacon deviled eggs will up your game and make you the star of your next gathering.
Ingredients
For the Mayonnaise:
5 egg yolks, room temperature

2 T apple cider vinegar

4 t Dijon mustard

¼ - ½ cup olive oil
For The Toppings:
1 slice of cooked bacon, diced

Extra Buffalo sauce, for drizzling
Ingredients
8 eggs

2 t Buffalo sauce

¼ t sea salt
Instructions
Place 8 eggs in a large saucepan and fill with cold water; bring to a boil and boil for approximately 10 minutes.

To Make the Mayonnaise: Place the egg yolks, apple cider vinegar, and Dijon mustard in a food processor or high-speed blender. Blend on high for 10 minutes until thick.

While the blender is still running, very slowly stream the olive oil into the blender. Start with ¼ cup, then stop the blender to check the consistency. If it's too thick for you, add up to ¼ cup more to thin it out.

Scrape down the sides of the blender and then transfer the Paleo mayo to a glass jar.

Once eggs have boiled, remove from heat and place in cold water, allowing 3-5 minutes for them to cool off before peeling.

Peel eggs and slice in half lengthwise; remove yolks to medium bowl. Arrange whites on a large platter.

Add Buffalo sauce, ⅓ cup mayonnaise, and sea salt to egg yolks in bowl. Mix until well blended.

Spoon mayonnaise mixture evenly into each egg white.

Drizzle with extra Buffalo sauce and top with diced bacon bits.

Cover with plastic wrap, and refrigerate 30 minutes before serving.
Looking for Paleo ingredients? Here are a few we'd recommend:
Apple cider vinegar (Bragg)
Sea salt (REDMOND)
(You'll Also Love: 3-Ingredient Bacon and Egg Cups
)