Check out these delicious baked meatballs filled with Paleo cheese. They are completely dairy-free and packed with tons of juicy flavors. Make them with paleo pasta or serve solo as savory appetizers.
Have you ever made cashew-based cheese before? It's a great dairy-free cheese alternative and really simple to make. All you have do is soak the cashews for a few hours, blend, and serve.
Typically, I place the cashews in a bowl of water and set in the refrigerator overnight. Otherwise, you're stuck waiting around all afternoon! After they're soaked, they should be nice and plump – which is when you know they're ready. Just make sure to drain them before placing them in the blender.
Love slow cooker recipes?
Click here to get your FREE copy of our delicious Slow-Cooker Recipes!
Tip: If the cheese doesn't seem to want to mix, just add more water or oil. If you're adding more water, start by adding one tablespoon at a time; for the oil, start with one teaspoon at a time.
Erin Druga
Baked Meatballs Filled with Paleo Cheese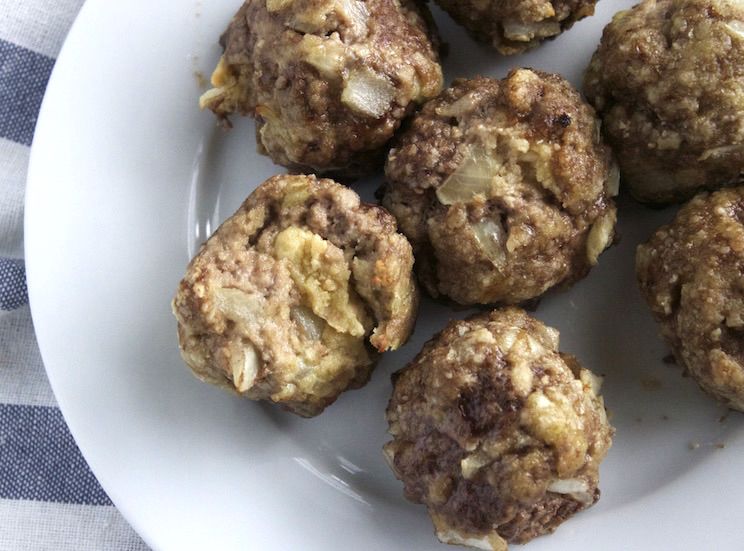 Cook Time:
30 mins
30 minutes
Prep Time:
15 mins
15 minutes
Baked Meatballs Filled with Paleo Cheese
These delicious baked meatballs are filled with Paleo-friendly "cheese." Make them with paleo pasta or serve solo as savory appetizers.
Tools
Blender

Large Mixing Bowl

Foil-Lined Baking Sheet
Ingredients
1 lb ground beef

1 egg

3/4 cup almond flour OR 1/2 cup gluten free bread crumbs

1/2 yellow onion, diced

1 cup soaked cashews

2 T nutritional yeast

Juice 1/2 lemon

1/4 t salt

1 T water*

1 t olive oil*

Optional: 1/4 t garlic powder
Instructions
Preheat oven to 400°F.

Start by making the cheese. Place soaked cashews, nutritional yeast, lemon juice, salt, water, and oil in blender and pulse. You may need to add more water and/or oil if mixture is too dry. Once blended and smooth, set aside.

For the meatballs, combine beef, egg, flour, and onion in a large bowl.

Using your hands form beef mixture into balls (mine were larger than golf ball size but smaller than a tennis ball). Using your thumb, poke a hole in the middle of each meatball and then fill them with cheese. You don't want to use too much cheese or else it will spill out. Start with a quarter size of cheese. After each one is filled with cheese, fold the beef overtop, closing the meatball back up.

Place meatballs on a foil-lined baking sheet and bake meatballs for approximately 30 minutes. To make sure they're cooked, test one meatball (let it cool first) and use a knife to cut in half. The meat should have a light brown color inside and cheese should be slightly melted.

Enjoy!
Looking for Paleo ingredients? Here's what we recommend:
Almond Flour (Bob's Red Mill)
Nutritional Yeast (Sari Foods Co)
Extra Virgin Olive Oil (Sky Organics)
(You'll also love: Nacho 'Cheese' Kale Chips Recipe)