Drizzle this creamy nacho cheese sauce over everything from tacos to veggie chips!
The secret to smooth, Paleo-friendly nacho cheese that just begs to be dipped and slathered over your favorite sweet potato chips? Carrots! They help transform this sauce into a naturally orange-hued nacho cheese dip without any of the inflammatory side effects of dairy. Instead, it invites fiber, beta-carotene and vitamins A and C to the party!
To get that vital cheesy flavor, this recipe calls for a healthy dose of nutritional yeast. Cashews add a creamy texture that helps keep you full and satisfied.
Want to snack smarter and curb cravings? Get your FREE 25 Healthy Paleo Snacks Cookbook here.
Click here to get your FREE copy of our Snack Recipes Cookbook!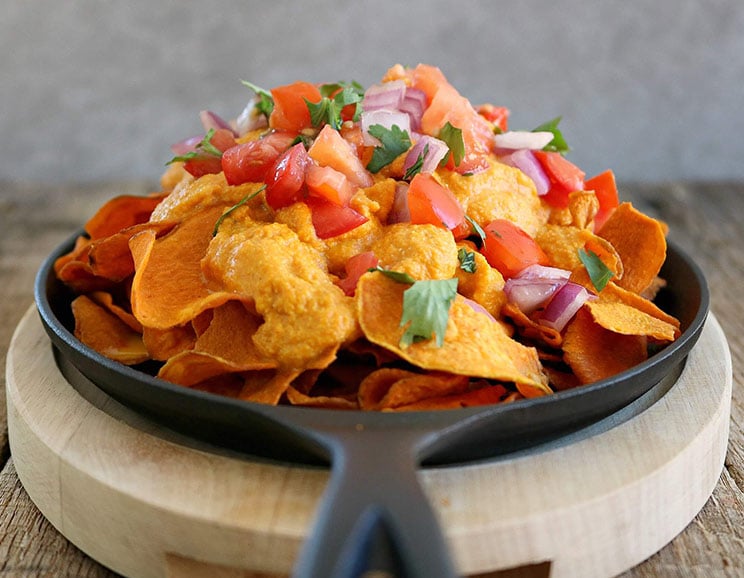 Every great nacho cheese has a kick of heat to it. I prefer using cayenne, but you can also add some freshly chopped jalapeño peppers! Cumin adds aroma and warmth to the sauce while apple cider vinegar adds a little zip.
Start by boiling the carrots in a small saucepan covered in water until soft and tender. Drain the carrots, add to a blender, and blend on high speed with all the remaining ingredients. Transfer the nacho cheese sauce back to the saucepan and heat for 5 minutes until just steaming.
Use this sauce to:
Jennafer Ashley
The Best Ever Paleo Nacho Cheese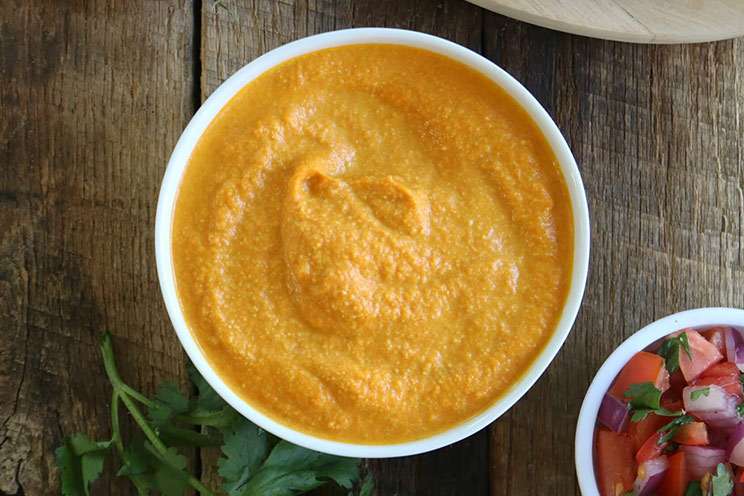 Cook Time:
25 mins
25 minutes
Prep Time:
10 mins
10 minutes
The Best Ever Paleo Nacho Cheese
Drizzle this creamy nacho cheese sauce over everything from tacos to veggie chips!
Ingredients
1 ½ cups carrots, coarsely chopped

½ cup raw cashews

2 T nutritional yeast

2 T apple cider vinegar

1 ½ cups water

1 t ground cumin

¼ t cayenne pepper

½ t sea salt
Instructions
In a small saucepan, cover the carrots in about two cups of water and bring to a boil. Cover and reduce the heat to simmer for 20 minutes or until the carrots are soft.

Drain the carrots and add to a food processor or blender with the remaining ingredients. Blend until smooth and creamy, occasionally scraping the sides with a spatula.

Pour into the saucepan and heat over medium heat for 5-7 minutes. Serve hot.
Looking for Paleo ingredients? Here are a few we'd recommend:
Apple Cider Vinegar (Bragg)

(You'll Also Love: Easy, Dairy-Free Cream Cheese)