This savory and sweet apple sausage stuffing makes for a healthy, gluten-free dish your guests will love!
Fill your house with the savory spices of sage, tarragon, rosemary and thyme. The fresh apples and cranberries give this stuffing a sweet spin, while grass-fed sausage makes it a meal to rival the turkey.
After cooking the meat in a skillet, the rest is a breeze. Simply add the spices, apples, cranberries and broth to the pan, stir, then transfer everything to a baking dish while you sit back and wait.
In need of a sugar detox?
Click here to get your FREE Sugar Detox Guide + Sugar-Free Recipes!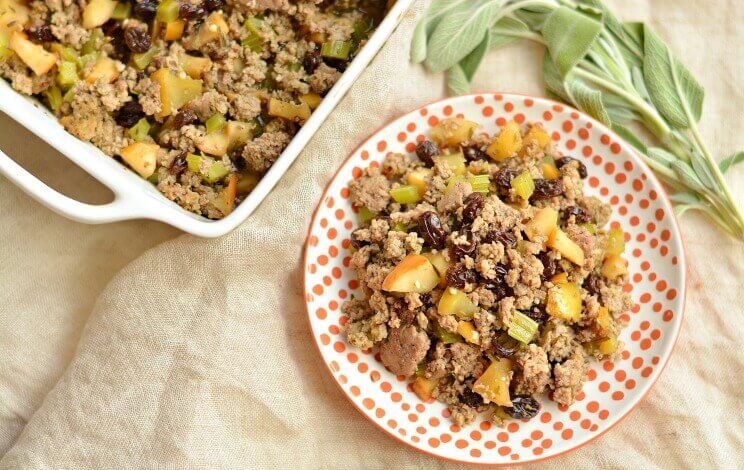 If you want to add a bit of starch, throw in some chopped up sweet potato or butternut squash. Nuts like pecans or walnuts would make a great addition for added crunch!
Even better, you can combine this stuffing with eggs for an easy, Paleo-friendly breakfast the next day.
Megan Olson
Gluten-Free Apple Sausage Stuffing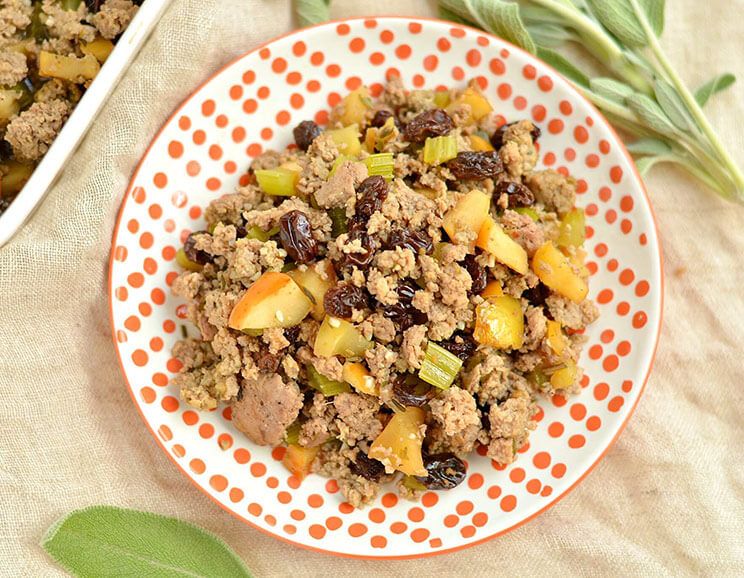 Cook Time:
1 hr 20 mins
1 hour 20 minutes
Prep Time:
30 mins
30 minutes
Gluten-Free Apple Sausage Stuffing
This savory and sweet gluten-free stuffing makes for a healthy dish your guests will love!
Ingredients
1 lb grass-fed sausage

1 cup celery, diced

2 small apples, roughly chopped

¼ cup organic vegetable broth (I like my stuffing a little dry; add up to ½ cup broth total to give it more moisture if you like!)

1 t extra virgin olive oil

1 T minced garlic

¼ cup dried cranberries

½ t thyme

½ t rosemary

¼ t tarragon

¼ t sage

Salt and pepper, to taste

Fresh parsley, for topping
Instructions
Preheat oven to 350°F. Prepare an 8x8-inch baking dish and set aside.

Heat a large skillet over medium heat. Add extra virgin olive oil, sausage, celery and garlic to the skillet. With a spoon, break up the sausage, dispersing it throughout the celery and garlic.

Continue breaking up the sausage with a spoon as it cooks another 5-7 minutes until brown. Drain off any liquid or fat from the skillet to prevent mixture from becoming soggy.

Turn off the heat and add thyme, rosemary, tarragon, sage, salt and pepper, apples, cranberries and broth. Stir to combine.

Transfer the stuffing from the skillet to the prepared baking dish. Cover with foil and bake for 1 hour.

Afterwards, remove foil and bake another 15 minutes until tender and crispy.

Remove from the oven, top with fresh parsley, and serve immediately.


(You'll Also Love: Turmeric and Honey Roast Turkey)