You can use butternut squash in many delicious recipes, from butternut soup and stews to creamy Paleo-friendly pasta and risotto. This versatile root veggie adds a naturally sweet and nutty flavor to any dish.
To pick the perfect squash, always look for one with an even, yellow-tan coloring. If it has green streaks, it might have been picked too early. You'll also want to avoid any with bruises, holes or deep cuts. As for cutting the squash in half, make sure to use a well-maintained, sharp chef's knife. When slicing through, make sure to slice lengthwise in one, clean cut.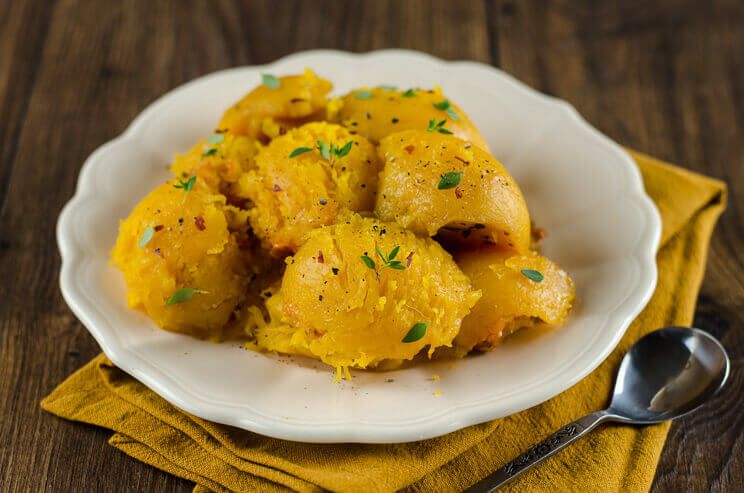 My favorite way of cooking butternut squash is steam baking, which is also suitable for any other kind of squash. This method caramelizes the squash without drying it out, making its flesh creamier and adding more a savory, rich flavor.
Dina Hassan
Caramelized Baked Butternut Squash Recipe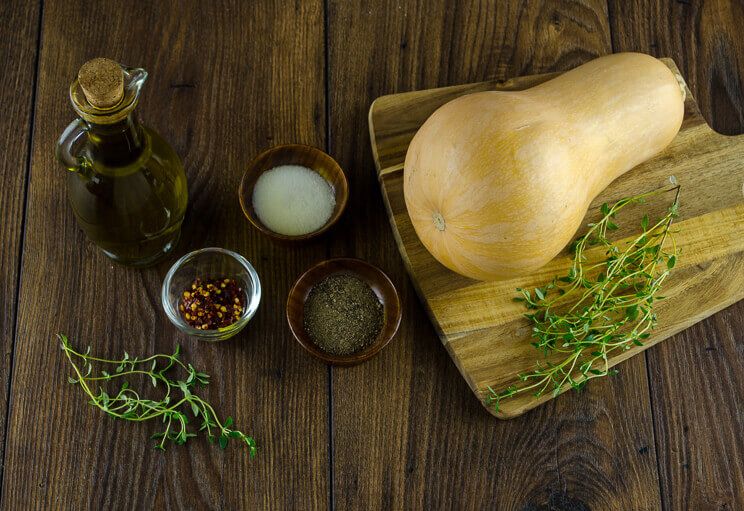 Cook Time:
55 mins
55 minutes
Prep Time:
10 mins
10 minutes
Caramelized Baked Butternut Squash Recipe
This simple caramelized squash recipe teases out a rich, savory flavor.
Ingredients
1 large butternut squash

3 T extra virgin olive oil

½ cup of water

1/2 t salt

1/2 t freshly ground black pepper

1/4 t red chili flakes

2 t finely chopped thyme
Instructions
Preheat the oven to 400°F. Halve the squash lengthwise and scoop out the seeds.

Place them in a baking pan cut-side up. Sprinkle with salt, pepper and chili flakes. Drizzle with olive oil.

Turn the squash flesh-side down and pour 1/2 cup of water in the bottom of the pan.

Bake in the oven for about 45-55 minutes, until the skin becomes soft and can easily be pierced with the tip of a knife. Make sure that the water hasn't completely evaporated. If it has, add a little more.

Remove from the oven and let both sides cool before handling.

Serve each person half a squash, or scoop out the flesh onto a serving plate, sprinkling additional thyme and chili flakes on top.
Pro Tip: If you have trouble slicing the butternut squash in half, you can use a rubber mallet to tap downward on the ends of the blade. Just make sure to use extra caution when doing so!


(You'll Also Love: Mango Bacon Butternut Squash Hash Recipe)