These easy, grain-free herb garlic crackers bake to perfection in just 30 minutes!
These nut-free herb garlic crackers are made with a coconut flour base, giving them the density and thickness you crave in a standard cracker.
For flavor, the crackers are mixed with garlic and herbes de Provence for a classic combination, but feel free to experiment with other combinations. For a spicy flavor, substitute paprika and chili powder, and for a sweet cracker, try cinnamon and nutmeg. If you like your crackers cheesy, add nutritional yeast!
Love Coconut Flour Recipes? Then you'll love our FREE Coconut Flour Recipes.
Click here to get your FREE copy of our delicious Coconut Flour Recipes!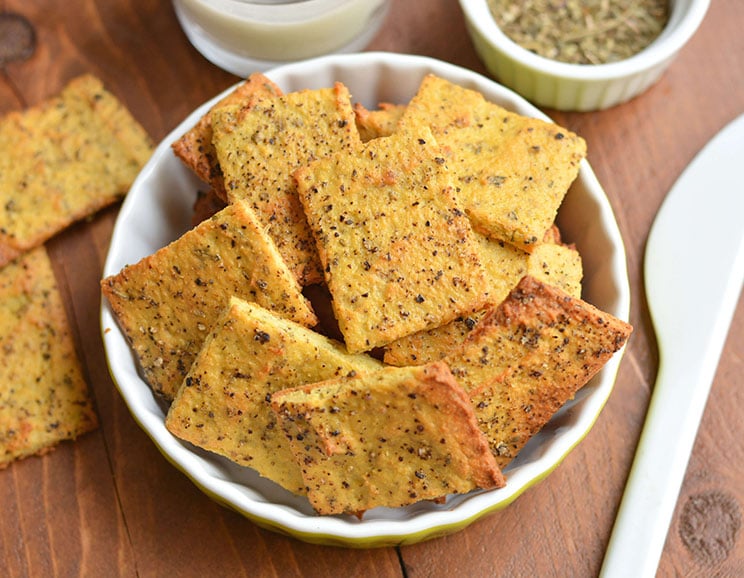 Good news: There's no complicated prepping or fancy equipment required for this recipe. Simply mix the dough and spread in a thin layer on a baking sheet. Bake for ten minutes, then slice the herb garlic crackers into squares with a pizza cutter and bake again. This double baking technique ensures that the crackers get nice and crispy, and won't get soggy!
Serve your herb garlic crackers as an appetizer at your next party or pack them in your lunchbox on-the-go! You can even dip them in homemade coconut yogurt or cauliflower hummus for a healthy snack!
Tip: Store the crackers in the refrigerator to maintain their freshness.
Megan Olson
Gluten-Free Herb Garlic Crackers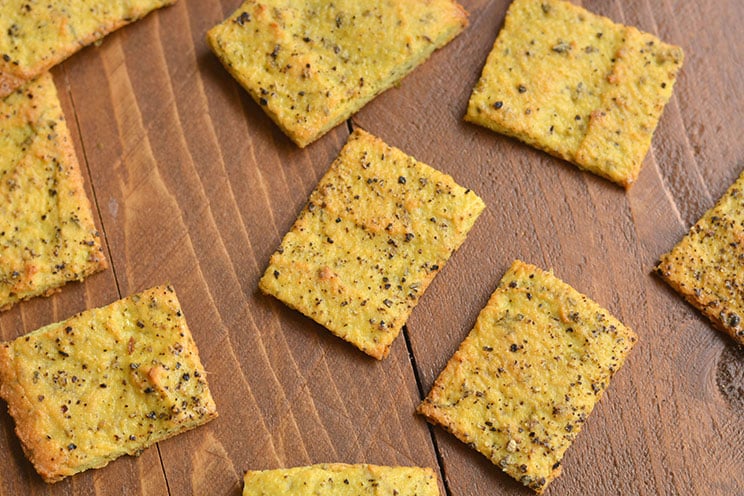 Cook Time:
30 mins
30 minutes
Prep Time:
15 mins
15 minutes
Gluten-Free Herb Garlic Crackers
These easy, grain-free garlic and herb crackers bake to perfection in just 30 minutes!
Tools
Baking sheet

Parchment paper

Large bowl

Pizza cutter
Ingredients
3 T melted coconut oil

4 large eggs

½ t garlic powder

1 T herbes de Provence

½ cup coconut flour

¼ cup tapioca flour
Instructions
Preheat oven to 350° F. Prepare a large baking sheet with a slip mat or parchment paper.

Whisk coconut oil, eggs, garlic powder and herbes de Provence in a large bowl.

Add the coconut and tapioca flours. Mix together until the batter is thick and creamy.

Spread the batter into a thin, square layer on the prepared baking sheet using a baking spatula.

Bake for 10 minutes.

Remove from the oven and cut the crackers into small squares with a pizza cutter.

Return the baking sheet to the oven and bake 12 minutes. Flip each cracker individually and bake another 8 minutes, until slightly hard and golden brown.
Looking for Paleo ingredients? Here are a few we'd recommend:
Cold pressed coconut oil (Viva Naturals)
Coconut flour (Nutiva)
Tapioca flour (Authentic Foods)

(You'll Also Love: 29 Healthy, Travel-Friendly Snacks)