These flavorful, homemade pork sausage patties fuse spices, earthy mushrooms, and nutritious kale.
Meet your new favorite breakfast on-the-go! For this hearty recipe, I used local pasture-raised ground pork as the sausage base and mixed in earthy mushrooms, garlic, and nutrient-rich kale.
I recommend doing your best to get pastured pork for this recipe. Not only is it way healthier for both the animal and you, but it also packs a lot more flavor. While I used portobello mushrooms in the sausage for their depth of flavor, feel free to use any kind of fresh mushroom.
Love Paleo Breakfasts? Then you'll love our FREE Paleo Breakfast Recipes.
Click here to get your FREE copy of our delicious Breakfast Recipes!
For some variations on this versatile recipe, try ground beef or turkey as your protein, and even try different veggies like chopped bell peppers or spinach.
This recipe makes 10 sausage patties. You can serve them hot immediately after cooking, or make them ahead to eat throughout the week (they keep and reheat well). These make for a yummy brunch dish with eggs or as patties served in-between Paleo biscuits!
Heather Resler
Kale & Mushroom Sausage Patties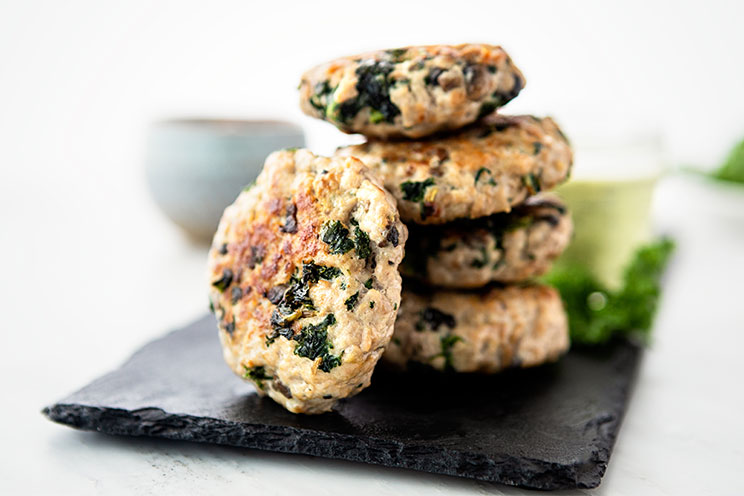 Cook Time:
10 mins
10 minutes
Prep Time:
10 mins
10 minutes
Nutrition facts:
14 grams of protein
2 grams of carbohydrates
18 grams of fat
Kale & Mushroom Sausage Patties
This flavorful, homemade pork sausage fuses spices, earthy mushrooms, and nutritious kale.
Ingredients
1 lb ground pork

6 oz fresh mushrooms, chopped

1 bunch of kale, thinly sliced

2 T coconut oil

2 garlic cloves, minced

½ t salt

½ t garlic powder

½ t onion powder

¼ t fennel seed

Pinch of ground ginger

Pinch of nutmeg
Instructions
In a large skillet, melt one tablespoon of coconut oil.

Add the kale, mushrooms, and garlic and sauté until the veggies are cooked.

Place the ground pork in a mixing bowl and add the veggies and spices. Mix well and form into 10 patties.

Melt one tablespoon of coconut oil over medium heat and add half the sausage patties; cook until golden brown on each side and cooked in the middle. Repeat with the other half.
Looking for Paleo ingredients? Here are a few we'd recommend:
Cold pressed coconut oil (Viva Naturals)
Garlic powder (Frontier)
Onion powder (365 Everyday Value)
Ground nutmeg (Simply Organic)
(You'll Also Love: No Noodle Cauliflower Casserole with Sausage)
Enjoy amazing walnut muffins… savory omelets… banana cookies… and even chocolate! Eat your favorite foods and stay fit and healthy at the same time.
Get started on your Paleo
weight-loss journey today
with our beginner-friendly PaleoHacks Cookbook
Get started on your
Paleo weight-loss
journey today with
our beginner-friendly
PaleoHacks Cookbook