Yerba mate tea is more than just a beverage. For millions of aficionados in South America, it's a lifestyle. People drink it when they wake up, while they're at work, and when they're with friends.
Now yerba mate is sweeping the planet via health-conscious communities. Let's get you up to speed on its definition and health benefits, and help you decide if it has a place in your lifestyle.
What Is It?
Yerba mate (pronounced YER-bah MAH-tay) comes from the plant Ilex paraguariensis, an evergreen in the holly family. Native to South America, yerba mate grows in the wild—in Argentina, Paraguay, and parts of Brazil. It's also commercially grown in those regions and harvested for its stems and leaves.
This coffee cookbook is filled with healthy recipes and reveals the natural benefits of your morning brew.
Click here to get your FREE Coffee Book Today!
The plant isn't harvested to be eaten; it's harvested for tea. It takes a bit of processing for the magic to happen. Yerba mate producers harvest the stems and leaves. Then they dry, shred, and age them (usually for about a year) before selling the end product as tea. This tea is available in loose-leaf and bag forms, and some companies even sell cold, bottled varieties.
Indigenous to Paraguay and parts of Brazil, the Guarani people drank yerba mate for its energizing and medicinal properties before these companies were colonized by Europeans (1). [tweet_quote] Yerba mate is both energizing and medicinal, and traditionally sipped out of a dried gourd.[/tweet_quote]
The traditional way to drink yerba mate (sometimes simply called "mate") is to sip it out of a dried gourd called a calabash. Many mate fans use a silvery metal straw called a bombilla (in Spanish) or bomba (in Portuguese). These fancy straws typically have a filter on the end, which is submerged into the tea. That way, the drinker doesn't accidentally ingest any stems or leaves.
Mate remains extremely popular in South America, where it isn't unusual to see someone carrying an extra thermos of hot water to top off their tea once their calabash runs low. It's also a social activity among family and friends—like meeting for coffee or at a happy hour, South Americans go to cafes to matear (drink mate), and it's common to drink it communally and pass it around.
Some people like to add lemon juice, sugar, or milk to their mate tea. But many others prefer it unsweetened. The tea has a greenish color and a smoky, grassy taste. If you're not used to drinking unsweetened green or black teas, it might take some time to acquire the taste.
---
Health Benefits
Like many traditional medicines and herbal remedies, there are mountains of anecdotal evidence about mate's benefits. But it's taken researchers longer to get on board and scientifically explore the effects.
With that said, the results have been encouraging so far. Here are some of the most crucial benefits:
Yerba Mate Packs Vitamins, Minerals, and Antioxidants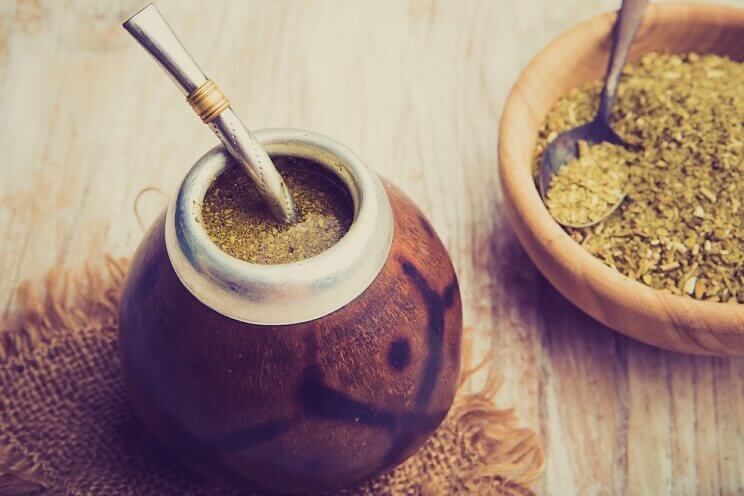 Yerba mate tea contains a long list of vitamins and minerals, including:
While the variety of nutrients is certainly impressive, they tend to come in small amounts. So they won't make a significant impact on your overall intake. But it's definitely better to get useful nutrients than the harmful ingredients you'd get with sugary soft drinks or energy drinks made in a lab! [tweet_quote] Yerba mate is loaded with vitamins, minerals, amino acids and antioxidants.[/tweet_quote]
Yerba mate also contains seven of the nine essential amino acids, which are key building blocks of protein. But it's also loaded with polyphenol compounds. These compounds are useful for their antioxidant effects, and they draw comparisons to green tea. But mate actually contains different types of compounds; while green tea is high in epigallocatechin gallate compounds, yerba mate's main antioxidant is chlorogenic acid (3). One study found that it had even greater antioxidant activity than green tea (4).
Yerba Mate Increases Energy, Mood, and Cognitive Function
Most people don't drink yerba mate for the taste alone. They drink it for a quick energy boost.
A typical 8-ounce serving of mate has about 85 milligrams of caffeine—less than coffees, but more than most teas. Extensive scientific reviews have concluded that caffeine increase alertness, cognitive performance, and mood (5).
There hasn't been a lot of research specifically focused on mate's effect on the above cognitive benefits. But one study published in the Journal of Ethnopharmacology examined the effect of mate tea-leaf extract on rats. This study found it increased learning ability, as well as short and long-term memory (6). Another rat study tracked the effect of aqueous mate extract, and discovered it had a mood-boosting effect similar to antidepressants (7).
Yerba Mate Helps with Weight Loss
One study published in the journal BMC Complementary and Alternative Medicine focused on yerba mate's effects on obese participants during a 12-week period. The group that received mate capsules with every meal ended up with lower body-fat mass and waist-to-hip ratio than the placebo group (8). The researchers discussed how the antioxidants (chlorogenic acids) found in mate could have produced the weight loss—because these acids regulate the expression of genes related to fat formation (adipogenesis) (9).
Yerba mate tea can also make you feel fuller for longer times, decreasing calorie intake and cravings. One study tracked overweight patients for 45 days. It noted that those who received an herbal infusion made from mate lost a significant amount of weight. The mate slowed the process of gastric emptying, and cut down the time to perceived gastric fullness (10).
Yerba Mate May Help Preserve Bone-Mineral Density
Caffeine intake is sometimes associated with decreased bone density. But this research shows that mate has the opposite effect.
An Argentinian study published in the journal Bone studied 146 postmenopausal women. Some of the participants drank yerba mate daily for a five-year period, while others didn't drink any. The researchers found the mate drinkers had an almost 10% higher bone density in their lumbar spine, as well as a 6% advantage in the thigh—just below the hip joint (11). [tweet_quote] Most caffeine sources decrease bone density, but yerba mate does the opposite.[/tweet_quote]
We aren't exactly sure how this process works yet, but it might have something to do with yerba mate's classification as a tea. While coffee has been linked to decreased bone-mineral density, habitual tea consumption has actually been linked to an increase (12, 13).
Yerba Mate May Have Anticancer Properties
With promising results, in vitro and animal studies have explored yerba mate's protective effects against cancer.
One study compared yerba mate with other teas (e.g., green tea) thought to have anticancer properties. The researchers found that mate had a greater inhibitory effect on in vitro cancer cells than green tea (14).
Researchers from the University of Illinois compared the anti-inflammatory and anticancer effects of caffeoylquinic acid (a phenolic compound) from yerba mate. Focusing on in vitro human colon cancer cells, they found that yerba mate caused the cancer cells so much DNA damage that it could self-destruct (15). The yerba mate also reduced markers of inflammation.
---
Is Yerba Mate a Viable Alternative to Coffee or Tea?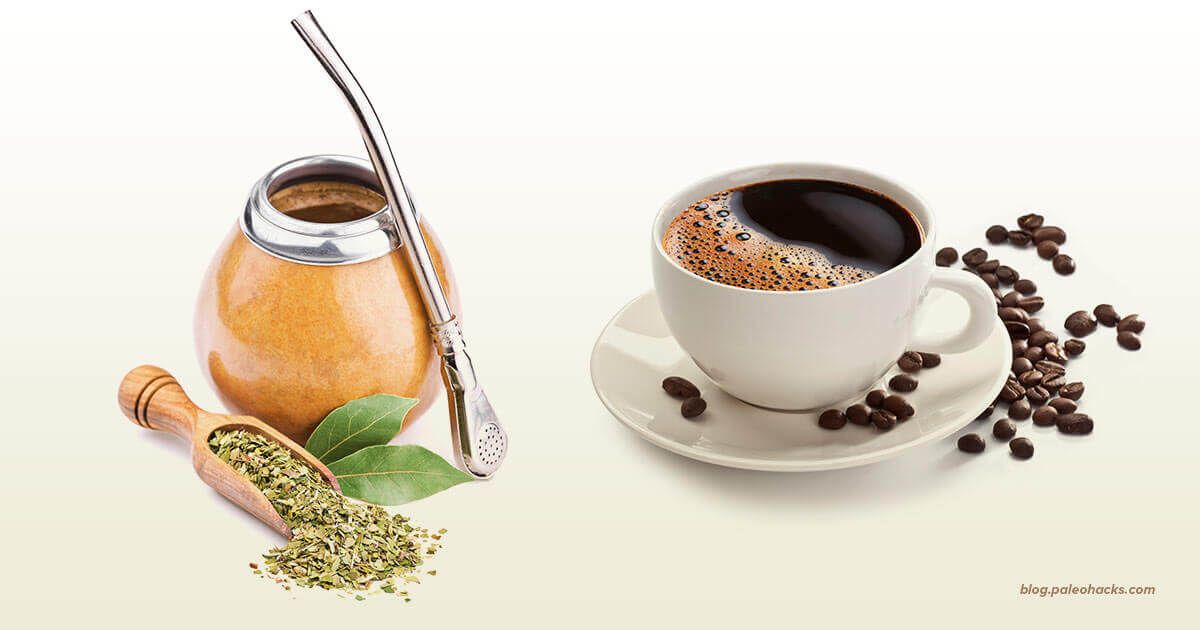 When I was researching this article, I was really curious about whether yerba mate might be a viable substitute for coffee or tea.
The first major point of comparison lies in the caffeine content. One 8-ounce serving of yerba mate tea contains around 85 milligrams of caffeine (16). That's about half the amount of a cup of coffee, which ranges between 110 and 200 milligrams (17). But at around 40 milligrams, it's significantly more than black tea (18).
Yerba mate tea could work as a middle-of-the-road option between coffee and tea. Are you looking for a bit more kick than other teas give you? But does even thinking about an espresso shot make you jittery? Mate might be a good bet. [tweet_quote] More caffeinated than black tea but less than coffee, yerba mate is a good middle-of-the-road option.[/tweet_quote]
Here's the caveat: you probably shouldn't sip on yerba mate all day. While that's fairly common for other types of tea, you don't want to risk overdoing it and intaking too much caffeine. One option is to have a cup or two of yerba mate in the morning, then switch to a less caffeinated tea (e.g., green or white) in the afternoon.
If you're used to drinking coffee, yerba mate's stimulant could feel a lot different. It actually creates a more relaxed buzz, similar to other caffeinated teas. Unlike coffee, yerba mate doesn't just contain caffeine. It also contains two other stimulants (theobromine and theophylline), which are found in other teas. Caffeine is a vasoconstrictor (i.e., it narrows the blood vessels), but the other compounds are vasodilators (which widen the blood vessels) (19). The combined effect is energizing, but it's free of the jitters that can occur after a large cup of coffee.
---
The Side Effects and Safety Concerns of Yerba Mate
While yerba mate tea is generally safe for most adults, there are a few precautions to be aware of.
One of the most serious linked lifelong consumption of mate to increased rates of cancer in the esophagus, larynx, and oral cavity (20, 21).
But remember, it's important to put these studies in context:
Those studies focus on extremely heavy consumption of yerba mate—up to over a liter a day.
We also aren't sure whether the increased risk comes from the tea itself, or the extremely high temperature at which the participants drink it (22). As recent research pointed out, drinking various beverages (including coffee, mate tea, and other teas) over 149 degrees Fahrenheit increases the risk for cancer by damaging the esophagus (23).
These studies don't address exacerbating factors like alcohol consumption or tobacco use.
We also have to square those results with the fact that yerba mate has been shown to destroy other types of cancer cells. You probably shouldn't guzzle boiling yerba mate all day long. But concerns about enjoying an occasional cup (after it cools down) are probably overblown. If you're still worried about the potential risk, you could stick to cold yerba mate beverages—or skip mate completely.
Due to its caffeine content, yerba mate is also something to avoid if you're pregnant or breastfeeding (24).
---
The Bottom Line
Yerba mate has a lot of good things going for it. Concerns have been raised about excessively drinking it at extremely hot temperatures, but when consumed in moderation, the positives outweigh the negatives. It's rich in antioxidants and nutrients, and it's been connected to some pretty impressive health benefits.
Have you tried yerba mate? If so, what did you think? Leave a comment below and share your experience!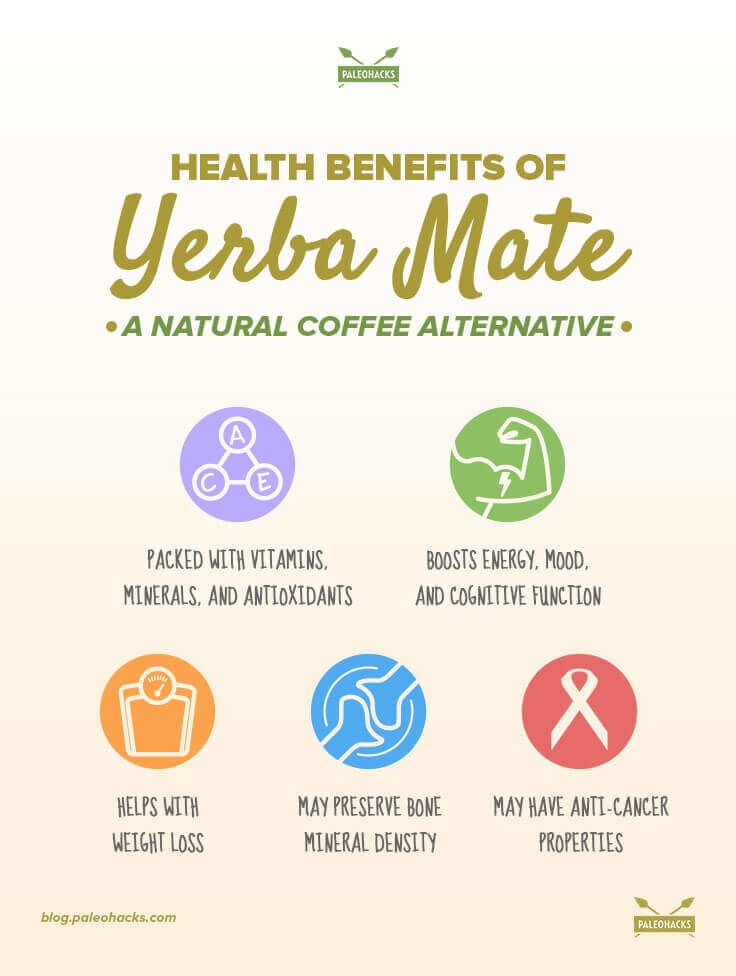 (Read This Next: 35 Amazing Ways to Drink Maca)