Enjoy a hearty meal with these fall-off-the-bone short ribs, slow-cooked in a savory broth of herbs, tomato paste, and coconut aminos.
The slow cooker does all the work with these short ribs, cooking them to tender perfection for easy serving and portioning.
Beef short ribs are a great alternative to pork, with ample meat and beefy flavor. This is a set-it-and-forget-it recipe with minimal prep and simple ingredients.
Love slow cooker recipes?
Click here to get your FREE copy of our delicious Slow-Cooker Recipes!
Why Sear Your Short Ribs
Just like any other cut of meat, short ribs shine when they're first browned in a hot pan before slow cooking. This adds caramelized texture to the meat that intensifies the flavor.
It will also infuse the broth as the short ribs cook for richer flavor. Ghee is perfect for searing because of its high smoke point. You can also use avocado oil.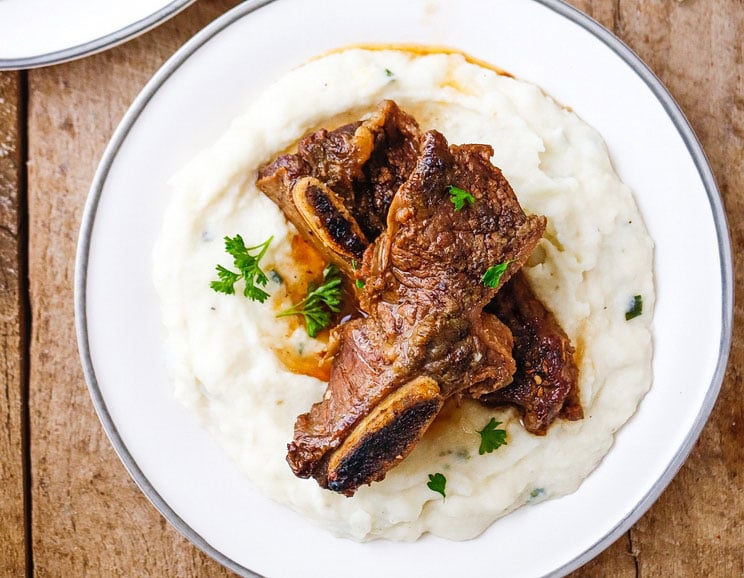 How To Make The Perfect Braising Liquid
A savory liquid is essential for tenderizing the meat and adding loads of flavor. Fresh garlic and rosemary add herby flavor and aroma while tomato paste adds a hint of tangy acidity to the dish.
Coconut aminos stand in for Worcestershire sauce, adding a hint of sweetness and deep savory flavor. Other great add-ins for the broth include thyme or shallots.
Helpful Tips To Get You Started:
The perfect accompaniment. Serve these short ribs over cauliflower mash for a complete low-carb and keto meal.
Try bone broth. Sub out beef stock for beef bone broth to boost the meal's gut-healing benefits.
Slow cooker temperatures vary. Test the short ribs after 4 hours by pulling at the meat with a fork near the bone. If the meat easily pulls away, the ribs are ready.
Make it a gravy. You can thicken the braising liquid into a gravy by whisking in 1 to 2 tablespoons of arrowroot flour after removing the ribs.
Jennafer Ashley
Fork-Tender Slow Cooker Short Ribs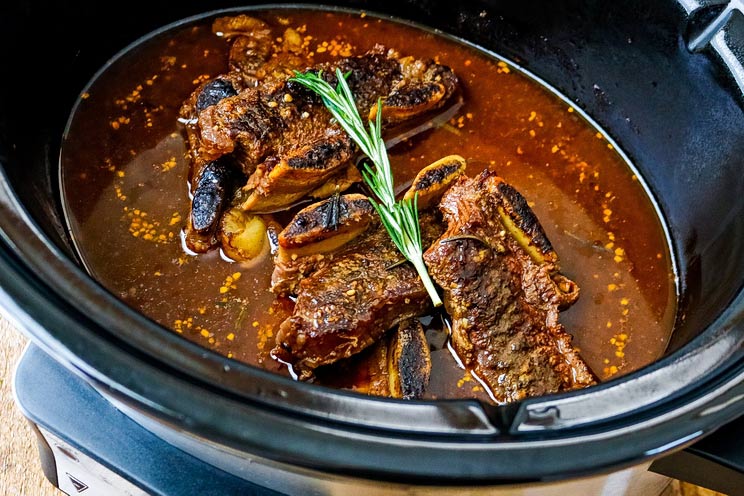 Cook Time:
4 hrs 6 mins
4 hours 6 minutes
Prep Time:
5 mins
5 minutes
Nutrition facts:
63 grams of protein
11 grams of carbohydrates
36 grams of fat
Fork-Tender Slow Cooker Short Ribs
Enjoy a hearty meal with these fall-off-the-bone short ribs, slow-cooked in a savory broth of herbs, tomato paste, and coconut aminos.
Tools
Medium cast-iron skillet

Slow cooker
Ingredients
1 T ghee

2 lbs beef short ribs

¼ t ground black pepper

¼ t sea salt

4 cups beef stock

¼ cup coconut aminos

2 T tomato paste

1 t minced garlic

1 sprig fresh rosemary
Instructions
Heat the ghee in a medium cast-iron skillet over medium-high heat for 2 minutes. Blot the short ribs dry with a paper towel and season with salt and pepper. Brown the short ribs for 1 minute a side.

Add beef stock, coconut aminos, tomato paste, and garlic to the slow cooker and stir well. Transfer the short ribs to the slow cooker and add rosemary. Cover and cook on low for 4 hours or until the beef easily pulls off the bone.
Looking for Paleo ingredients? Here are a few we'd recommend:
Ghee (Pure Indian Foods)
Black pepper (Frontier)
Coarse sea salt (AztecSeaSalt)
Looking for even more hearty, low-carb indulgence? Try one of these 37 keto desserts!