Top juicy, garlicky chicken thighs with a delicious bone broth gravy that's full of gut-healing goodness and flavor!
It's always good to keep a one-pan recipe up your sleeve during a hectic workweek, so you can get dinner on the table with minimal prep and clean up.
Today, we're going to be making one-pan garlicky chicken thighs that are imbued with the taste of savory herbs. Best of all, it's served with a rich bone broth gravy that will make you ask for more! This is a low-carb, protein-rich meal that will keep both your taste buds and your tummy satisfied for a long time.
How does bone broth fight inflammation AND promote weight loss? Download our Free Bone Broth Guide And Recipes To Find Out Now!
Click here to get your FREE Bone Broth Guide And Recipes Today!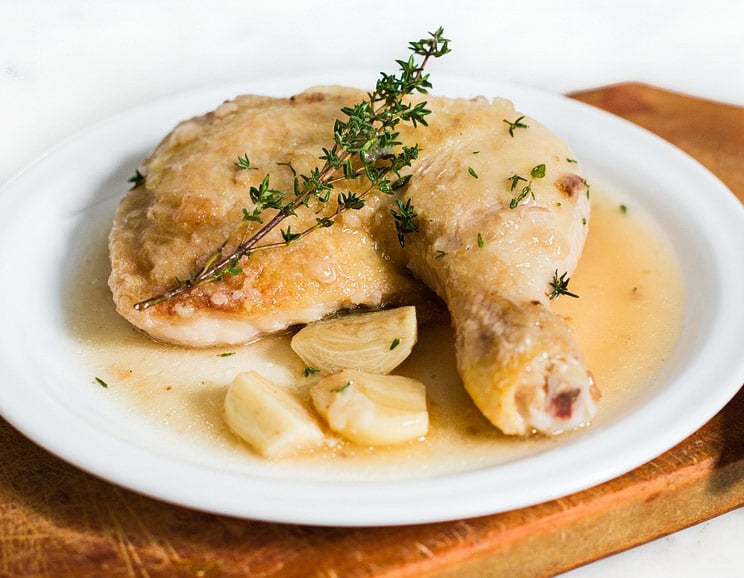 Why We Use Bone Broth In This Gravy
Bone broth is filled with collagen that is great for joint health, and it's good for reducing inflammation and healing the gut.
Plus, it's intensely rich and flavorful, making it the perfect base for a Paleo gravy.
Ideally, you'd opt for homemade bone broth – it will yield the most flavor and gut-healing benefits. If you don't have the time to make your own, though, unsalted store-bought bone broth will work just as well!
Helpful Tips To Get You Started:
Thicken it up. Depending on how thick you like your gravy, add one additional teaspoon of tapioca starch at a time until you get your desired thickness. Likewise, if you prefer a lighter gravy, add a bit more bone broth or water.
Use what you have in your kitchen. If you don't have a Dutch oven on hand, any large, oven-safe skillet that you can cover will work.
Felicia Lim
One-Pan Garlic Chicken with Bone Broth Gravy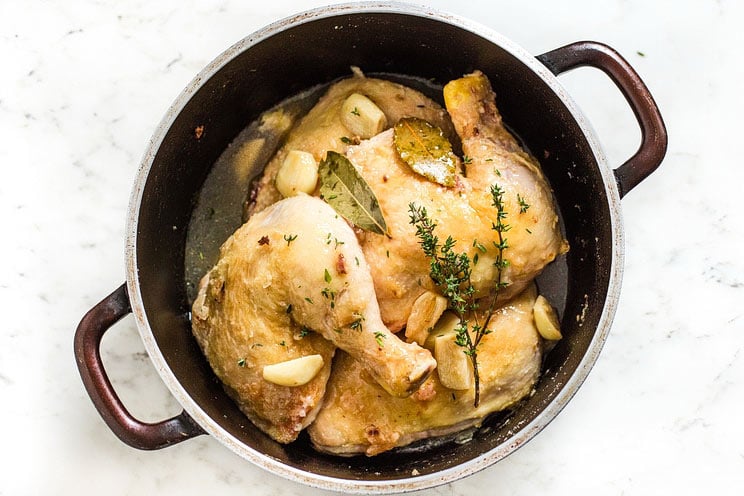 Prep Time:
10 mins
10 minutes
Nutrition facts:
23 grams of protein
10 grams of carbohydrates
16 grams of fat
One-Pan Garlic Chicken with Bone Broth Gravy
Top juicy, garlicky chicken thighs with a delicious bone broth gravy that's full of gut-healing goodness and flavor.
Ingredients
2 T olive oil

4 bone-in chicken thighs

½ cup + 2 T tapioca starch, divided

8 chopped garlic cloves

¾ cup apple cider vinegar

1½ cups bone broth

1 t salt

1 t ground black pepper

Fresh thyme to taste

2 dried sage leaves
Instructions
Preheat the oven to 400°F. Heat the olive oil in a Dutch oven over medium heat. Dredge the chicken thighs in ½ a cup of tapioca starch to coat them lightly all over.

In the Dutch oven, sear the coated chicken thighs in a single layer until golden brown, about 8 minutes a side. You may need to do this in two batches. Remove the seared chicken and set aside.

In the same Dutch oven, add the garlic and cook until fragrant, about 2 minutes. Return the chicken thighs to the Dutch oven.

Cover the Dutch oven and bake the chicken for 20 minutes, or until the chicken is cooked through and the juices run clear. Remove the Dutch oven from the oven and place it on a burner. Set the cooked chicken thighs aside and reserve for later.

To the Dutch oven, add the apple cider vinegar, bone broth, 2 tablespoons of tapioca starch, salt, and pepper. Whisk well until the tapioca starch has fully dissolved. Add the fresh thyme and sage leaves and allow it to simmer over low heat until the gravy has thickened.

Once the gravy has thickened, return the chicken to the pot. Garnish with fresh thyme and serve.
Looking for Paleo ingredients? Here are a few we'd recommend:
Olive oil (Sky Organics)
Tapioca flour (Authentic Foods)
Apple cider vinegar (Bragg)
Use up the rest of your bone broth in one of these 21 gut-healing bone broth soups!