Tender meatballs smothered in a creamy gravy with smooth cauliflower purée? Life couldn't get any better than this! Plus, this cauliflower and meatballs dinner takes just 30 minutes to cook!
Most meatball recipes are made using breadcrumbs, so to make this classic recipe Paleo-friendly I swapped it with almond flour and added a hint of cinnamon and allspice.
There are a few secrets to making the meatballs tender. First, make sure you use meat with more fat in it. Second, use eggs and almond flour as a binding agent, as this helps keep in moisture and prevents the meat from shrinking and becoming tough. Lastly, do not over mix it. Gently combine the meatball ingredients with your hands or use a wooden spatula. From there, make ping-pong ball-sized pieces (you can use an ice cream scooper for this part), and sear over medium heat for 8-10 minutes, until just cooked and browned.
Love slow cooker recipes?
Click here to get your FREE copy of our delicious Slow-Cooker Recipes!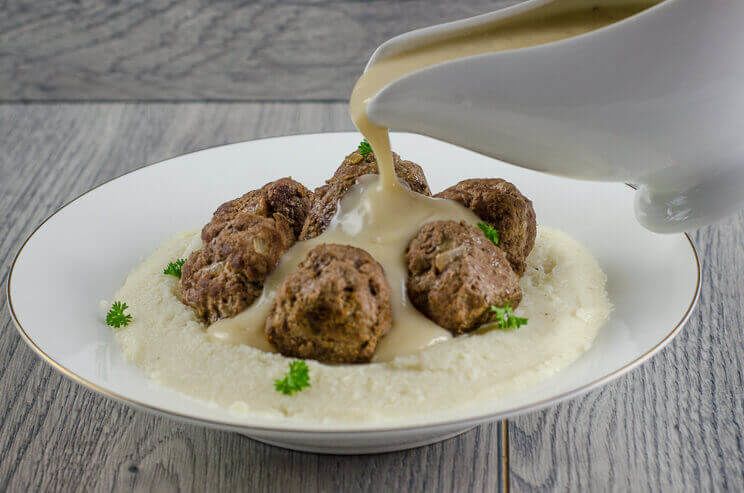 The heavenly gravy sauce is made with the browned up meatball bits, with a base of coconut milk, beef stock and tapioca flour, which makes a great thickener without altering the flavor. To prepare it, add the coconut milk and beef stock to the same skillet used to cook the meatballs. Graze the bottom gently to add more beef bits to the gravy, heat for a few minutes, then add tapioca flour mixture. Stir until thickened and serve with the meatballs.
Cauliflower purée makes a perfect, low-carb side to this savory dish, and it gets a wonderful flavor from the garlic, coconut milk and beef stock.
Dina Hassan
Mashed Garlic Cauliflower and Meatballs Smothered in Gravy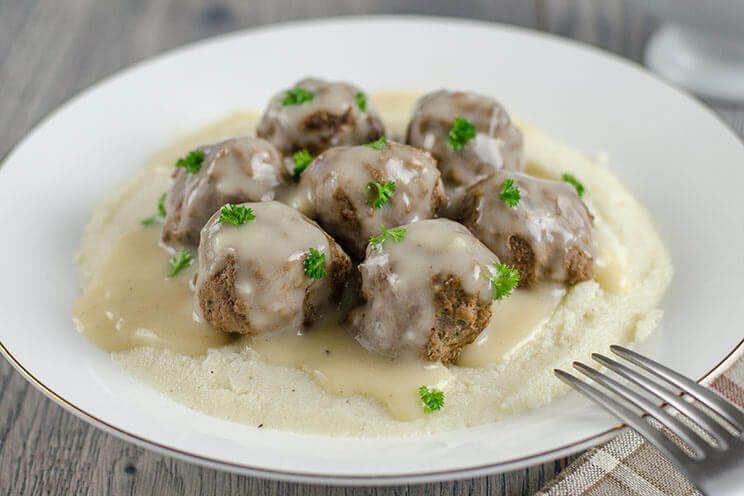 Cook Time:
30 mins
30 minutes
Prep Time:
15 mins
15 minutes
Mashed Garlic Cauliflower and Meatballs Smothered in Gravy
These tender meatballs are smothered in a creamy gravy with smooth cauliflower purée.
Ingredients
For the Mashed Cauliflower:
1 medium cauliflower head

1 T grass-fed butter

¼ cup coconut milk

¼ cup beef stock

2 garlic cloves, minced

Salt and pepper, to taste

Fresh parsley, to garnish
For the Meatballs:
1 lb ground beef

¼ onion finely chopped

1 T parsley

1 garlic clove, minced

1 egg

½ t salt

½ t black pepper

¼ t allspice

¼ t cinnamon
For the Gravy:
2 cups beef stock

½ cup coconut milk

2 T tapioca flour

Salt and pepper, to taste
Instructions
For the mashed cauliflower: In a saucepan over medium heat, add the grass-fed butter, coconut milk, beef stock and minced garlic.

Bring to a boil, then reduce the heat to low and simmer for 7-8 minutes or until the garlic is completely soft. Set aside.

Next, heat water in a large stock pot until it is boiling.

Cut cauliflower head in half and remove the stem, chop into florets, and add them to boiling water. Cook for 15-20 minutes or until the cauliflower is soft when pierced with a fork. Remove from heat and strain.

Place cauliflower in blender. Add the butter and stock mixture. Blend on high until smooth. Set aside and keep warm.

For the meatballs: In a bowl, combine the minced beef, onion, parsley, garlic, egg, allspice, cinnamon, salt and pepper.

Mix the ingredients until well combined. Form meatball by hand or with an ice cream scoop (about two tablespoons of meat mixture for each meatball).

Heat two tablespoons of extra virgin olive oil in a large skillet over medium heat. Add the meatballs to the skillet and cook for 8-10 minutes, rotating each ball, until cooked through and browned. Remove from the heat and set aside.

For the gravy: Dissolve the tapioca flour in 1 tablespoon of beef stock and set aside.

Place the beef stock and coconut milk in the same skillet you cooked the meatballs in. Using a wooden spoon, stir well and simmer for 2-3 minutes, until heated.

Remove from heat and stir in the tapioca flour mixture. Return to low heat and continue stirring until slightly thickened.

Remove from the heat. Sieve to get any lumps out. Season with salt and pepper.

To assemble: On a serving plate, place the mashed cauliflower, top with meatballs, drizzle with the gravy and serve.


(You'll Also Love: Seared Duck Breasts with Honey and Apricot Sauce)
Lose weight, fight inflammation, and soothe your digestion with delicious meals like juicy skirt steak with cucumber & radish salad, succulent pulled pork, and more!
FREE Cookbook:
80 Gourmet Paleo Recipes from
a Professional Chef trained at Le
Cordon Bleu in Paris
FREE Cookbook:
80 Gourmet Paleo Recipes
from a Professional Chef
trained at Le Cordon Bleu
in Paris