This Rosemary Citrus Chicken recipe offers savory and bright flavors that make for an elegant meal. The best part: Your slow cooker does all the work!
You KNOW how we love our slow cookers here at Paleohacks … and the only thing we like better than crock pot recipes, are crock pot recipes that require only a handful of ingredients! This simple and savory Rosemary Citrus Chicken has only six ingredient to speak of, and comes together in a snap.
There's is nothing better than coming home from a long, busy work day to the smell of something warm cooking in the kitchen, and with savory rosemary and bright citrus scents wafting from your kitchen, your mouth will be watering before you even walk through the door.
Love slow cooker recipes?
Click here to get your FREE copy of our delicious Slow-Cooker Recipes!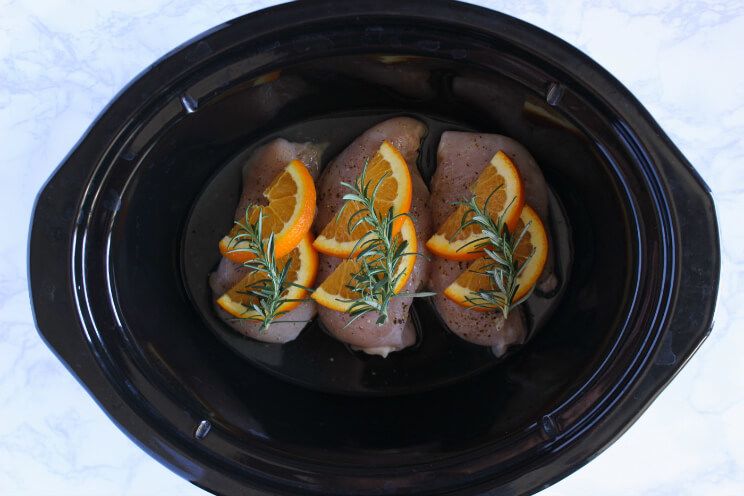 This recipe couldn't be any simpler: fresh lemon juice, orange juice, a drizzle of honey, a few sprigs of rosemary, a pinch of salt and pepper – and you're done! It's perfect for busy mornings and even busier evenings.
The best part is that with something as simply seasoned as this, it's a dish that can go with so many meals. Serve on a bed of greens with some diced avocado, sliced tomatoes, and homemade Paleo salad dressing for an easy lunch. Or pair with sweet potato au gratin and roasted veggies for an elegant meal to enjoy with your family or friends. Really, the possibilities are endless for a meal like this!
You could also make this recipe with chicken thighs, or bake this dish on 400ºF for 30-40 minutes if you forgot to set up your crock pot that morning
Deanna Dorman
Crock Pot Rosemary Citrus Chicken

Prep Time:
5 mins
5 minutes
Crock Pot Rosemary Citrus Chicken
This Rosemary Citrus Chicken recipe offers savory and bright flavors that make for an elegant meal.
Ingredients
1 pound boneless, skinless chicken breast

3 T lemon juice

2 T fresh squeezed orange juice

1 T honey

4 orange slices

4 sprigs fresh rosemary

salt & pepper to taste
Instructions
Season the chicken breasts with salt and pepper to taste on each side and place them in the slow cooker.

In a small bowl, whisk together the lemon juice, orange juice, and honey until combined. Pour the juice over the chicken.

Place the orange slices on top of the chicken breasts, and lay the rosemary over everything.

Turn the slow cooker on low for 8 hours, and cover.
You'll Also Love: The Best Crock Pot Chicken Noodle Soup

Lose weight, fight inflammation, and soothe your digestion with delicious meals like juicy skirt steak with cucumber & radish salad, succulent pulled pork, and more!
FREE Cookbook:
80 Gourmet Paleo Recipes from
a Professional Chef trained at Le
Cordon Bleu in Paris
FREE Cookbook:
80 Gourmet Paleo Recipes
from a Professional Chef
trained at Le Cordon Bleu
in Paris