Upgrade snack time with these thin and savory cauliflower chips made in just under an hour!
Made with a healthy balance of protein, fiber, and essential vitamins, you can rest assured that these crunchy crisps are completely guilt-free. Pack them for school lunches, movie nights, or a quick work day snack for midday munching.
To keep things grain-free, we use a blend of cauliflower, arrowroot flour, and nutritional yeast to help keep the dough slightly dry and dense. This texture will allow the dough to crisp in the oven, resulting in a dip-worthy cracker that's golden brown around the edges.
Add power-packed superfood veggies to every meal with these easy cauliflower recipes.
Click here to get your FREE copy of our Cauliflower Recipe Guide!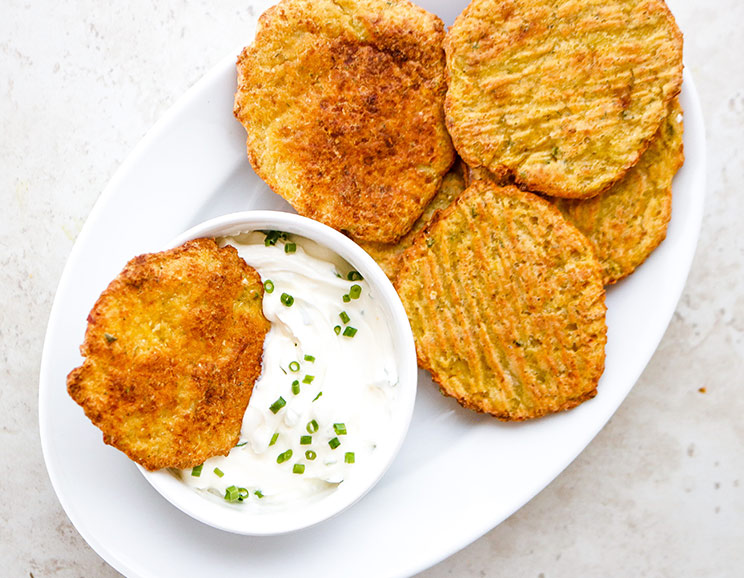 For the seasoning, we combine nutritional yeast with dill, garlic powder, and chives to create an irresistible cheesy-ranch blend. It's the perfect alternative to Cheetos or Doritos, and pairs well with dips like cauliflower hummus, Paleo sour cream, and guacamole.
Here are some helpful tips to get started:
Be sure to moisten your fingertips with water. This will help prevent the dough from sticking so that you can effortlessly press and shape it into chips rounds.
Wring out moisture from the cauliflower. This step is important, since excess water can create soggy chips that fail to reach their full crunchy potential.
Experiment with these on-hand substitutions. You can sub out arrowroot powder for cassava flour or add in dried onion powder, basil, rosemary, or thyme for a new twist to the seasoning blend.
Store them in a dry, airtight container. Due to the fresh cauliflower, these crisps are best enjoyed within two days for optimal flavor and texture.
Jennafer Ashley
Irresistibly Cheesy Cauliflower Chips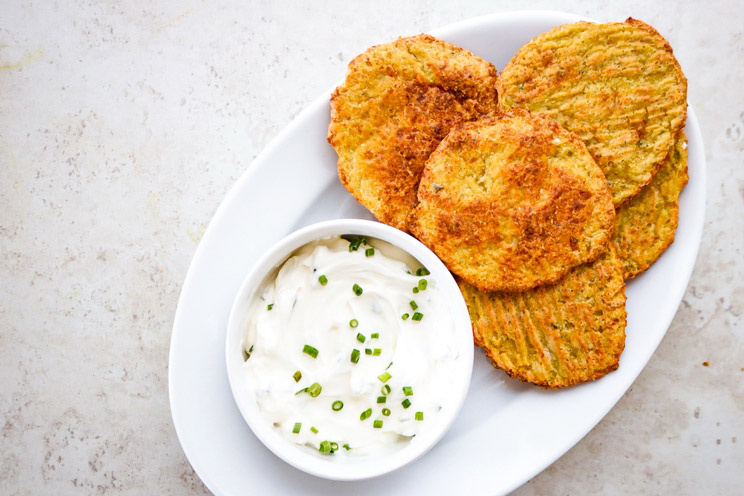 Cook Time:
30 mins
30 minutes
Prep Time:
25 mins
25 minutes
Irresistibly Cheesy Cauliflower Chips
Upgrade snack time with these thin and savory cauliflower chips made in just under an hour.
Tools
Parchment paper

Large baking sheet

Food processor

Medium mixing bowl
Ingredients
4 cups cauliflower florets

1/2 t sea salt

1 large egg

1/2 cup arrowroot flour

1/4 cup nutritional yeast

1 t dried chives

1/4 t dried dill

1/4 t garlic powder
Instructions
Preheat the oven to 375ºF and line a large baking sheet with parchment paper.

Place the cauliflower florets into a food processor and pulse until they're finely crumbled, about 10 seconds.

Transfer the cauliflower to a medium mixing bowl and sprinkle them with sea salt. Stir the cauliflower to fully coat, then set them aside for 15 minutes.

When ready, place the cauliflower in a clean kitchen towel and wring out any excess moisture over the sink.

Return the cauliflower to the mixing bowl and add in the egg, arrowroot flour, nutritional yeast, chives, dill, and garlic powder. Stir the mixture until it's thoroughly combined and doughy.

Scoop out 1 tablespoon of the dough and place it onto the parchment paper. Repeat with the remaining dough, spacing 2 inches apart. Use your fingertips to press the dough into thin, flat rounds.

Transfer to the oven and bake for 30 minutes, flipping once halfway through.

When the chips are crispy around the edges, remove them from the oven and let them cool for 5 minutes.

Serve immediately or store them in a dry, airtight container for up to 2 days.
Looking for Paleo ingredients? Here are a few we'd recommend:
Coarse sea salt (AztecSeaSalt)
Arrowroot starch (Authentic Foods)
Nutritional yeast (NOW Foods)
Garlic powder (Frontier)

(You'll Also Love: 23 Tasty Ways to Make Veggie Chips)