Try this tasty crock pot chicken noodle soup recipe made with healthy zucchini noodles!
It's nice to just throw all your ingredients into a crock pot and wait for it to do all the work.
This chicken noodle soup recipe is no exception. The first thing you'll want to do is put the zucchini through your spiralizer. If you don't have a spiralizer yet, you can pick one up at any kitchenware store or online.
Love slow cooker recipes?
Click here to get your FREE copy of our delicious Slow-Cooker Recipes!
Once the the zucchini noodles are made, set them aside. Then, you'll want to cover the bottom of your crock pot with a bit of olive oil to make sure nothing sticks.
Next, you'll place all of the ingredients inside the pot — chicken, chopped vegetables, zucchini noodles, spices, and chicken bone broth — all of it! You can cook the soup on high, go about your day, and 4 hours later the soup will be done!
If you're feeling up to it, try experimenting with different ingredients. You can swap the thyme with cilantro for a tasty kick, or even try sweet potato noodles instead of zucchini.
Erin Druga
Crock Pot Chicken Noodle Soup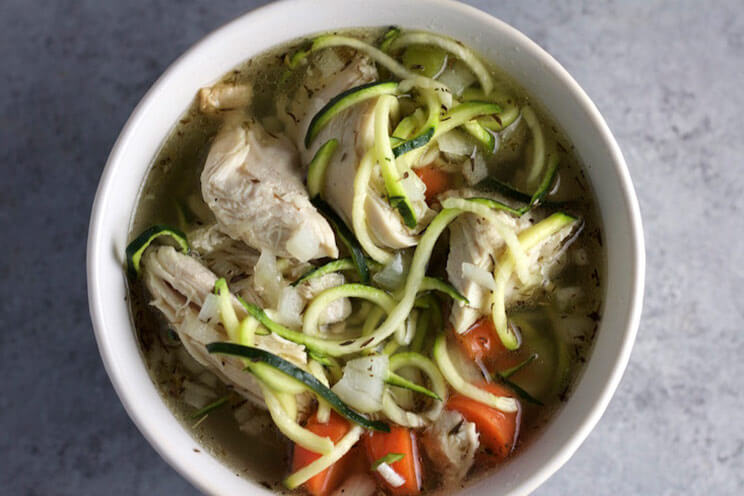 Prep Time:
5 mins
5 minutes
Crock Pot Chicken Noodle Soup
Dig into this bowl of savory chicken soup made with zoodles, veggies, and fresh herbs.
Ingredients
2 chicken breasts

2 T olive oil

3 full size carrots, sliced

2 celery stalks, sliced

1 yellow onion, diced

2 T fresh parsley

2 zucchini

1/2 t dried thyme

64 oz. chicken bone broth

Salt and pepper to taste
Instructions
Cut ends of zucchini; place zucchini through the spiralizer to create zucchini noodles.

Drizzle crock pot with olive oil.

Place chicken in the bottom of the pot and then top with carrots, celery, zucchini noodles, thyme, chicken bone broth, salt, and pepper.

Cook on high for 4 hours.

Chicken should now be easy to cut. Serve noodle soup in bowls; add more salt and pepper to taste.

Enjoy!
Looking for Paleo ingredients? Here's what we recommend:
Extra Virgin Olive Oil (Sky Organics)
Chicken Bone Broth (Kettle & Fire)

You'll Also Love: 20 Easy Paleo Crock Pot Recipes