This simple Cuban beef recipe merges the rich flavors of Cuban cooking with the convenience of a crock pot.
One of my all-time favorite things to order at Latin restaurants is a dish called ropas vieja, which translates to "old clothes" in Spanish. This scrumptious dish consists of stewed, shredded beef over rice – with sides of black beans and sweet plantains. I find it to be the ultimate combination of sweet and savory.
To make this dish Paleo-friendly, simply omit the black beans. Instead, pan-fry some ripe plantain slices to serve alongside your shredded meat. Then pile it all on top of cauliflower rice for a dish that will comfort all year round, especially in the colder months.
Love slow cooker recipes?
Click here to get your FREE copy of our delicious Slow-Cooker Recipes!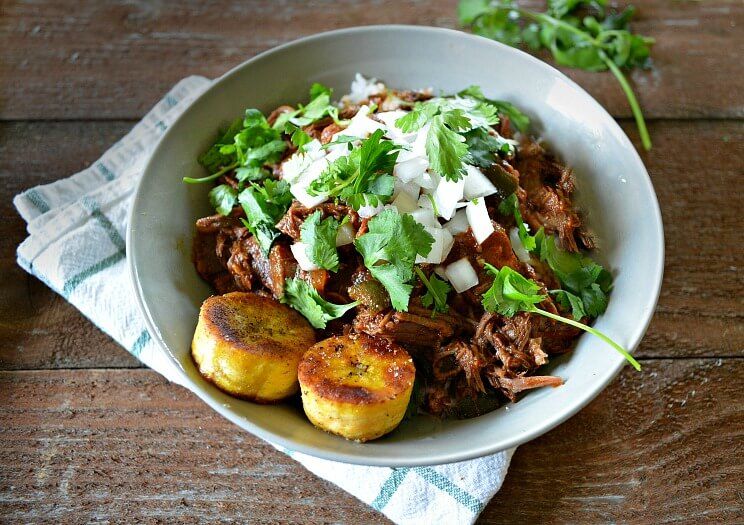 The first step to this recipe starts on the stovetop: Sear the beef on each side for a few minutes, just until it's a nice brown color. Searing gives the beef a rich, slow-cooked flavor. Next, add all the seasonings to the crock pot, along with poblano pepper and sliced white onions. If you like a little more kick in your recipes, try adding a serrano or jalapeño pepper.
Cumin and smoked paprika are the stars of the show, adding a deep, smoky flavor and exotic spiciness. Tomato paste and beef broth help catch all of the seasonings, and create a sauce for the Cuban beef to cook in. The sauce is oh-so-delicious and great for spooning over the cauliflower rice.
Cooking times may vary, depending on your crock pot. I recommend checking the beef after four hours and adjusting from there. If you aren't going to be home while your recipe is cooking, keep your crock pot on the low setting. Six hours seems to be the happy medium for a two-pound chuck roast on low. Once the beef is super-tender, shred it apart with a fork, and put the Cuban beef back into the crock pot to soak in the juices for a little while longer.
Jennafer Ashley
Crock Pot Cuban Beef Recipe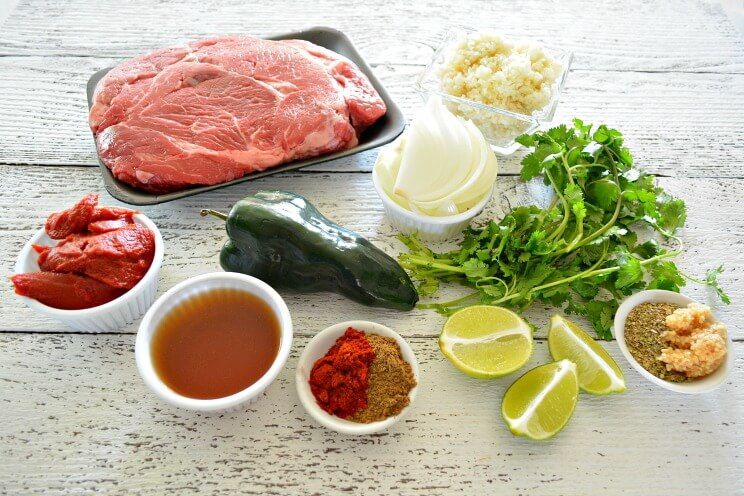 Prep Time:
15 mins
15 minutes
Crock Pot Cuban Beef Recipe
This simple but exotic comfort food recipe merges the rich flavors of Cuban cooking with the convenience of a crock pot.
Ingredients
2 lb beef chuck roast

4 cups cauliflower rice

1 poblano pepper (chopped)

1 medium white onion (one half thinly sliced, and the other half chopped)

1 6-oz can tomato paste

1 cup beef broth

2 T olive oil

2 T cumin

1 T oregano

1 T garlic

1 T smoked paprika

½ cup cilantro (chopped)

1 lime (cut into wedges)
Instructions
Heat olive oil in a large pan over medium-high heat. Once olive oil is shimmering hot, sear chuck roast for 2 minutes on each side.

Place chuck roast (with oil and drippings from pan) in crock-pot. Add poblano pepper and sliced onion. Pour in beef broth and tomato paste. Add cumin, smoked paprika, oregano, and garlic. Stir ingredients. Place lid on crock-pot, and heat on low 6-8 hours.

Once beef is fork-tender, shred on a large plate, using two forks. Return to crock-pot for 30 minutes.

Serve over cauliflower rice with chopped onion, cilantro, and a lime wedge. Pan-fried plantain slices would also compliment this Cuban dish.
You'll Also Love: Easy Crockpot Beef Stew Recipe