This hearty Crock-Pot Cabbage Soup recipe substitutes noodles for cabbage! Let the slow cooker do the work and in a few hours, you'll have a hearty, cozy soup.
Like many Crock-Pot recipes, this cabbage soup lets you throw all of the ingredients in while you run errands, watch a movie, etc. while the soup is cooking. Needless to say, it's an essential tool for any primal kitchen and an easy way to make big family dinners.
This cabbage soup replaces traditional noodles with veggies instead, making it completely Paleo-friendly. As far as taste goes, it has the familiar flavors of chicken noodle soup but with fresher, better-for-you ingredients.
Love slow cooker recipes?
Click here to get your FREE copy of our delicious Slow-Cooker Recipes!
Tip: You'll have to wait about two hours to put the cabbage in the crock pot. Otherwise, the cabbage will overcook and become soggy. Though we want it to be soft, we don't want it to be TOO soft.
Also, be sure to line the bottom of your slow cooker with coconut oil before you put anything in it. Otherwise, the food, especially the chicken, may stick to the bottom.
The main difference between this recipe and a chicken noodle soup recipe (besides the obvious omission of noodles) is that I used zucchini in this soup to add some vegetables and flavor. You can also use yellow squash if you have it on hand.
Erin Druga
Crock Pot Cabbage Soup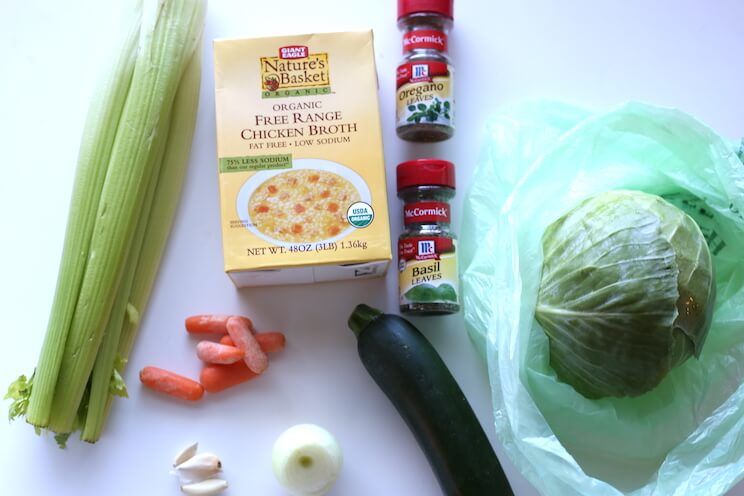 Prep Time:
5 mins
5 minutes
Crock Pot Cabbage Soup
This hearty Crock-Pot Cabbage Soup recipe substitutes noodles for cabbage.
Ingredients
2-3 chicken breasts

2 T olive oil

2 celery stalks

3/4 cup carrots, chopped

1/2 cup zucchini, chopped

3 garlic cloves, minced

1 small yellow onion, diced

1 t dried basil

1/2 t dried oregano

4 cups chicken broth

1/2 head of cabbage
Instructions
Drizzle Crock Pot with olive oil and then add chicken.

Add chopped up celery, carrots, zucchini, garlic, and onion; Next, add basil, oregano, salt, pepper, and broth.

Cook soup on HIGH for approximately 2 hours and then add the chopped up cabbage.

Cook soup on HIGH for an additional 2 hours before removing from the Crock Pot and enjoying!
You'll Also Love: 32 Cozy Paleo Soup Recipes