This 20-minute Cajun chicken pasta with light zucchini noodles is guaranteed to satisfy any spicy craving!
Made with zucchini noodles, this grain-free meal makes for a light, healthy lunch or dinner! An easy homemade Cajun seasoning adds heat, and a Paleo-friendly cream sauce made of raw cashews ties everything together.
To make this nutrient-dense Cajun chicken pasta, combine the sauce and seasonings with chicken and a rainbow of sautéed vegetables. Tip: chop the veggies and chicken the night before, which will make cooking fast and easy.
Love pasta? Grab your spiralizer and crank out these amazing veggie noodle recipes!
Click Here to Get Your FREE recipe book of 20 Easy Ways to Use Your Spiralizer.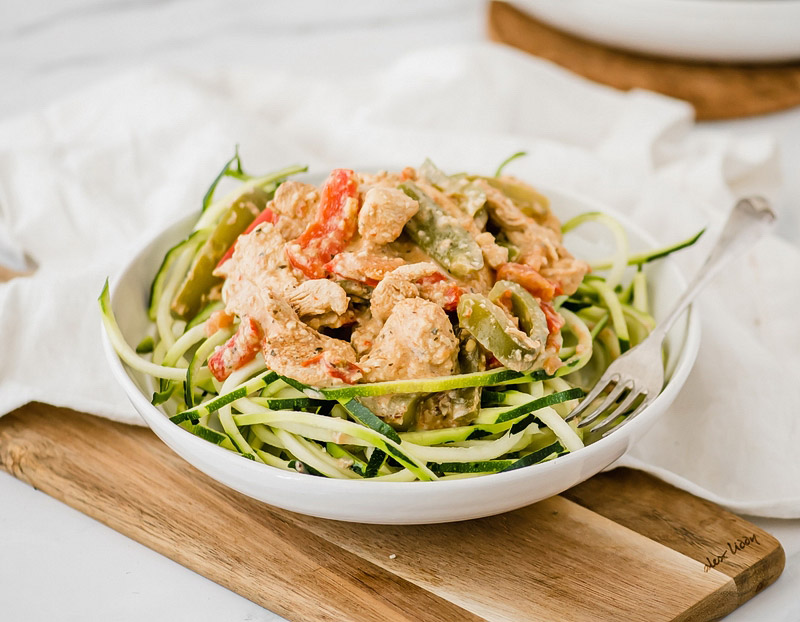 To start, blend the soaked cashews with coconut milk, and set aside. Then add bell peppers and extra-virgin olive oil to a skillet. Sauté five minutes before adding the chicken and spices. Once the chicken is cooked and veggies softened, stir in the tomatoes and cashew cream sauce. Cook the mix until thick and creamy.
Next, remove the skillet from the heat and add the zucchini noodles, tossing them to coat with the thick cream sauce. If you add the zucchini noodles last, it keeps them firm and gives them a pasta-like crunch. To serve, garnish with more red pepper flakes and cashews. Then eat!
This refreshing Cajun chicken pasta recipe is perfect for eating healthy when time is short. Store leftovers in the fridge, then enjoy them for lunch the next day.
Tip: To keep this recipe feeling new, swap in turkey, beef, fish, and your favorite veggies.
Megan Olson
Cajun Chicken Pasta with Light Zucchini Noodles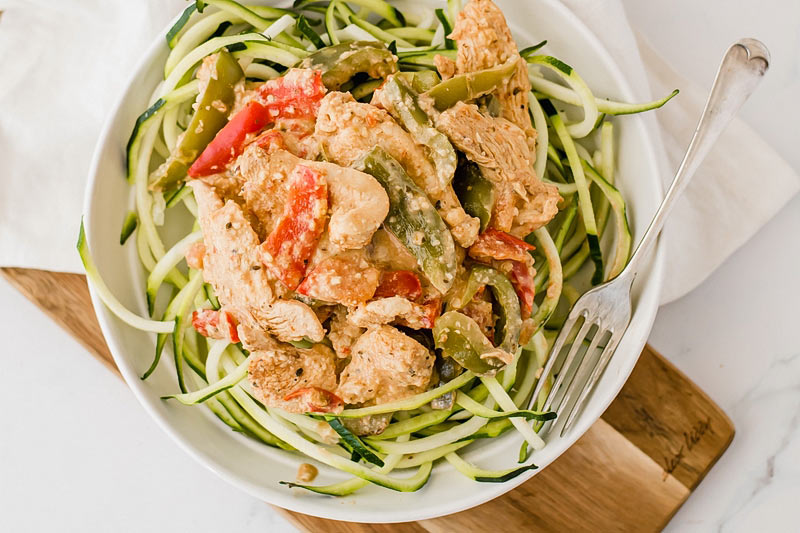 Cook Time:
15 mins
15 minutes
Prep Time:
5 mins
5 minutes
Nutrition facts:
22 grams of protein
15 grams of carbohydrates
12 grams of fat
235 calories
Cajun Chicken Pasta with Light Zucchini Noodles
This 20-minute meal is guaranteed to satisfy any spicy craving.
Ingredients
½ cup cashews (soaked for 3 hours and drained)

3 T unsweetened coconut milk

½ T extra-virgin olive oil

2 medium chicken breasts (sliced into thin strips)

2 zucchinis (spiralized)

1 red bell pepper (sliced into 1-inch strips)

1 green bell pepper (sliced into 1-inch strips)

2 plum tomatoes (diced)

1 t garlic powder

1 t onion powder

1 t cayenne pepper

1 t paprika

1 t oregano

½ t crushed red pepper flakes

Salt & pepper to taste
Instructions
Add cashews and coconut milk to a blender. Blend on high until cashews are broken down. Consistency should be crumbly. Set aside.

Preheat a skillet at medium heat. Add extra virgin olive oil to the skillet with red and green bell peppers. Sauté 5 minutes, then add sliced chicken breast, salt, pepper, and other seasonings. Cook 5 minutes until chicken is cooked through.

Stir in diced tomatoes and blended cashews, covering the ingredients with the sauce. Cook another 5 minutes until the sauce thickens.

Turn off the heat, add spiralized zucchinis, and toss to combine.

Serve immediately!
Looking for Paleo ingredients? Here are a few we'd recommend:
Raw cashews (Terrasoul Superfoods)
Coconut milk (Native Forest)
Olive oil (Sky Organics)
Garlic powder (Frontier)
Onion powder (365 Everyday Value)
Cayenne pepper (Simply Organic)
Paprika (Simply Organic)
Red pepper (Simply Organic)
You'll Also Love: One-Pan Cajun Chicken and Cauliflower Rice Recipe