In under 30 minutes, this antioxidant-rich coconut curry shrimp is ready for the table.
In both Thai and Indian cuisine, curry is a comforting classic. With their herbs and wholesome ingredients, both curries pack a serious amount of health-boosting benefits.
This coconut curry shrimp recipe leans toward an Indian style curry (with herbs like cardamom and fenugreek). So when purchasing ingredients, make sure to buy a curry powder that includes them.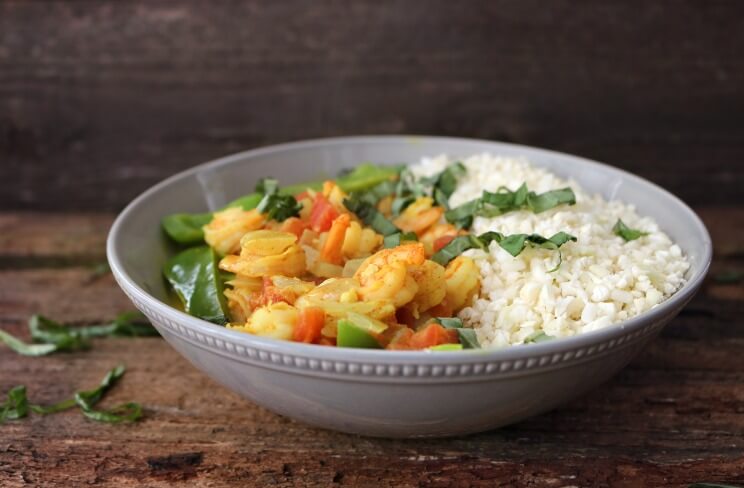 Keep in mind, however, that not all curry powder is created equal. Look out for MSG-like ingredients (e.g., hydrolyzed yeast extract) that's used to enhance flavor and gluten (in the form of flour) that's used as an anti-clumping agent in commercial brands. Luckily, most brands of organic spices make amazing curry powders, which are easy to find.
Love turmeric recipes? Get our free turmeric recipes cookbook here!
Before cooking, prepare the shrimp. If you're using frozen pre-cooked shrimp, make sure that you thaw, peel, and devein it and remove the tails. I recommend using fresh shrimp whenever possible. Then it'll have a better texture, as opposed to shrimp that's already been cooked.
Start by sautéing the vegetables until they start to soften. You can use any vegetable in curry, so use your imagination to make the dish your own. Broccoli florets or sliced carrots would be delish. Next, add in the shrimp and garlic. If using fresh shrimp, you'll know it's cooked once it turns pink . Stir in the tomatoes, coconut milk, and curry powder, then simmer.
In just under 30 minutes, this hearty recipe is ready for serving. To complete the dish, serve over riced cauliflower. I typically don't cook cauliflower rice when serving it with hot food, but feel free to sauté your "rice" in a skillet with coconut oil. Simply ladle the hot curry over the cauliflower rice, and serve with freshly chopped cilantro or basil.
Jennafer Ashley
Coconut Curry Shrimp with Turmeric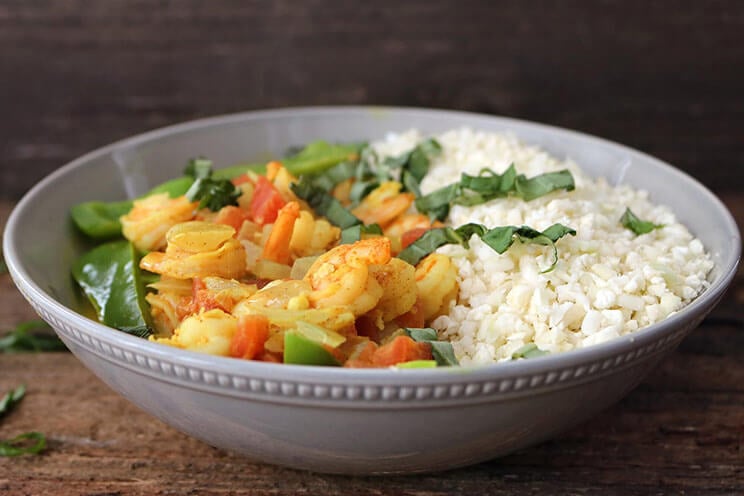 Cook Time:
15 mins
15 minutes
Prep Time:
10 mins
10 minutes
Coconut Curry Shrimp with Turmeric
This Indian-style curry is rich in antioxidants, and ready for the table in just 30 minutes.
Ingredients
1 lb medium shrimp (peeled, deveined, and tail removed)

1 bell pepper (julienned)

1/2 cup white onion (chopped)

1 cup organic petite diced tomatoes (drained)

1 cup full-fat coconut milk

1 T Indian curry powder

1 t ground turmeric

2 t coconut oil

1 t garlic (minced)

2 t sea salt

1/4 t black pepper

4 cups cauliflower (riced)

Optional Garnishes: Chopped cilantro, chopped basil
Instructions
Heat coconut oil in a large skillet over medium heat. Add bell pepper and onion. Sauté 5-6 minutes.

Add garlic and shrimp. Sauté 5 minutes until fresh shrimp turns pink, stirring occasionally.

Stir in tomatoes, coconut milk, curry powder, turmeric, black pepper, and sea salt. Bring to a low boil. Reduce heat and simmer for 5 minutes.

Serve over cauliflower rice and garnish, and add chopped basil or cilantro.


(You'll Also Love: Coconut Curry Chicken with Turmeric)