Made with anchovies, capers, garlic, and black olives simmered in a rich tomato sauce, this Zucchini Pasta Puttanesca packs bold flavors and a deliciously powerful aroma.
For those of you who have never tried spaghetti alla puttanesca before, you're in for a flavorful surprise! This aromatic pasta recipe is known for its strong flavor – definitely not a meal for those who prefer more subtle dishes. But if you're like me and you enjoy food with plenty of character, then I know you'll love pasta puttanesca.
Instead of using wheat pasta, we're making a lighter version of this traditional dish by substituting in zucchini noodles. Since zucchini has a neutral taste, it soaks up the flavor profile of the anchovies, capers, garlic, black olives, and tomato sauce.
Love slow cooker recipes?
Click here to get your FREE copy of our delicious Slow-Cooker Recipes!
Start off by sautéing the garlic and anchovies. Once the garlic has turned golden, add the red pepper flakes, capers, and olives, then sauté for a little longer. Add the chopped roma tomatoes and their juices, and then reduce the heat and bring to a simmer for approximately 10 minutes. Finally, add in the zucchini noodles and cook for a couple of minutes until the noodles are tender. Be careful not to overcook the zoodles, as they'll get soggy. Divide evenly between bowls, garnish with fresh parsley and enjoy!
Felicia Lim
One-Pan Zucchini Pasta Puttanesca Recipe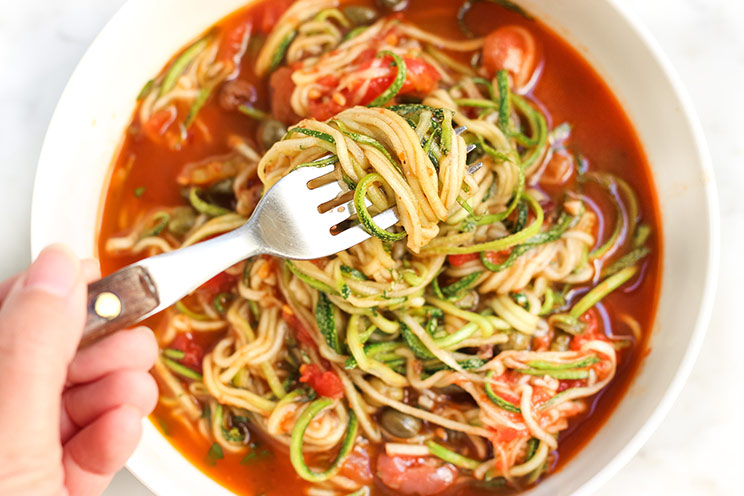 Cook Time:
15 mins
15 minutes
Prep Time:
15 mins
15 minutes
One-Pan Zucchini Pasta Puttanesca Recipe
This Zucchini Spaghetti Puttanesca packs bold flavors and a deliciously powerful aroma.
Ingredients
2 large zucchini, spiralized or julienned into thin noodles

6 T extra virgin olive oil

4 large garlic cloves, minced

6 anchovy fillets, finely chopped

1 t red pepper flakes

¼ cup capers, drained

¼ cup pitted black olives, sliced

1 cup whole peeled roma tomatoes, roughly chopped

Fresh parsley, for garnish
Instructions
Heat up the olive oil in a large skillet over medium heat and sauté the garlic, chopped anchovies, and red pepper flakes. Cook for a few minutes until the garlic is lightly golden and fragrant (about 2 to 3 minutes).

Add the capers and sliced olives, and stir to combine.

Add in the chopped roma tomatoes and their juices and stir to combine. Bring heat down to low, and bring to a bare simmer for 10 minutes.

Add the zucchini noodles and mix well to combine, until zucchini noodles are tender.

Divide the zucchini spaghetti puttanesca evenly into two bowls, and then garnish with fresh parsley.
Tip: Given that the ingredients are already fairly salty in nature, I recommend that you start off with less anchovies and add more according to taste. For more kick, you can also add some freshly ground black pepper.

(You'll Also Love: Pasta Carbonara Recipe with Light Zucchini Noodles)
Lose weight, fight inflammation, and soothe your digestion with delicious meals like juicy skirt steak with cucumber & radish salad, succulent pulled pork, and more!
FREE Cookbook:
80 Gourmet Paleo Recipes from
a Professional Chef trained at Le
Cordon Bleu in Paris
FREE Cookbook:
80 Gourmet Paleo Recipes
from a Professional Chef
trained at Le Cordon Bleu
in Paris