Skip the takeout and whip up this nutritious Spicy Rainbow Pasta with a spicy kick!
Spice lovers will fall head over heels for this recipe loaded with heat. The simple sauce uses four pantry staples and balances sweet, salty and spicy. The sauce is cooked right in the pan with the vegetables, making this dish fuss-free.
Spiralized beets, sweet potatoes, zucchini and summer squash make up this Rainbow Pasta. Spiralizing is the perfect way to substitute traditional pasta and other grains. For this recipe, we recommend using a 3mm blade to spiralize. This will keep the veggie noodles thin so they cook quickly in the pan.
Love pasta? Grab your spiralizer and crank out these amazing veggie noodle recipes!
Click Here to Get Your FREE recipe book of 20 Easy Ways to Use Your Spiralizer.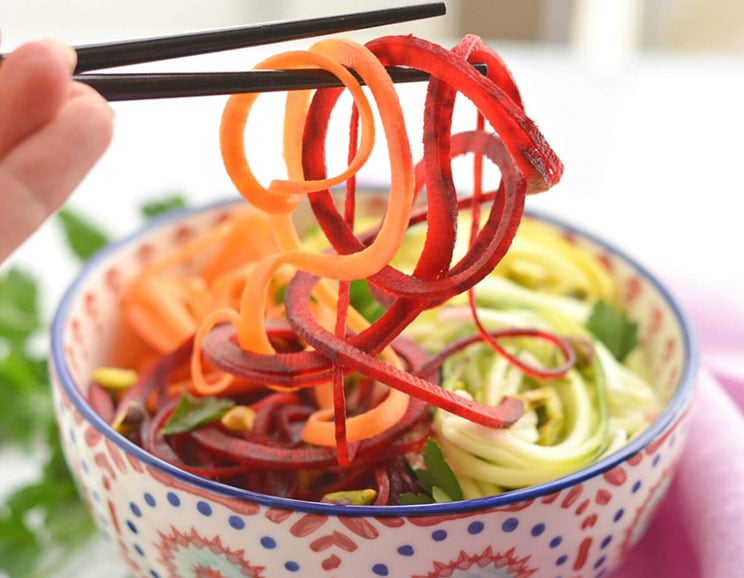 The veggie noodles are cooked al dente, giving them a similar texture to traditional pasta. The tartness of the beets plays off the sweetness of the sweet potato, and the zucchini and summer squash add coolness to balance out the heat from the sauce.
The recipe makes two servings, but you could easily scale it up by doubling the ingredients to feed more people. Make this light dish for a quick and healthy weeknight meal!
Tips:
Add one tablespoon of grass-fed butter to the sauce to make it extra rich and delicious.
If you really want to turn up the heat, add crushed red pepper flakes to the sauce. It will add an extra layer of spice!
Megan Olson
Spicy Rainbow Pasta with All-Veggie Noodles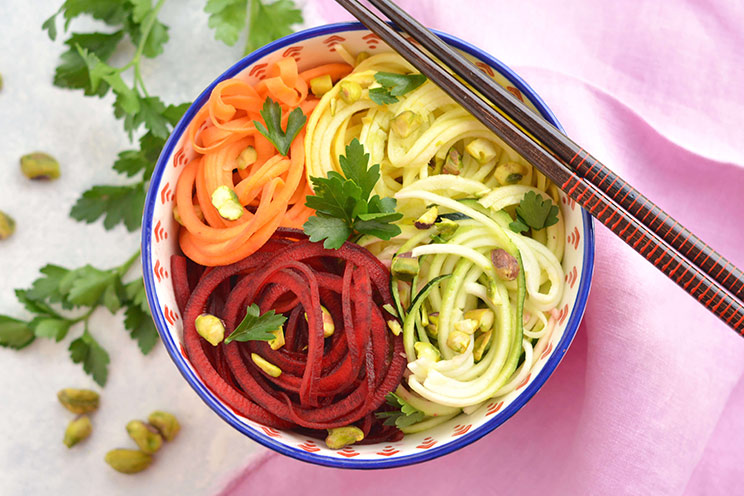 Cook Time:
20 mins
20 minutes
Prep Time:
10 mins
10 minutes
Spicy Rainbow Pasta with All-Veggie Noodles
Skip the takeout and whip up this nutritious rainbow veggie pasta with a spicy kick!
Tools
Spiralizer with 3mm blade

Large skillet

Large bowl
Ingredients
1 medium red beet, washed and peeled

1 medium sweet potato, washed and peeled

1 medium zucchini

1 medium summer squash

2 t Paleo sriracha sauce

2 T extra virgin olive oil

2 t apple cider vinegar

2 t coconut aminos

Pinch of salt and pepper

Fresh parsley for garnish

1/8 cup pistachios, unshelled and chopped
Instructions
Cut the ends of the zucchini, summer squash, sweet potato and beet. Spiralize them using a small, 3mm blade.

Heat a large skillet over medium-high heat. Add the extra virgin olive oil, apple cider vinegar, coconut aminos and sriracha sauce to the pan. Heat a few minutes, then add the vegetable noodles.

Toss to coat the vegetables with the sauce. Cook 5-7 minutes until the noodles are al dente.

Remove from the stovetop and transfer to bowl. Garnish with chopped pistachios and parsley and serve.

(You'll Also Love: Light Pasta Primavera with Veggie Noodles)