These gluten free pineapple meatballs are slow cooked in a chili sauce for a sweet and sour appetizer that's sure to please!
Football season is almost upon us, and that means get togethers and parties! But just because you're Paleo doesn't mean you can't enjoy some amazing appetizers. These Paleo sweet and sour pineapple meatballs are perfect for game day, or even as a main course served over cauliflower rice or zucchini noodles.
These pineapple meatballs are made with a homemade sweet chili sauce and pineapple chunks for a tasty way to enjoy a classic appetizer!
Want to snack smarter and curb cravings? Click here to get your FREE 25 Healthy Paleo Snacks Cookbook
Deanna Dorman
Sweet & Sour Pineapple Paleo Meatballs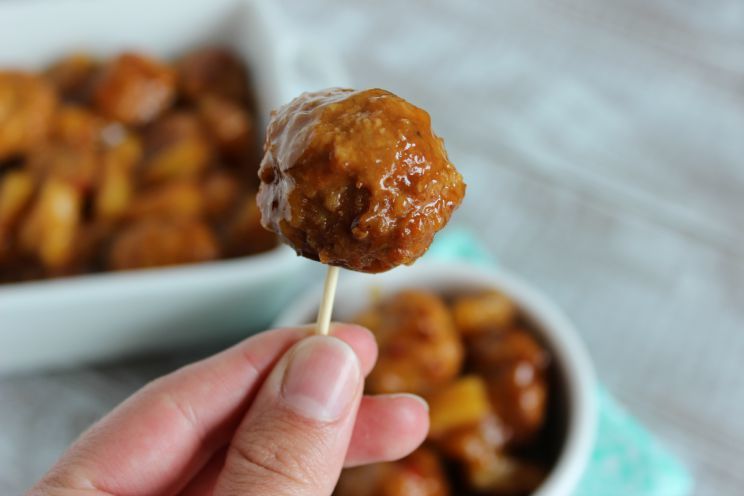 Cook Time:
6 hrs 30 mins
6 hours 30 minutes
Sweet & Sour Pineapple Paleo Meatballs
Ingredients
5 T white wine vinegar

2 garlic cloves, minced

2 T honey

2 t chopped red chilis or 1 small mild red chili, minced finely

1 t arrowroot powder

1 t grated ginger

1/4 t salt

1 - 14 ounce can pineapple chunks in 100% pineapple juice (not concentrate)

1 lb lean ground beef

3 T almond flour

1 egg

1 clove garlic, minced

1/4 t black pepper
How To Make It:
1. In a small saucepan, briefly cook the vinegar, garlic, honey, red chilis, arrowroot, ginger, and salt by bringing it to a boil for one minute or until the sauce thickens.
2. Once the chili sauce has thickened, remove from heat and pour in the pineapple chunks and juice, mix until combined, and set aside.
3. In a medium bowl, combine the ground beef, almond flour, egg, garlic, and pepper until well mixed. Using a tablespoon, scoop out the beef mix and gently roll into mini meatballs with your hands. They should be about 1-inch in diameter.
4. Carefully place the meatballs in your slow-cooker, cover with the chili pineapple sauce, and cook on low for 6 to 8 hours.
(You'll Also Love: Paleo Meatloaf Muffins with Tangy Sweet Tomato Glaze)