For a delicious (and healthier) alternative to greasy french fries, give these Baked Parsnip Fries a whirl.
Double bonus? We included an easy tomato sauce ketchup condiment recipe to go with it!
Rid the idea of parsnips being beige and boring. These rooty goodies make a tasty addition to any dinner (like this Paleo Zuppa Toscana) and make a great substitute for white potatoes.
Want to go Paleo? Not sure where to start?
Start with this FREE Paleo For Beginners Guide Today!
It's a great way to introduce some roots into your diet and much better for you than regular French fries. Plus, they have a good source of fiber to help your digestion system.
Rebecca Hughes
Baked Parsnip Fries with Paleo Ketchup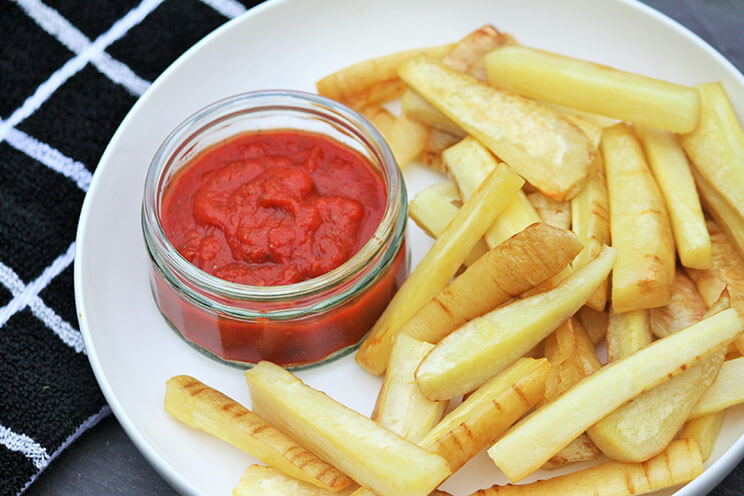 Cook Time:
25 mins
25 minutes
Prep Time:
10 mins
10 minutes
Baked Parsnip Fries with Paleo Ketchup
Baked parsnips and Paleo ketchup offer the perfect twist to traditional French fries.
Ingredients
4 parsnips

Drizzle of olive oil

Sprinkle of sea salt

2 to 4 T tomato purée

2 to 4 t coconut sugar (or honey or maple syrup)

Optional: 1 t paprika, 1 t mixed herbs
Instructions
Preheat the oven to 400 ºF.

Chop the ends off the parsnips. Slice into thin strips.

Add the parsnips to an oven-proof baking dish. Drizzle the parsnips with a little olive oil and sprinkle with sea salt.

Place in the oven and cook for 25 to 30 minutes or until golden brown. The time will vary on the size of the parsnip fries and your type of oven.

While the fries are baking, make the tomato sauce. Add the tomato purée to a bowl. Add the coconut sugar and stir together. For more of a kick, add the paprika and mixed herbs to the sauce.

Once the parsnip fries are ready, remove from the oven and serve. Enjoy the fries dipped into the ketchup or with other Paleo condiments!

(You'll Also Love: Bacon-Wrapped Avocado Fries)