Swap tortilla chips for crisp bacon chips and dip in rich guacamole till your heart's content!
Looking for a fun twist on chips and dip? Ditch the ho-hum chips, and crisp up some bacon instead!
This no-brainer of a snack will make you wonder why you haven't tried it sooner. It's the perfect recipe for game-day entertaining or as a movie-watching munchie.
Want to snack smarter and curb cravings? Get your FREE 25 Healthy Paleo Snacks Cookbook here.
Click here to get your FREE copy of our Snack Recipes Cookbook!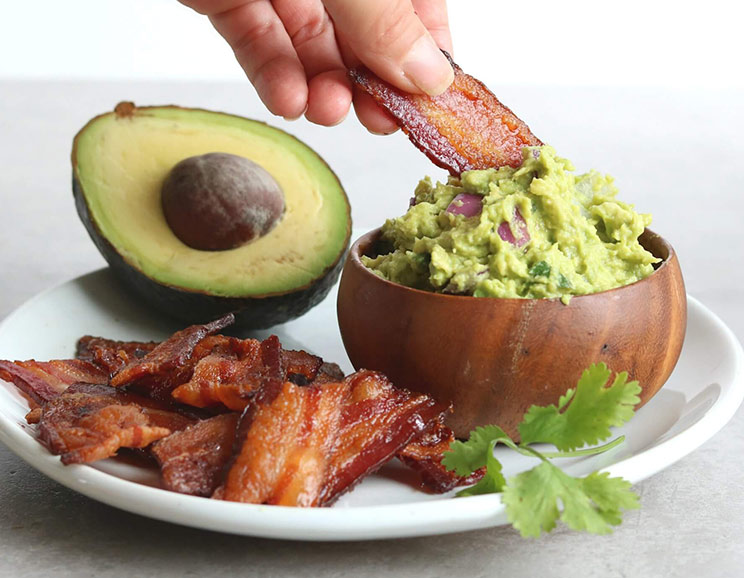 The most important component to a successful bacon chip is using thick cut bacon, from quality-sourced pork, to ensure that it can hold up to dipping without crumbling. You'll be dipping these into a chunky batch of fresh guacamole that gets a spicy kick from jalapeño, a hint of smoke from cumin, and fresh cilantro to brighten it up.
Start by slicing the bacon strips into 2-3 inch pieces, and place on a baking sheet lined with parchment paper to keep the bacon from sticking. Bake for 20 minutes or until the bacon is cooked through. Use tongs to place the bacon on a plate to crisp up. In the meantime, mash avocado with a fork and stir in red onion, cumin, jalapeño, cilantro and sea salt. Serve right away.
Jennafer Ashley
Bacon "Chips" and Thick Guacamole Dip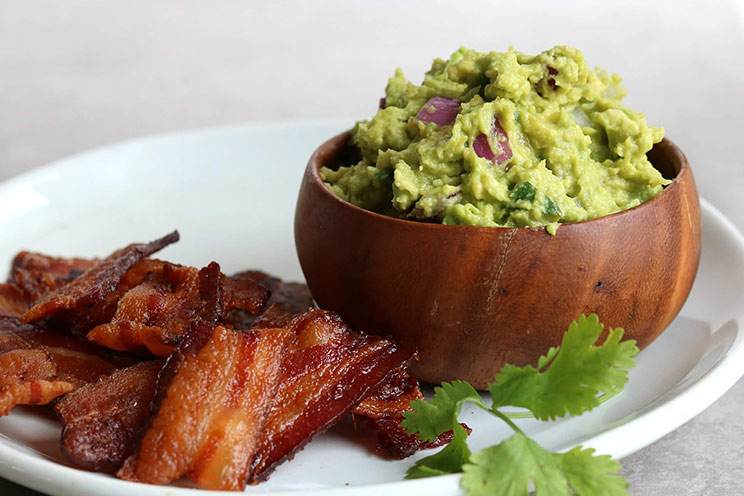 Cook Time:
20 mins
20 minutes
Prep Time:
10 mins
10 minutes
Nutrition facts:
14 grams of protein
4 grams of carbohydrates
21 grams of fat
Bacon "Chips" and Thick Guacamole Dip
Swap tortilla chips for crisp bacon "chips" and dip in rich guacamole till your heart's content!
Tools
Baking sheet

Parchment paper

Small bowl
Ingredients
8-10 strips thick-cut, pasture-raised bacon

2 avocados

1/4 cup red onion, chopped

1 T cilantro, chopped

1 T jalapeño, minced

1/4 t ground cumin

1/4 t sea salt
Instructions
Preheat oven to 375°F and line a baking sheet with parchment paper.

Slice each bacon strip into 2-3 inch pieces and lay on the baking sheet. Bake 15-20 minutes. Remove from the oven and allow the bacon to crisp up on a plate.

In a small bowl, use a fork to mash the avocados. Stir in the red onion, jalapeño, ground cumin and sea salt.

Serve bacon chips alongside the guacamole dip.
Watch the Recipe Video Below!
For more unexpected ways to use bacon, check out these recipes…
Bacon Wrapped Avocado Fries
Bacon Wrapped Onion Rings
Bacon Pancakes

(You'll Also Love: 17 Amazing Paleo Foods You Can Wrap in Bacon)