These handheld coconut bacon pancakes are filled with crispy strips of bacon – perfect for dunking in maple syrup.
This twist on traditional round pancakes transforms the classic breakfast recipe into a two-in-one breakfast that is great for grab-and-go munching. Using coconut flour-based pancakes with a slice of crispy bacon cooked in, these flapjacks are an easy way to jazz up breakfast for adults and kids alike.
Coconut flour can be tricky to use and requires more moisture than other flours because of its dense and absorbent nature. Combining this flour with coconut oil and coconut milk helps to create a thick, smooth batter – perfect for making pancakes and encasing the savory bacon strips.
Love Coconut Flour Recipes? Then you'll love our FREE Coconut Flour Recipes.
Click here to get your FREE copy of our delicious Coconut Flour Recipes!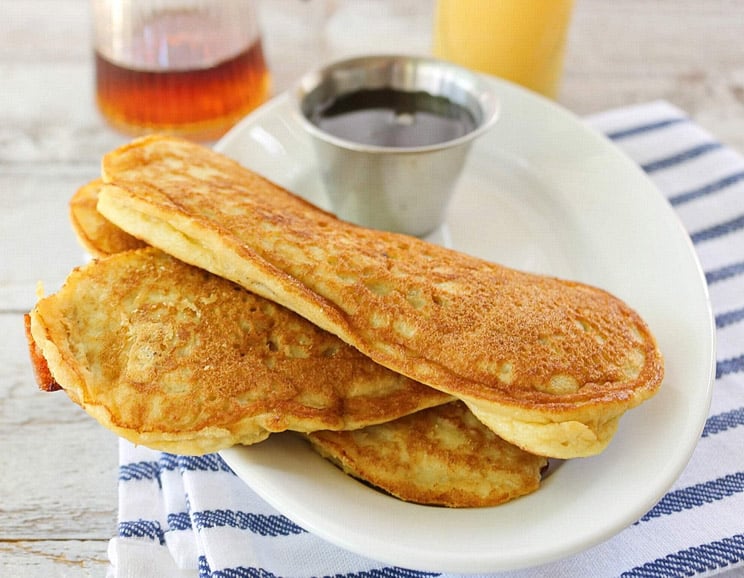 Start by cooking the bacon until crisp and set aside. I snipped the ends of my bacon after cooking to make them fit each pancake without hanging over. Be sure to save the ends to eat – you can crumble and sprinkle them on top of your pancakes at the end, use them in another recipe, or munch on them while you cook!
Next, make the batter by whisking together eggs, coconut milk and coconut oil until just combined. Add in coconut flour, sea salt and baking soda. The mixture should be slightly thick but still slide off a spoon or whisk. Heat a large griddle over medium/low heat and melt butter or ghee over the surface. Use a ⅓ cup measuring scoop to ladle the batter into strips, leaving enough space in between to flip the pancakes. Place a strip of bacon on each pancake and gently press it into place. Cover with another strip of batter over each slice of bacon.
Note: The trick to cooking these bacon pancakes is low and slow. Because they are denser than a standard pancake, they need to cook longer so they don't fall apart when flipped. Heat that's too high would burn the bottom before the pancakes have cooked enough throughout to be flipped; 4-5 minutes on each side does the trick. Once pancakes are golden brown on top and bottom, serve with pure maple syrup and dunk away!
Jennafer Ashley
Bacon Pancakes with Coconut Flour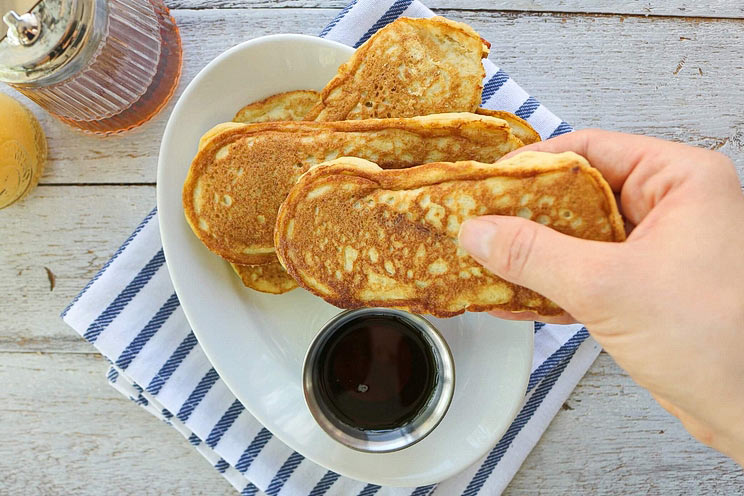 Cook Time:
10 mins
10 minutes
Prep Time:
15 mins
15 minutes
Bacon Pancakes with Coconut Flour
These handheld coconut pancake dippers are filled with crispy strips of bacon - perfect for dunking in maple syrup.
Tools
Large griddle

Mixing bowl

Spatula
Ingredients
4 strips of uncured, no sugar added bacon

1/4 cup coconut flour

2 large eggs

2 T coconut oil, melted

2/3 cup unsweetened coconut or almond milk

1/4 t baking soda

Pinch of sea salt

Grass-fed butter or ghee for cooking

Pure maple syrup for serving
Instructions
Heat a large griddle over medium heat and cook bacon until crisp. Set aside.

In a mixing bowl, lightly whisk eggs, coconut oil and coconut milk. Whisk in coconut flour, sea salt and baking soda until smooth.

Melt 1 tablespoon of butter on large griddle over medium/low. Using a 1/3 measuring cup, pour batter onto griddle in strips. Place a piece of bacon onto each strip of batter and drizzle with more batter over the top. Cook until golden, about 4-5 minutes.

Flip using a spatula and cook an additional 4-5 minutes. Serve with maple syrup.
You'll Also Love: 20 Mix-Ins to Instantly Upgrade Your Pancakes