Make this sweet and savory broccoli salad with a handful of ingredients in under 20 minutes!
Crispy bacon crumbles, crunchy bits of broccoli, and dried cranberries combine for a trifecta of flavor in this easy quick-fix salad. Serve it as a filling entrée or bring it to your next potluck as a tasty side dish.
How To Achieve The Creamiest Salad Dressing Ever
To prevent anything from going to waste, we save a bit of rendered bacon fat and incorporate it into an irresistibly creamy dressing. Whisking vigorously will help emulsify the bacon fat and Paleo mayo together so that they blend seamlessly with the apple cider vinegar and maple syrup.
Add power-packed superfood veggies to every meal with these easy cauliflower recipes.
Click here to get your FREE copy of our Cauliflower Recipe Guide!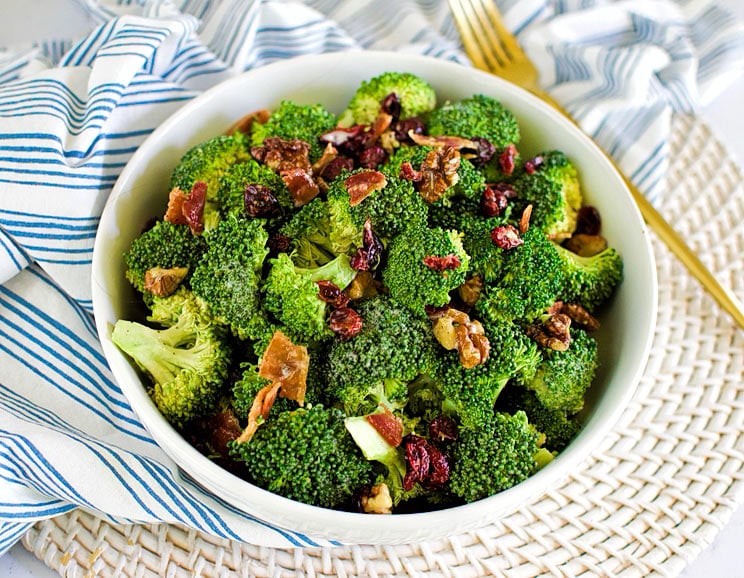 If you don't already have Paleo mayo on-hand, you can always whip up a quick batch using a handful of key staples (this 5-minute recipe is our favorite). Otherwise, you can find many store-bought brands online or at your local health food store.
Helpful Tips To Get You Started:
Warm or cold, either one works. This salad is equally as delicious served warm as it is chilled. Simply heat the combined salad in a skillet for 4 minutes and coat with the dressing, or prepare this recipe as-is and store in the fridge for up to 4 days.
Load it up. To make this salad extra hearty, try topping it with tender chunks of chicken or steak.
Danielle Moore
Broccoli Bacon Salad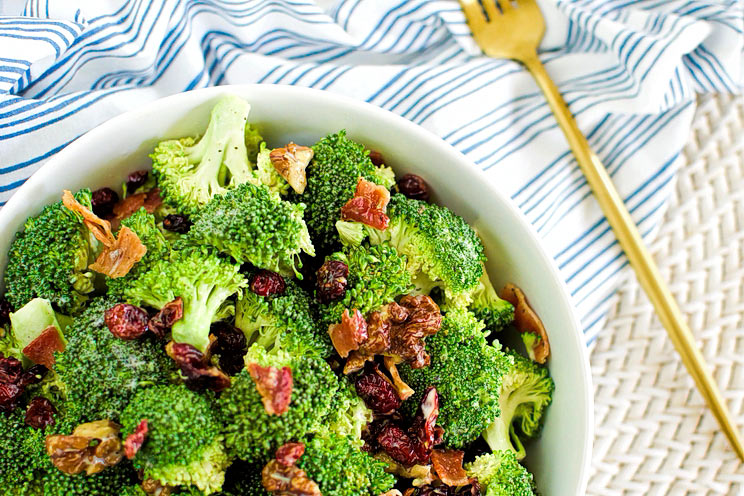 Cook Time:
11 mins
11 minutes
Prep Time:
5 mins
5 minutes
Nutrition facts:
7 grams of protein
19 grams of carbohydrates
28 grams of fat
Broccoli Bacon Salad
Make this sweet and savory broccoli salad with a handful of ingredients in under 20 minutes.
Tools
Large skillet

Large mixing bowl

Small mixing bowl
Ingredients
For the Salad:
¼ cup chopped walnuts

2 bacon slices

3 T dried unsweetened cranberries

4 cups broccoli florets
For the Dressing:
2 T Paleo mayo

2 T apple cider vinegar

1 T maple syrup

1 T rendered bacon fat
Instructions
To Make the Salad: In a large skillet, heat the walnuts over medium-low heat for about 3 minutes. When finished, remove and set aside.

Place the bacon into the same skillet over medium heat and cook for 8 minutes, flipping halfway through. Remove and crumble onto a plate lined with paper towels and reserve the grease in the pan.

Transfer the bacon bits to a large mixing bowl with toasted walnuts, cranberries, and broccoli. Toss to combine.

To Make the Dressing: In a small mixing bowl, combine the Paleo mayo, apple cider vinegar, maple syrup, and rendered bacon fat. Whisk until combined.

Drizzle the dressing over the broccoli mixture and toss to coat. Serve and enjoy!
Looking for Paleo ingredients? Here are a few we'd recommend:
Raw walnuts (NOW Foods)
Primal mayonnaise (Primal Kitchen)
Apple cider vinegar (Bragg)
Looking for more ways to enjoy broccoli? Here are 24 more stunning recipes that will change the way you think about it.