You've never tried avocado like this before. With a crispy bacon outside, and creamy center, these bacon-wrapped avocado fries are the perfect savory snack.
These easy two-ingredient fries are a game changer come snack time. While avocado usually gets mashed into a guacamole or blended into a cool smoothie, for this recipe we'll be wrapping avocado slices in bacon and baking them for a dish filled with healthy fats and protein.
Note: When choosing your bacon, go for pasture-raised pork. Pigs that are free to graze on grass, insects, berries and roots, are naturally in better health, providing a fat that is full of anti-inflammatory Omega-3s. In contrast, pigs in commercial feedlots are fed a diet of soybeans and corn, which produces a fat that is high in inflammatory Omega-6 fatty acids. Combine a solid source of bacon with mineral-rich avocado, and you have a snack that will keep you satisfied for hours with health benefits to boot.
Want to snack smarter and curb cravings? Get your FREE 25 Healthy Paleo Snacks Cookbook here.
Click here to get your FREE copy of our Snack Recipes Cookbook!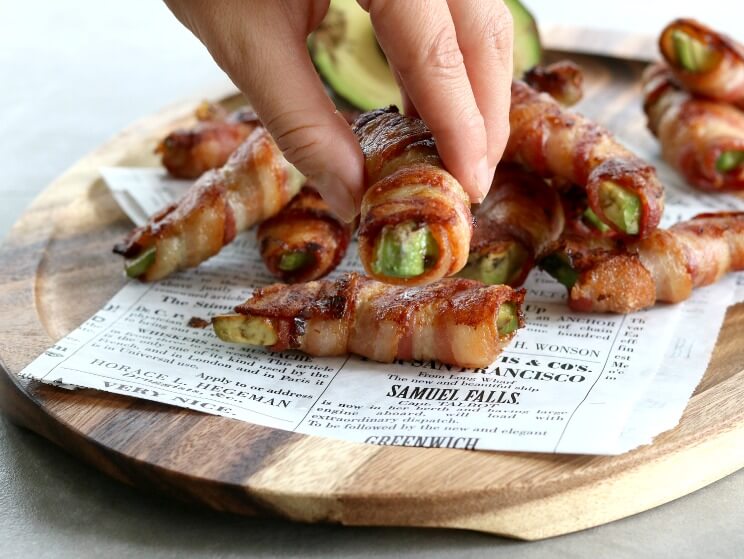 Start by slicing two avocados in half lengthwise, and remove the pits. Slice the flesh of each avocado into five slices and gently peel off the skin. Although the meat of avocado is very soft, it holds up surprisingly well to the high heat of the oven and stays stable without melting. Wrap one slice of bacon around each avocado, and place onto a parchment paper lined baking sheet. I used thick-cut bacon, so my avocado fries took roughly 30 minutes to crisp up. If you use a thinner cut bacon, the cooking time will be about 10 minutes shorter. Serve these bacon-wrapped avocado fries warm as a savory appetizer, game day munchie, or a filling snack.
Can't get enough bacon-wrapped goodness? Try one of these bacon-centered snacks…
Jennafer Ashley
Bacon-Wrapped Avocado Fries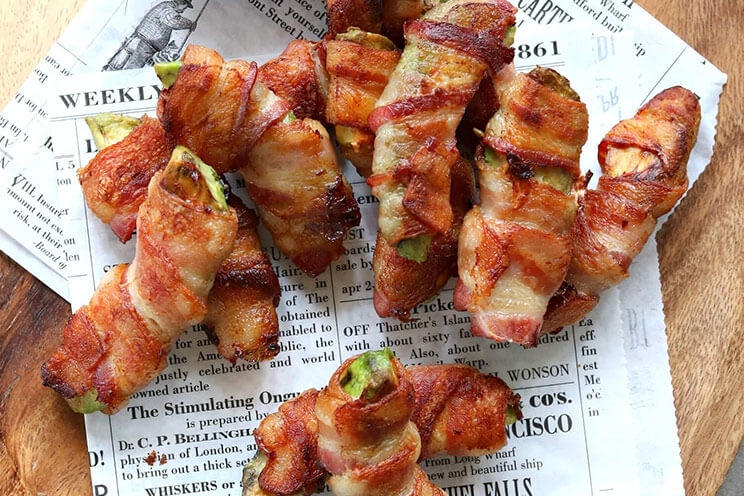 Cook Time:
30 mins
30 minutes
Prep Time:
10 mins
10 minutes
Bacon-Wrapped Avocado Fries
These savory snacks have a crispy bacon outside and a creamy avocado center.
Tools
Sharp Knife

Baking sheet

Parchment paper
Ingredients
2 avocados

20 strips of pasture-raised bacon
Instructions
Preheat the oven to 425ºF and line a baking sheet with parchment paper. Remove the pits from the avocados and slice the avocado into thin strips lengthwise (5 per half).

Wrap each avocado slice with one strip of bacon, and place on the baking sheet. Bake for 25-30 minutes or until the bacon is crisp. Allow to cool for 5 minutes before serving.
You'll Also Love: Coconut-Crusted Avocado Fries