Take a trip to the Big Easy with this fresh take on Cajun shrimp and grits! Shrimp gets coated in spicy seasonings and served over "cheesy" cauliflower grits.
Southern cooking is known for its timeless recipes. With rich dishes like fried chicken, grits and pecan pie, the South usually isn't what comes to mind when you think of Paleo cooking. But, by taking the core seasonings and ingredients from these classic dishes and swapping them with a few Paleo staples, you can create recipes just as flavorful as the nostalgic dishes you know and love.
Shrimp and grits is a combination of spicy seasoned shrimp and creamy grits that is a complete meal on its own. A surefire way to amp up the health benefits of the dish without sacrificing flavor is to substitute the grits with none other than fiber-rich cauliflower!
Add power-packed superfood veggies to every meal with these easy cauliflower recipes.
Click here to get your FREE copy of our Cauliflower Recipe Guide!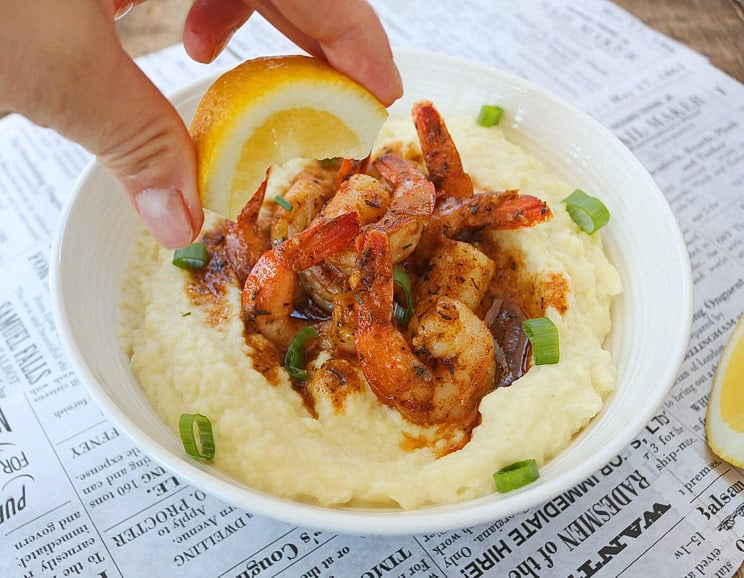 Start by boiling or steaming cauliflower florets until fork tender. Combine hot steamed florets, almond milk, grass-fed butter, nutritional yeast, and sea salt in a blender and pulse until smooth and creamy, just like grits. Nutritional yeast is a crucial component to the grits, adding a light "cheesy" aroma and flavor. Also, feel free to swap the grass-fed butter with ghee instead.
Next, pat thawed shrimp to remove excess water. It is important to make sure the shrimp is completely thawed if purchased frozen to prevent the sauce from becoming watery. Heat butter in a large skillet and add in shrimp and seasonings. I left the tail on my shrimp for presentation purposes, so remove yours before cooking if desired. Simmer shrimp for 6 minutes, stirring occasionally. If using fresh shrimp, cook a few minutes longer until shrimp turns pink throughout. Spoon hot shrimp and sauce over grits. I highly recommend serving with chopped green onion, fresh lemon wedges and a shake of hot sauce!
Jennafer Ashley
Shrimp and Cauliflower "Grits" Recipe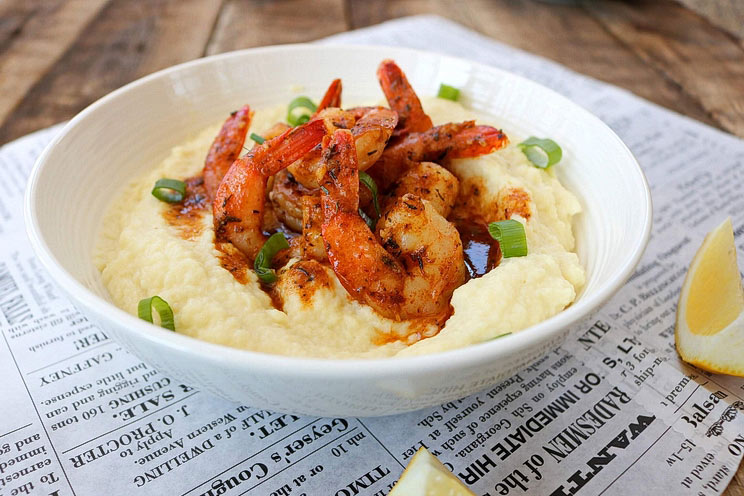 Cook Time:
30 mins
30 minutes
Prep Time:
5 mins
5 minutes
Shrimp gets coated in spicy seasonings and served over "cheesy" cauliflower grits.
Tools
Large pot with cover

Blender

Large skillet
Ingredients
For the Shrimp:
1 lb large shrimp, peeled/deveined (thawed if frozen)

1 T grass-fed butter (or ghee)

2 garlic cloves, minced

2 t paprika

1/2 t onion powder

1/2 t dried thyme

1/4 t cayenne pepper

1/4 t sea salt
For the Cauliflower Grits:
1 head of cauliflower, broken into florets

1/2 cup almond milk, unsweetened

1 T grass-fed butter (or ghee)

1 T nutritional yeast

1/4 t sea salt
Optional Toppings:
Green onion, finely chopped

Lemon wedges

Hot sauce
Instructions
Start by placing cauliflower florets in a large pot with 1 cup water. Bring to a low boil and cover. Boil 20 minutes or until cauliflower is fork tender.

Drain florets and place into a blender with 1/2 cup almond milk, 1 tablespoon butter, nutritional yeast and sea salt. Pulse until smooth.

To cook shrimp, melt grass-fed butter in a large skillet over medium heat. Stir in shrimp and seasonings and cook 6 minutes, stirring occasionally.

Pour grits onto serving plate and top with shrimp and sauce mixture. Finish with hot sauce, green onion and a squeeze of lemon.
For more southern-inspired Paleo dishes, check out these recipes:
Creamed Collard Greens
Unfried Chicken
One-Pan Apple Pecan Coffee Cake
You'll Also Love: Cauliflower Bacon Biscuits