All the spicy buffalo flavor you love about chicken wings are now jam-packed in a healthy and oh-so Paleo cauliflower bite. Oven-baked instead of fried, these crispy nuggets make the perfect snack for Vegan and Paleo eaters alike.
I love nothing more than a recipe that everyone can happily devour. We are big on spices around here, which easily led me to today's crowd pleasing recipe: Buffalo Cauliflower Bites.
First, we start off with cauliflower. This hearty vegetable makes a great, sturdy vessel to carry the buffalo sauce! Plus, it's a nutritional powerhouse full of Vitamin C and fiber! The bite-size florets are perfect for snacking on one after another. Next, we have the batter. I'll admit I was a bit worried about using tapioca starch in the batter for fear that it would turn out gummy, but as the florets bake, the batter turns into a nice light and crispy coating around the cauliflower. Crisis averted.
Add power-packed superfood veggies to every meal with these easy cauliflower recipes.
Click here to get your FREE copy of our Cauliflower Recipe Guide!
Once the cauliflower bites are almost finished baking, they get a quick coating in a mixture of hot sauce and grass-fed butter. This adds a nice glaze and seals in the buffalo flavor. If you're on a strict Paleo diet, you can swap the butter with coconut oil.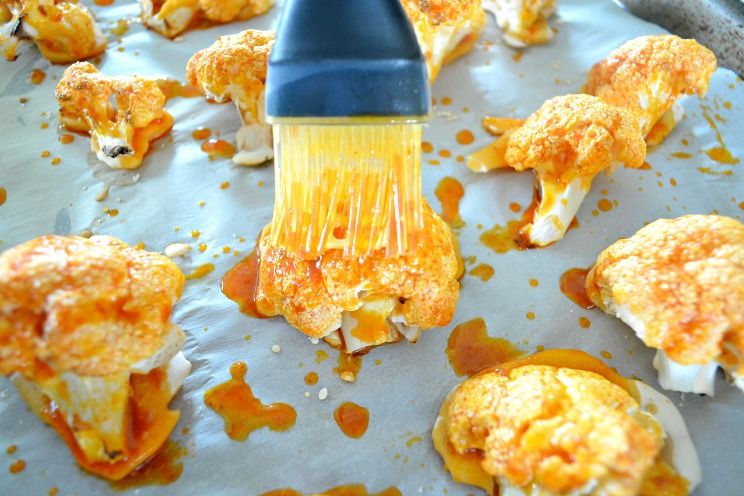 No buffalo wing recipe would be complete without a dipping sauce! A cashew ranch dressing provides a creamy texture and cools the heat of the cauliflower bites. This simple recipe is sure to become a go-to in your house as it has in mine.
Jennafer Ashley
Buffalo Cauliflower Bites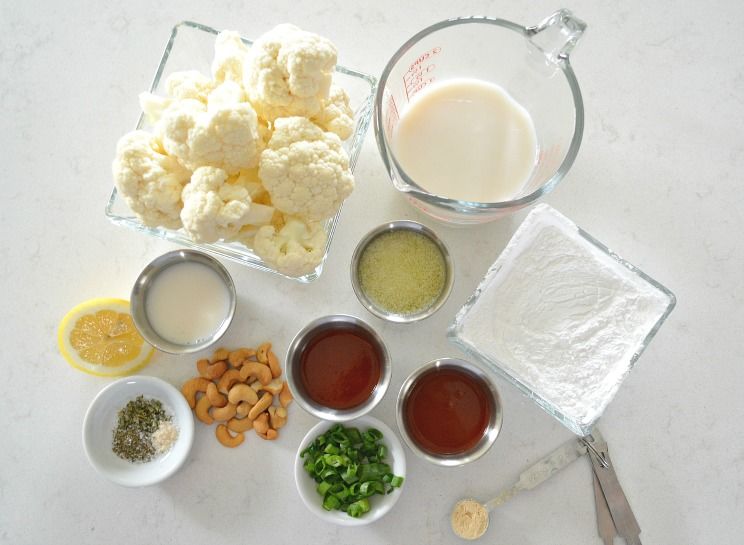 Cook Time:
30 mins
30 minutes
Prep Time:
20 mins
20 minutes
Buffalo Cauliflower Bites
All the spicy buffalo flavor you love about chicken wings are now jam-packed in a healthy and oh-so Paleo cauliflower bite.
Ingredients
Cauliflower Bites
2 heads cauliflower, cut into florets

3/4 cups unsweetened almond milk

2 cups tapioca starch

1/2 cups hot sauce, divided (You can use Frank's Hot Sauce or another Paleo-friendly sauce)

1/3 cups grass-fed butter, melted

1/2 t garlic powder

1/4 cups green onion
Cashew Ranch Dip
1/2 cups raw cashews

1/3 cups unsweetened almond milk

1 t lemon juice

1/4 t dried dill

1/4 t dried chives

1/8 t onion powder

1/4 t sea salt
Instructions
Begin by combining ingredients for cashew ranch dip in a blender. Blend until smooth and slightly thick. Refrigerate.

Preheat oven to 450°F, line a baking sheet with parchment paper.

Whisk together almond milk, half of hot sauce and garlic powder. Slowly whisk in tapioca starch.

Dunk each cauliflower floret in batter and gently shake off excess batter.

Place on parchment paper lined baking sheet at least 1 inch apart. Bake 20 minutes.

While cauliflower bakes, whisk together melted butter and remaining hot sauce.

Remove cauliflower from oven and brush with hot sauce mixture. Return cauliflower to oven. Bake 10 minutes longer.

Garnish with green onion.

(Read This Next: Cauliflower Shrimp Fried Rice)