Enjoy this delicious 20-minute chicken coconut curry! Bonus: It's served inside of a fresh coconut!
Coconut Curry is a flavor I don't consume often enough, but when I do, my tastebuds go crazy (in a good way!). This Coconut Curry is easy to create and delivers a powerful punch of savory flavors. While the main ingredient is chicken, if you'd like more veggies, feel free to add sweet potatoes or peppers.
Start by cooking the chicken in a skillet—and everything else in a separate skillet. Once the chicken is cooked, add it to the other skillet and simmer for a few minutes. And voila—dinner is served! The prep time is only five minutes, since everything's a breeze after you chop up the chicken and dice the onion and garlic. It's a simple recipe and makes for a no-hassle weeknight dinner (or quick lunch).
Love turmeric recipes? Get our free turmeric recipes cookbook here!
Tip: If you want to thicken the sauce a bit, I suggest adding one to two tablespoons of coconut flour. Let the chicken and sauce simmer for 10 minutes or so, then allow the sauce to thicken on its own. I always enjoy adding a bit of coconut flour, which makes it even thicker.
As for serving it inside of a coconut goes, I actually watched a YouTube video on how to open a coconut with a hammer and screwdriver. And it worked! Just make sure that you're extra careful when handling these tools. Of course, this part is optional, but it's a gorgeous way to serve your meal while enhancing the coconut flavor.
Erin Druga
Coconut Curry Chicken with Turmeric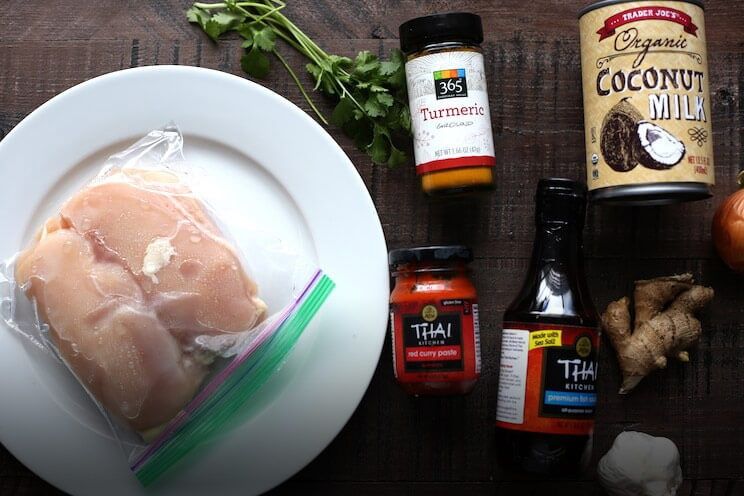 Cook Time:
15 mins
15 minutes
Prep Time:
5 mins
5 minutes
Coconut Curry Chicken with Turmeric
Enjoy this delicious 20-minute Coconut Curry recipe inside of a coconut!
Ingredients
2 chicken breasts

2 T olive oil

1 small yellow onion, diced

2 garlic cloves, minced

1 can coconut milk

3 T red curry paste

1 t fish sauce

1 t coconut sugar

2 t fresh ginger, grated

1/4 t ground turmeric

Handful of cilantro
Instructions
Cut up chicken into bite-size pieces.

Heat oil in a skillet, add chicken, and cook until done.

While chicken is cooking, dice onion and mince garlic. Place in a separate skillet with coconut milk, curry paste, fish sauce, sugar, ginger, and turmeric. Bring to a boil, then lower heat to a simmer.

Once chicken is cooked, transfer it to the skillet with the sauce. Then simmer it for 10 minutes or so, allowing time for it to absorb the flavor.

Stir in cilantro. If you want the sauce to be thicker, stir in 1-2 tablespoons of coconut flour.

Serve inside a coconut and enjoy!
Watch the Recipe Video Below!



(You'll Also Love: Crockpot Curry Chicken Recipe)