Stack cucumber bites with zesty shrimp and avocado for a healthy and indulgent snack!
Chilled shrimp makes for the perfect snack or appetizer for warm weather days. These cool and refreshing cucumber bites taste like summery heaven, and you can have it ready to serve in under an hour!
Begin With The Greens
Crisp slices of cucumbers are the base for these bites. Cucumber bites make a great grain-free alternative to crackers and are super easy to stack up. When prepping, make sure to leave the peel on, since the skin makes them easier to pick up.
Trying to figure out exactly what to eat on Paleo? Look no further than our FREE 21 Day Paleo Meal Plan.
Grab Our FREE Paleo Meal Plan By Clicking Here!
Creamy avocado serves as a built-in dip that holds each shrimp in place. It comes with a dose of healthy fats that are high in fiber and rich in protein, which is a good way to keep you fed and fit.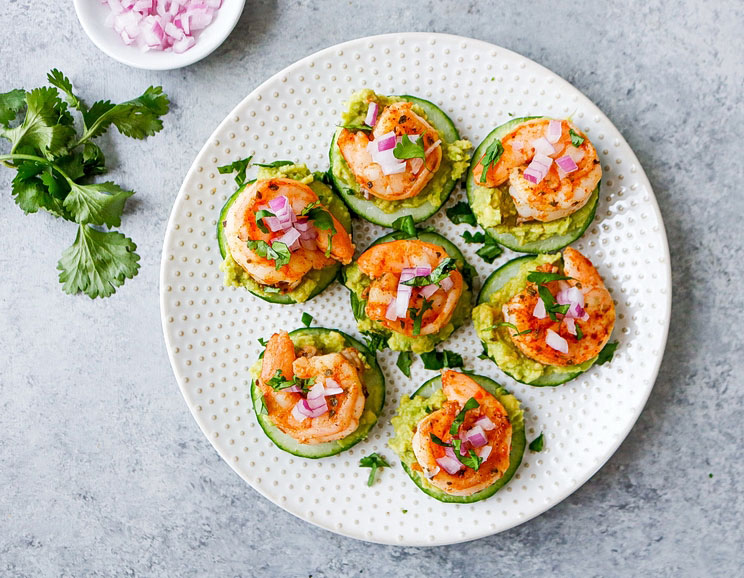 Serve Them With Style
Top your snack pile with a big piece of shrimp smothered in smoky spices. This blend adds just a subtle kick, but you can always crank up the heat factor by adding a quarter teaspoon of chili flakes.
Once you've stacked up your bites, finish them off with minced red onion and cilantro to drive home a zesty Latin-inspired flavor.
Helpful Tips to Get Started:
Thaw out frozen shrimp. If using raw frozen shrimp, let them sit in the fridge for 24 hours before cooking.
Prep ahead of time. Shrimp can be prepared and refrigerated a day in advance for extra easy assembly.
Serve these bites ASAP. Avocado will start to turn brown in about an hour, so make sure to enjoy them as soon as they're ready.
Jennafer Ashley
Cucumber Bites with Smoky Shrimp and Avocado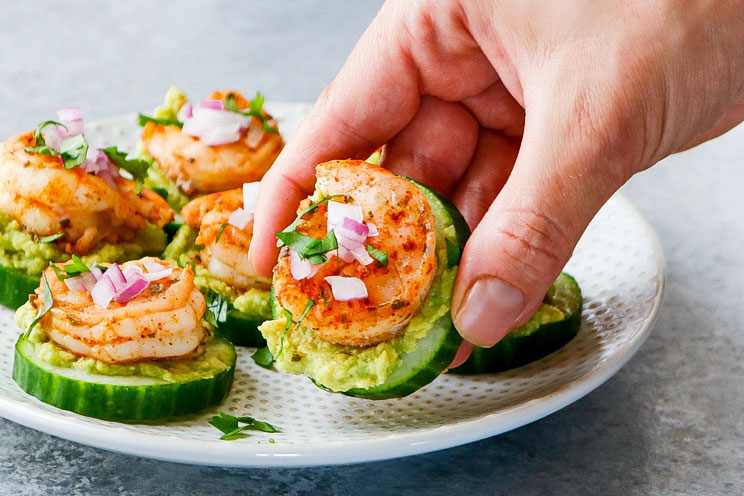 Inactive Time:
30 mins
30 minutes
Cook Time:
8 mins
8 minutes
Prep Time:
15 mins
15 minutes
Nutrition facts:
6 grams of protein
2 grams of carbohydrates
3 grams of fat
Cucumber Bites with Smoky Shrimp and Avocado
Stack cucumber rounds with zesty shrimp and avocado for a healthy and indulgent snack.
Tools
Medium mixing bowl

Cast iron skillet
Ingredients
1 lb large wild-caught raw shrimp, peeled and deveined

1 t ground cumin

1 t paprika

½ t chili powder

½ t dried oregano

½ t sea salt

¼ t garlic powder

1 T avocado oil

⅔ cup mashed avocado

2 cups sliced cucumber rounds, ¼-inch thick

⅓ cup minced red onion

⅓ cup chopped cilantro
Instructions
Blot the shrimp dry with a paper towel and place into a medium bowl. Add the dry seasonings and toss gently to coat.

Heat the avocado oil over medium-high heat in a cast iron skillet for 3 minutes. Add the shrimp to the pan and cook for 8 minutes, stirring occasionally.

When the shrimp are pink, transfer them to a bowl and refrigerate for 30 minutes to chill.

When finished, spoon 1 tablespoon of mashed avocado onto each cucumber slice and top with a shrimp.

Sprinkle red onion and cilantro on top and serve immediately.
Looking for Paleo ingredients? Here are a few we'd recommend:
Paprika (Simply Organic)
Ancho chili powder (Simply Organic)
Coarse sea salt (AztecSeaSalt)
Garlic powder (Frontier)
Avocado oil (Bella Vado)
For more gourmet-style hors d'oeuvres worthy of entertaining, grab a copy of our Paleo Snacks cookbook. Serve up simple but impressive recipes like apricots topped with macadamia butter and mint, herb marinated green olives or lemon rounds with smoked salmon. Get ready to raise some eyebrows with these easy culinary tricks. Have Paleo Snacks shipped to your doorstep today!